Community
Hendersonville's best and most comprehensive guide to community events.
Saturday, May 15, 2021
Bullington Gardens Annual Plant Sale
Bullington Gardens, a horticultural education center and public botanical garden, holds its annual spring plant sale online beginning Monday, April 12. A descriptive list of offerings with photos can be viewed at www.bullingtongardens.org.
April is an ideal time to plant new shrubs and trees. Kick off your gardening season now with Bullington's selection of ornamental landscape plants, wide variety of annuals, perennials, vegetables, shrubs and trees for sale. Low maintenance ornamental grasses have been a big hit these past few years, and gardeners can add color and texture to their plantings with red switchgrass, little bluestem, and golden sedges. May's warmer soil temperatures mean it's time for the more tender plants. Victory vegetable gardens were wildly popular in 2020, and this trend is expected to continue. Gardeners will find many varieties of vegetable starts to feed the body and the palette. Tomatoes, peppers, eggplants, squashes, and more are available. Herbs, including lavenders, tarragon, rosemary, and lemongrass, are also offered.
Bullington Gardens is located at 95 Upper Red Oak Trail in Hendersonville. For more information, call Bullington Gardens at 828-698-6104 or visit bullingtongardens.org.
Buncombe County Board of Commissioners Adds Juneteenth as County Holiday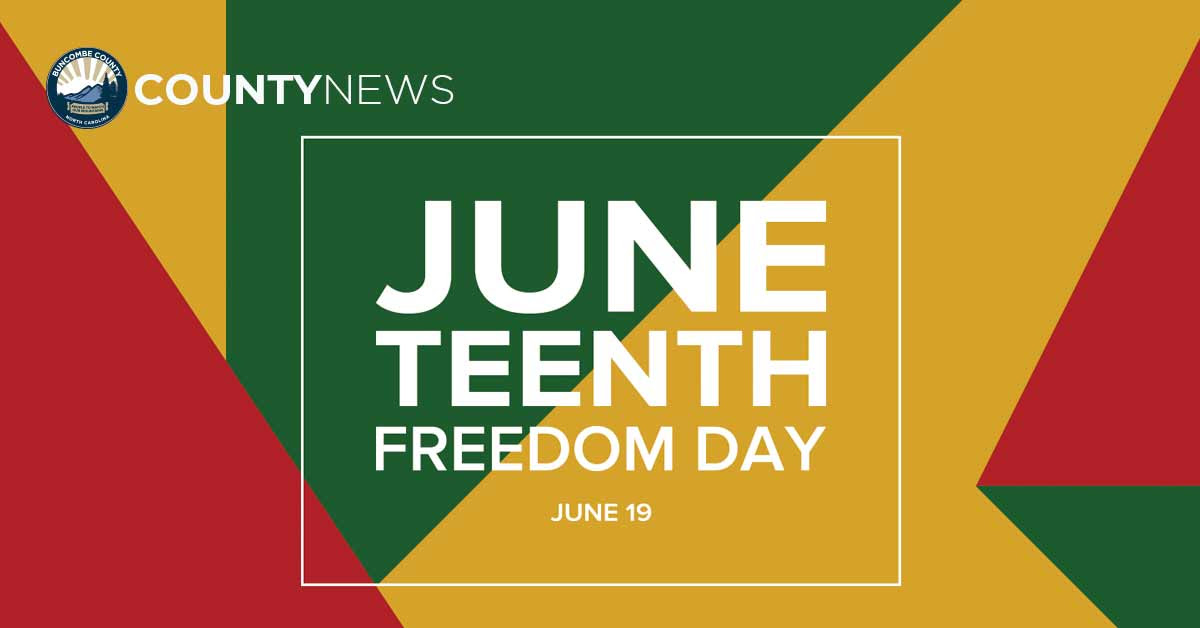 At the May 4 meeting, the Buncombe County Board of Commissioners voted to add Juneteenth as an additional County holiday following a public hearing.
Juneteenth, also known as "Jubilee Day," "Freedom Day," "Emancipation Day," or "Liberation Day," honors the day that enslaved people in Galveston, Texas learned that the Emancipation Proclamation had been signed by President Abraham Lincoln. That signing happened almost two years earlier, but Union soldiers did not arrive with the news until June 19, 1865. That day, known as Juneteenth, is a day of celebration of liberation, emancipation, and freedom for African Americans. Juneteenth is the oldest nationally celebrated commemoration of the ending of slavery in the United States.
"I think it should be celebrated by our staff and the County, because it is an important date in history," said Commissioner Al Whitesides. "Hopefully this will help us start the conversation and correct some of what's happened the last 400 years. We're saying a lot not only to our employees, but to our community."
Currently, Wake, Northampton, Bertie, and Orange Counties offer Juneteenth as a paid holiday, as do the cities of Apex, Carrboro, Chapel Hill, Durham, Greensboro, Hillsborough, Princeville, Raleigh, and Winston-Salem. The Orange Water and Sewer Authority also offers Juneteenth as a paid holiday.
The Board voted unanimously to approve the staff recommendation to add Juneteenth as an additional County holiday. The County will celebrate Juneteenth on the Friday that falls closest to or on June 19. This year, Buncombe County Government administrative offices will be closed on Friday, June 18 in observance of Juneteenth. Emergency and public safety services will remain open.
Comprehensive Plan Steering Committee Now Accepting Applications
With Buncombe County beginning a two-year planning process to create a new Comprehensive Plan for the future growth of the County, the first step is to create a steering committee to help guide that work. While the official start of the Comprehensive Plan process is August 2021, applications are available now to join the group of roughly 20 Buncombe County residents to sit on the committee.
In order to ensure the committee reflects Buncombe County's diversity, residents with experience in one or more of the following areas are encouraged to apply:
Housing/Affordable housing
Transportation
Hazard mitigation/Resiliency
Sustainability/Environment/Conservation
Aging populations and other demographic trends and projections
Early childhood/Youth population trends/Multigenerational needs
Equity
Land Use/Development trends/Future land use
Critical facilities/Concurrency management
Economy and industry
Emergency management/Public safety
Farmland/Food security
Infrastructure
Tourism
Parks and recreation
Greenways
Healthy community
Ability/Disability
The Steering Committee is also seeking input from one high school and one college student, in addition to the general public. The deadline to apply is May 17, 2021.
Committee members will serve a three-year term beginning around August 2021 with an anticipated commitment of one meeting per month. Different phases of the planning process may require more than one meeting per month.
A comprehensive plan is used by local governments as a broad, long-range planning tool for the community. The Buncombe County Comprehensive Plan will focus on the next 20-year period and look at the relationships between land uses, infrastructure, and key community needs. A comprehensive plan is not limited to studying land use components – it can include other areas of focus such as safety, public health, affordability, multi-generational needs, equity, and more.
Employment Opportunities at Blue Ridge Community College
The College has jobs that fall within four categories: full-time professional, full-time faculty, part-time faculty or adjunct instructors, part-time support staff, and temporary positions.
To be considered for employment at Blue Ridge Community College, complete an official employment application indicating the position title and position number.
For Your Consideration: Best of WNC Ballot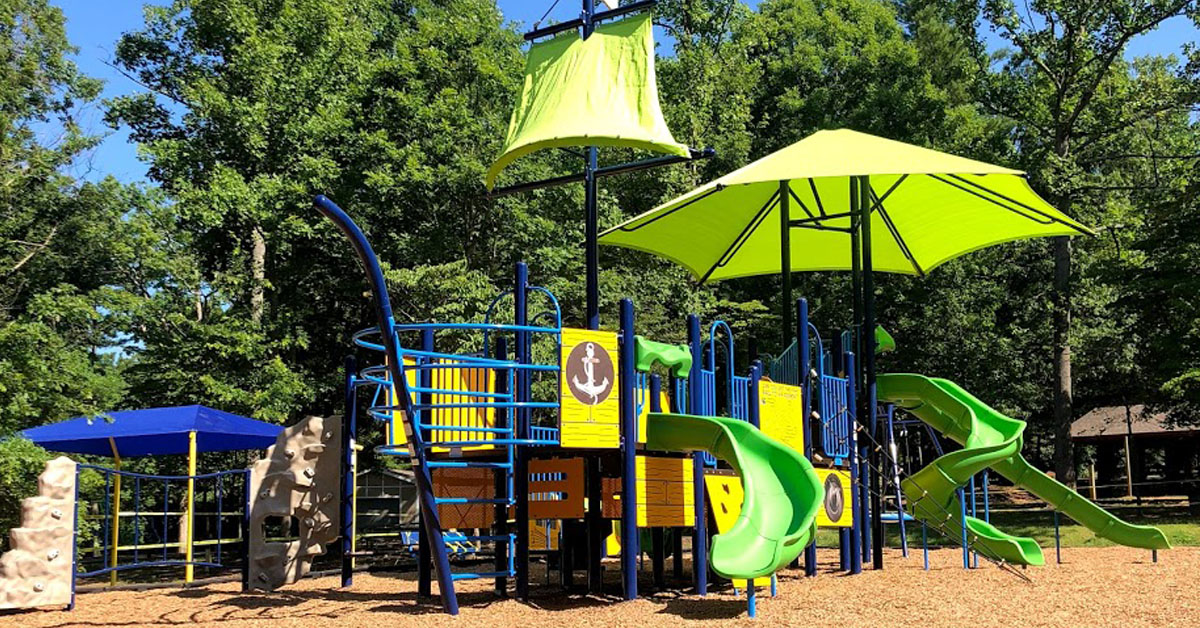 Each year, thousands of residents and visitors take part in evaluating what's best and brightest about a very wonderful place — Western North Carolina. With spring in full bloom and months of lockdown behind us, voting for what you love most about your community is a restorative affirmation.
Buncombe County Recreation Services dedication to low- and no-cost recreational programming and equitable access to quality outdoor spaces is reflected in its mission statement: Connect Communities. Preserve Culture. Change Lives. Among the ballot categories, we offer some suggestions for your consideration.
Kids
Place for Outdoor Fun – Buncombe County Parks
Playground – Lake Julian Park
Place for Birthday Parties – Buncombe County Parks
Outdoors
Picnic Spot – Lake Julian Park
Fishing Spot – Lake Julian Park
Farm, Yard, & Garden
Orchard – Sand Hill Native Tree Orchard
Community Garden – Sand Hill Community Garden
Pets
Outdoor Place to Take Your Pet – Buncombe County Parks
Uniquely Asheville
Place to Connect With Nature Within Asheville City Limits – Buncombe County Sports Park
Holiday Event (Winter/Spring) – Festival of Lights at Lake Julian Park
Bumper Sticker – I ♥ Parks (Buncombe County Recreation Services)
Regional
Local Place to Enjoy the Outdoors (Swannanoa/Black Mountain) – Charles D. Owen Park
Local Place to Enjoy the Outdoors (Weaverville/Woodfin) – Ledges Whitewater River Park
To receive the I Heart Parks monthly newsletter, sign up online. Follow Buncombe County Recreation on Facebook and Instagram for the latest updates.
Former Volunteer Manager, Micah Tomlinson, and former MANNA Community Market Driver, Keeka Grant-Tomlinson, began hiking the Appalachian Trail together as part of Hiking for Hunger – a fundraiser created by both of them to help raise awareness of hunger and food insecurity in WNC, while also raising funds for MANNA FoodBank.
LEAF 2021 announces a few key dates
Spring LEAF Retreat May 13-16 at Lake Eden
LEAF Downtown/ Reimagine August 27-28
Fall LEAF Festival October 14-17 at Lake Eden (Size TBD*)
These events will be limited in size but will retain all the LEAF Love. LEAF Members will have priority and at times exclusive access to these events. Please note that Spring LEAF Retreat will be members-only and tickets will be made available on January 4th, 2021. Members have kept LEAF Mission alive and at work in this wild year of 2020! Your membership empowered LEAF to maintain our support of LEAF International Culture Keepers in the 10 countries and local LEAF Schools & Streets Artists. When you support culture, artists and teachers you are investing in the community and young people's future. Interested in becoming a member? Join membership today!
All $250+ memberships will receive the 2021 LEAF Calendar hot off the press and its going to be a great year!
Let's Talk: Getting Back on Your Feet with Economic Services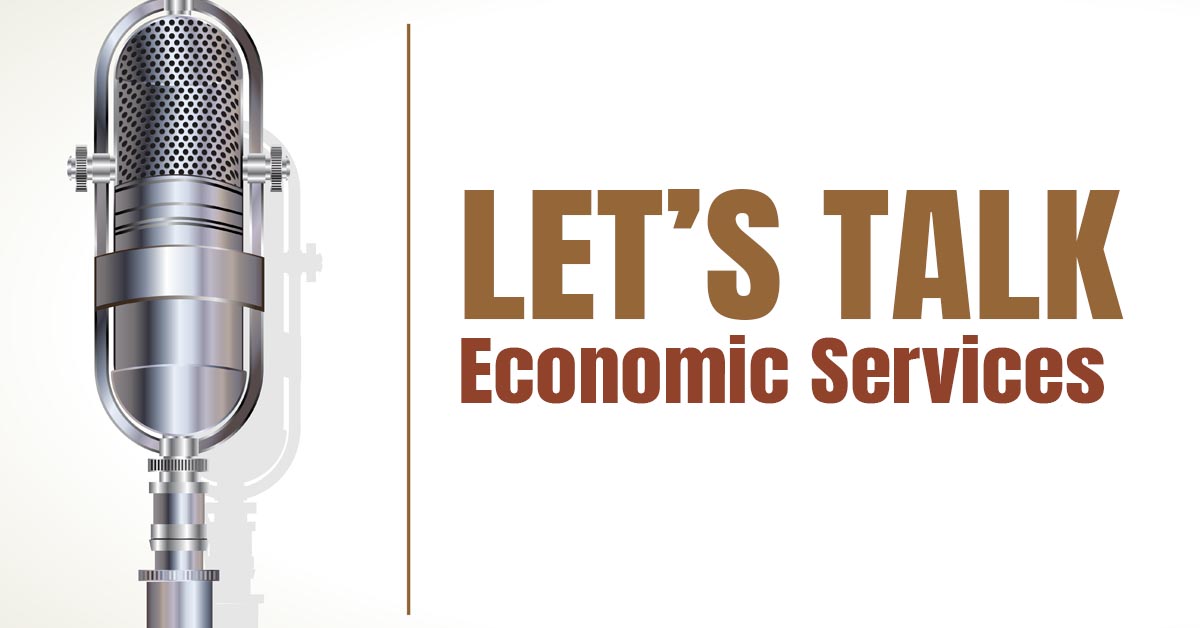 Para ver esta presentación en español haga clic en: https://youtu.be/edDO_Jl3LUM
Even if you don't think you are eligible, there are funds and services available for residents of Buncombe County for COVID-19 relief, housing assistance, food, medical, children, employment, you name it. These conversations can be complicated, so let's make it simple, Let's Talk about what these services are, who can benefit from them, and how. Join us for Let's Talk: Getting Back on Your Feet with Economic Services.
Buncombe County Health and Human Services has programs for those who need assistance getting back on their feet as a result of COVID, or through life's unexpected circumstances. Programs consist of providing residents with free rent, food, energy and utility assistance, health assistance, employment training, emergency assistance, and more.
Check out the video above, below are links with more information about the services provided:
First, call (828) 250-5500 if you want to inquire about any benefits. You will be connected with a case workers that will work to connect you with everything you are eligible for.
NC Households: Assistance with Monthly Internet Bills From Federal Programs
NC Households Can Get Assistance with Monthly Internet Bills From Federal Programs

The 

Emergency Broadband Benefit

 (EBB) program provides households with a discount of up to $50 a month off of a household's internet bill. That increases to $75 a month for those living on tribal lands. Eligible households can also get a one-time discount of $100 toward the purchase of a laptop, tablet, or desktop computer through participating providers.

The program's enrollment is now open for qualifying households. A household qualifies if the household's income is at or less than 135 percent of federal poverty guidelines. A household can also qualify if at least one member:

Participates in a federal benefits program, such as Medicaid, SNAP, or Lifeline
Receives benefits under the free and reduced-price school lunch program,
Lost a job or a significant amount of income in the past year,
Received a Federal Pell Grant, or
Is part of an internet service provider's low-income or COVID-19 program.
Preservation Videos of our 2021 Griffin Award Winners
Rehabilitation – Smith McDowell House, Roof Replacement 

 

Years of planning went into the roof replacement project recently completed at the Smith-McDowell House.  The copper used was manipulated by hand, giving the finished roof a more historically authentic look.  Over the next few years, the copper will take on a beautiful patina for all to enjoy.

 

Western North Carolina Historical Association, Owner

Huber and Associates, Contactor
Emily Kite, Architect

Adaptive Reuse – Leo's House of Thirst

 

This modest beauty has been everything from a residence to a dentist's office and is now Leo's House of Thirst.  We love a rehabilitation that shows that even simple buildings can be saved and turned into something special!

Drew Wallace, Owner

Drew Wallace and Leila Amiri, Concept and Design

Brent Campbell, Architect

Joel Osgood, Landscape architect

Drom, Construction

Restoration – Biltmore Stable, Glass Replacement

 

This project brought its own set of challenges including having glass replacement panels with unique texture made to match the originals and undertaking the project while guests were present at the Estate.  The result was well worth the effort!

The Biltmore Company

Huber and Associates

Meltdown Glass

Associated Scaffolding

  
Spring Annual Fund Campaign!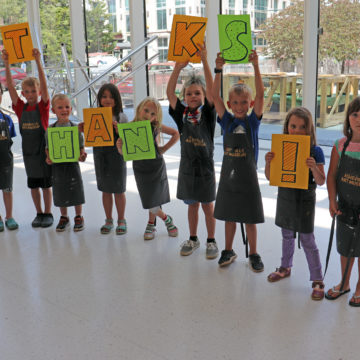 SUPPORT THE MUSEUM
We're kicking off our Spring Annual Fund Campaign! With your help, we've been able to do some amazing things this past year, from hosting major traveling exhibitions like Across the Atlantic to delivering 1,600 Art Kits for Kids to local students and fostering in-depth conversations about art and artists through virtual programs. Your gift to the Annual Fund supports all of this and more.
Survey Responses Needed: Help Improve Health in Henderson County
Survey Responses Needed: Help Improve Health in Henderson County
Over the next several weeks, residents will have the opportunity to help the Henderson County Department of Public Health identify the most critical health issues in our community. A national research firm will conduct phone surveys with approximately 200 individuals in the area between March and June of this year.
The confidential survey will ask questions about residents' health status, behaviors, and experiences.
As the survey process begins, the Health Department hopes area residents will take an active role. "We want to encourage everyone to participate if they're called. This is the public's opportunity to help us determine where the greatest needs exist and seek ways to improve health for all residents," said Camden Stewart, Community Health Improvement Specialist.
Community members who are not selected at random by the phone survey are encouraged to provide feedback electronically. The survey is available online in English and Spanish and can be accessed at 
www.prcsurvey.com/begin/WNC2021 
until May 31.
Sustainability Consulting w/ Organic Growers School
Need help with your farm, garden, or homestead?
Contact us for a free 20 minute call helping you to identify your needs and goals and assess which service might be right for you. We offer a wide variety of consulting services—with hourly follow-up support and reduced fees available—including:
Assessment of land that you own or want to purchase.
Sustainability systems on your farm, garden, or homestead.
Guidance for your land-based project.
How the process works:
Step 1: We talk on the phone to identify your goals and needs.
Step 2: We select a service and price that best meets your needs.
Step 3: We set up a time for an in-person site visit or video call
Step 4: We coach you through a self-assessment process.
Step 5: We have our virtual or in-person site visit.
Step 6: We invoice you.
Step 7: We follow up with you with next steps, referrals, report, etc.
Projects Suitable for Consulting
Site Assessment, Earthworks, Water Catchment, Renewable energy, Garden Design &Installation, Orchards, Food Self Reliance, Soil Testing, Animal Systems, Ponds, Greenhouse, Barn & Shed Construction, Sustainable Forestry, Hardscaping, Landscaping, Mapping Your Land, Conservation, Composting, Pasture Management, Companion Planting, Organic Weed, Pest, & Disease Management, Food Storage & Preservation, Herb Gardens, Beekeeping, Wild Plant ID, Farm Planning, Land Design.
Need help with your farm, garden or land?
We offer a wide variety of consulting services—with hourly follow-up support and reduced fees available.
Contact us for a free 20 minute call helping you to identify your needs and goals and assess which service might be right for you.
The City of Asheville + Asheville GreenWorks: launch the Adopt-A-Spot program
The City of Asheville has partnered with Asheville GreenWorks to launch the Adopt-A-Spot program. Businesses, organizations, or individuals can choose a City-owned piece of property that they wish to adopt. The responsibility of the adopter will be to maintain either an edible or pollinator garden in this location. The program provides recognition of adopters through dedicated signage at the site. Make a positive impact on Asheville by promoting stewardship of publicly owned places.
Types of Spots to Adopt
Planting Pollinator Patches
​
As the inaugural Bee City, Asheville is an ideal location for planting pollinator habitats. Pollinators are responsible for ¾ of the world's food supply and are vitally important to the health of our local urban forest. Pollinator plantings are both beautiful and ecologically sound features of the landscape, attracting butterflies, birds and bees into urban areas. A list of pollinator-friendly plants and local nurseries where they can be purchased can be found at 
www.beecityusa.org
.
Establishing & Maintaining Orchards and Edibles
Fruit producing trees and shrubs growing in neighborhoods, parks and greenways provide fresh, accessible food to Ashevilleans. Through the Adopt-a-Spot program, your group can play a role in developing the urban food forest in Asheville. Projects can range from planting a small patch of blueberries or an entire orchard of fruit trees. The list of recommended edible trees and shrubs and local nurseries where they can be purchased can be found at www.ashevillegreenworks.org
Invasive Plant Removal
Invasive exotic plants disrupt the ecology of natural ecosystems, displace native plant and animal species, and degrade our biological resources. Aggressive invaders reduce the amount of light, water, nutrients and space available to native species. Some cause increased erosion along stream banks, shorelines and roadsides. Common invasive species in this area include kudzu, knotweed, English ivy and privet. Many Adopt-a-Spot projects will require invasive plant removal to prepare the land for planting and to prevent invasives from taking over existing and new plantings.
Planting in Bulb-Outs
​Bulb-outs are areas that extend from the sidewalk along the sides of the street. They are typically in place at cross walks or on street parking. These areas can typically be accessed from the adjacent sidewalk. Through Asheville's Adopt-a-Spot program, bulb-outs can be used for planting edible and/or pollinator gardens. Volunteers must use extra caution when working along streets and roadways.
This Divided Land Documentary: Local History of Racial Discrimination + Housing
This Divided Land is a video produced by our friends at Asheville Area Habitat for Humanity (AAHH). They discovered a racial covenant in the deed of an AAHH property, and documented how they took steps to address it, with assistance from Pisgah Legal staff attorney, Parker Smith. Here's how AAHH describes the video: The home is the primary way Americans build wealth, but laws and systems have kept people of color- especially Black Americans- from accessing homeownership. Nationally and here in Asheville, white homeownership rates are significantly higher than people of color, and the racial wealth gap is as wide as it was in 1968 when the Fair Housing Act was passed.
After discovering a racial covenant in a deed of a South Asheville property AAHH developed for affordable housing, they decided to delve deeper and learn more about the history of discriminatory housing practices, how they shaped our city, and how practices like these contributed to current day racial disparities. The result is this 18 minute film, This Divided Land, featuring local partners including Pisgah Legal Services.
Work at Tanglewood Theatre Summer Camp
Want to work at Tanglewood this summer? We're looking for Instructors, Teacher Assistants, Junior Teacher Assistants, and Stage Managers! More information can be found in each application link, and those can all be found HERE!
Weekly Flea Market Hominy Valley
Starting Saturday, August 1, 2020, the Hominy Valley Wildlife Club will begin hosting a weekly flea market. Spaces will be $15.00 each, maximum of two spaces per seller. Grounds will open at 6 am for seller setup.
For more information contact Lane Brown at 828-231-5408, Bruce Whitt at 828-665-2114, Rachel Godwin at 828-273-6911 or email at [email protected]
Help us beautify the YWCA campus located at 185 S. French Broad Ave in Downtown Asheville on Saturday, May 15th from 9am–12pm. We will be helping to refurbish the Farm to Table Garden by planting, transplanting and mulching—no garden experience required!
This event is capped at 20 people, so please use the link to sign up for one of the slots available!
https://www.signupgenius.com/go/10c0d49a8ac2aa1face9-ypalandscaping1
Please bring a mask, work gloves, and a shovel, hoe and/or rake if you have one, and wear clothes you don't mind playing in the dirt in. Wheelbarrows are great too!
What we're about
Young Professionals of Asheville (YPA) (http://www.ypasheville.org/) connects young adults in order to better lead and serve the greater Asheville community. YPA welcomes young professionals (ages 21 – 40) living in WNC to join us for events focused on professional development, fostering connection and serving our community.
LINK IS NOW LIVE TO TO BECOME A YPA MEMBER FOR THE 2020-2021 YEAR
https://ashevillenccoc.wliinc24.com/events/2020-2021-Young-Professionals-of-Asheville-Membership-7026/details?fbclid=IwAR3-T31Ak_qIeATULaM1p-YmTnB6TcASvK8GEdhGZc2wEDNVYrtK-9ZN27w
We are happy to announce we will offering YPA membership for the 2020-2021 year for HALF OFF! For the entire month of June, if you sign up to be a YPA member, it will only cost $25! We recognize the membership experience has been a little different lately and we're happy to still have the ability to connect and provide value to our members through our virtual experiences. We hope we will be back to safe, in-person events soon and hope the reduced cost of membership helps those that may have been negatively affected in these tough times.
If you have any questions or would like more information, don't hesitate to reach out to me!
Mackenzie HeslerYPA Co-Membership Chair
This event will take place in the parking lot next to Aaron's at 1298 Patton Avenue. Please wear a mask! We're accepting: Electronics, batteries, metals, TVs ($10), phones, computers, styrofoam, toner and ink cartridges, and select Terracycle items. Please see the full list of accepted items at 
https://hard2recycle.org/dates-items/
LEAF ReTreat: May 13-16th
LEAF Retreat is created to Rejuvenate the soul and Replenish our inspiration in this beautiful secluded place, Lake Eden, in which you can relax and get away.
It's less than 1/5 the attendee size of Festival while maintaining the same footprint which gives you the feeling of having the place to yourself. Connecting with the outdoors is an essential part of the experience. Stages are smaller, more intimate with meet and greets and a focus on local and regional artists.
Great music in open air settings, special featured performances with LatinX artists, along with workshops, panel discussions and activities to recharge your spirits. Prepare for a time of reflection, reconnection, healing, friendship and fun in a safe healthy beautiful setting.
*Please note: This is a private event for LEAF members only.*
Not a member? Don't worry! You can easily become a member for as little as $50 a year. Simply visit this link to join: https://theleaf.org/give-to-leaf/