Community
Hendersonville's best and most comprehensive guide to community events.
Sunday, October 17, 2021
Asheville Regional Airport Announces New Nonstop Service to Minneapolis/St. Paul
The Asheville Regional Airport welcomes its newest airline, Sun Country. Sun Country is based in Minneapolis and will celebrate its inaugural flight on October 7th.
Allegiant has also introduced its sixteenth nonstop flight destination from AVl with flights to Minneapolis/St. Paul beginning October 7th.
The airport team will be at the gates with passengers and crews celebrating each inaugural flight.
Become a Sponsor! of Flat Rock Playhouse
Celebrate the holiday season and the joy of live theater by becoming a sponsor for A Flat Rock Playhouse Christmas! Your support sustains the impact of the performing arts on our hearts and minds as well as our local economy.
Act now!
Buncombe County Comprehensive Plan: Library Craft Kits for Kids
Buncombe County is beginning a comprehensive planning process and would like to hear from residents of all ages. The comprehensive plan is used by local governments as a broad, long-range planning tool for the community. Our plan will focus on the next 20-year period and will look at the relationships between land uses, infrastructure, and key community needs. Information regarding the comprehensive planning process will be available online and in all 12 Buncombe County Libraries starting in October.
Also during October, the libraries will provide an opportunity for children in Buncombe County to participate in the Comprehensive Plan Post Card Project.  Come to the library and pick up your craft kits (while supplies last) that include a postcard where kids can draw what they want their neighborhood to look like. This is a chance for young people to vote for their future and say what they want County government to address in the next 20 years. These postcards will give the County valuable input and may be featured in the final comprehensive plan!  If you have any questions, contact your neighborhood librarian or visit the Comprehensive Plan online.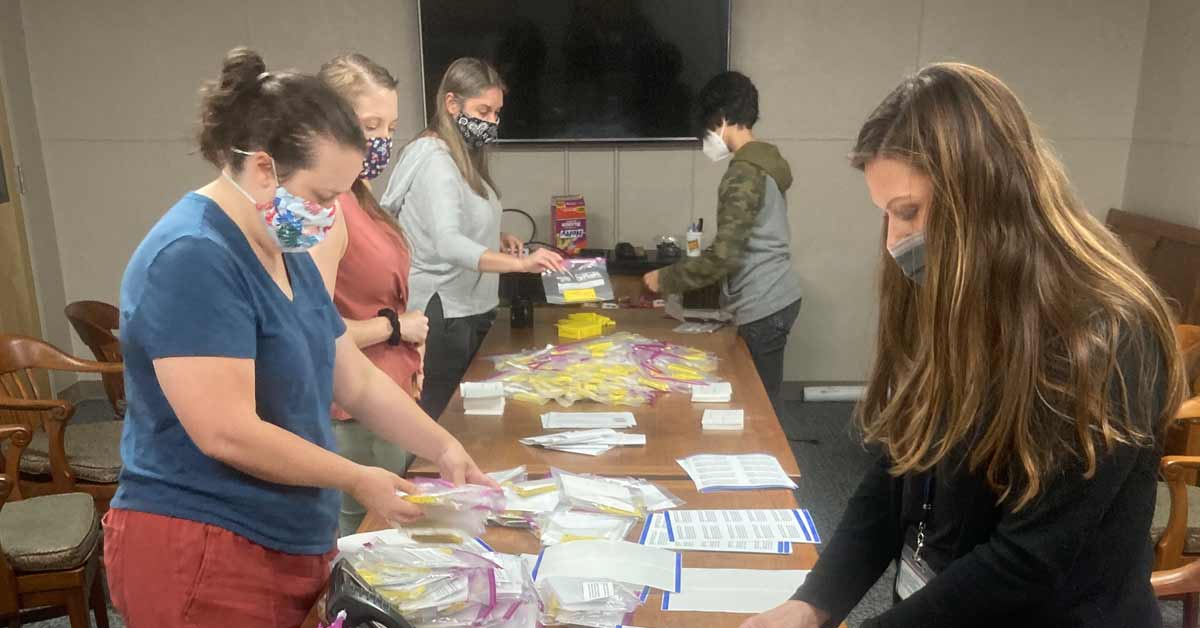 City of Asheville to launch Neighborhood Grant Program

As a part of this year's budget process, City of Asheville staff heard from our community that new City investments in neighborhoods were very important.  To respond to that need the Fiscal Year 2021-2022 budget includes $200,000 to launch a Neighborhood Grant Program.
This program is designed specifically for neighborhood-based organizations:
Neighborhood associations;
Homeowners associations;
Neighborhood coalitions; and
Resident organizations in tax credit-funded communities.
These organizations must represent a specific geographic location within Asheville city limits and have completed or are in the process of completing their Neighborhood Registration Form.
What kinds of projects can be funded?
Neighborhoods are encouraged to submit creative project ideas such as landscaping, murals, festivals, community art and cultural festivals. Traffic calming, public safety, marking and branding and organizational development can also be considered.
The Neighborhood Grant Program's goal is to build neighborhood capacity and increase civic participation. Projects must be achievable within 12 months of contract execution, and there must be a dollar-for-dollar match through cash, volunteer hours, or in-kind donation of goods or services.
Neighborhoods can submit applications from October 1 – 31.
Click here to go to the application.
[HENDERSONVILLE, NC, Saturday, September 4th, 2021]
On the first Saturday of each month, Continuum Art hosts an art market to showcase local artists and makers. Ranging in mediums from paintings, to textiles, to jewelry, you're guaranteed to find something you love! Each market also hosts live music and local caterers. A free, family-friendly event and a great way to check out our space and upcoming events. Visit us from 12-5pm on September 4th!
If you're interested in vending at one of our art markets, email [email protected] or DM on Instagram @continuumgallerync
Coronavirus (COVID-19) Community Update: COVID-19 cases drop for third week
Oct. 5 Update: COVID Cases Drop for Third Week; Buncombe County Nears 400 Deaths
For the third straight week, COVID-19 cases continue to decline, and the percent positivity is 6.7%, down from the mid-9% range a month ago. As transmission rates decrease, hospitalizations have also decreased. However, with 397 COVID-related deaths, Buncombe County is closing in on a grim milestone. Cases per 100,000 per week is now 216, and school-aged children make up approximately 24.5% of new cases.
"We anticipate children ages 5-11 to become eligible very soon, but until then, the rest of us need to do our part to keep our youngest protected," said Public Health Director Stacie Saunders. "This means eligible populations who are not yet vaccinated should consider vaccination now. The more we as a community are protected, the better we build a shield around those who cannot be vaccinated, including our younger children."
Because of sustained high transmission levels, the indoor face covering requirement for indoor public spaces has been extended until the end of October.
Dolly Parton's Imagination Library
Dolly Parton's Imagination Library

 puts books into the hands and hearts of children across the world. The Imagination Library creates a home library of up to 

60 books

 and instills a love of books and reading from an early age. DPIL is now mailing a free book each month to over 

4,400 registered children in Buncombe County

.  

Here is the online registration form

.
Every dollar you give will be matched by a generous donor up to $5000! for LITERACY TOGETHER
Help reach our matching gift challenge. We are halfway to our goal.
Help Make a Child Smile this Holiday Season!
Eliada works hard to make the holidays a special time for the children in our care. You can help bring a smile to their face by fulfilling their holiday wishes!
Sponsor a Child:
When you sign up to sponsor a child for the holidays, you'll receive a Wish List that a young person created. Wish Lists include their favorite things, clothing sizes, and most needed and wanted items. The value of a Wish List is around $150. You can divide that cost with friends, or even sponsor several children.
For most of Eliada's children and youth, the gifts they receive from sponsors are the only gifts they will get during the holiday season.
Sponsor Multiple Children:
We also have Wish Lists which include items that children will need here at Eliada depending on what program they are in.
Cottage wish lists for youth living at Eliada, for example, include toiletries, bedding and towels, books, games, art supplies, suitcases and kitchen utensils. Many children come to Eliada with a few clothes in a garbage bag. Together we can provide them things that every home should have!
Other wish lists are for our Child Development programs, Foster Care program, Farm program, Summer Camp program, and Recreation programs. Our Equine Therapy program also has some needs this holiday season! We never know when we'll get a call for a child in Foster Care who needs a home immediately. Let's help Foster Parents provide these children everything they deserve!
Sponsor a last minute wish:
Some youth living at Eliada won't arrive until right before the holidays! We won't receive their wish lists until mid-late November. Can you sign up to help one of these teens at the last minute?
If you don't have time to shop, Eliada will use your donation to purchase gifts for children who may arrive at Eliada very close to Christmas or right after Christmas. It shouldn't matter when you arrive at Eliada–your wishes should be fulfilled! You can make a 
donation here
. In the comment field, write "holiday wishes."
Help Our Summer Fundraiser Meet Its Goal!
Despite the pandemic, we've continued to find new and innovative ways to fulfill our mission of preserving and promoting the history and legacy of western North Carolina through interpretation, education, collection, and collaboration.
We're only a few hundred dollars short of our goal!
Donate today to help us continue to offer outstanding adult programs, engaging exhibits, and educational activities for youth by making a donation to our annual fund today!
History @ Home – Visit Virtually Western North Carolina Historical Association
Deep Dive into Archives is a living exhibit shining a light on the individuals who were once enslaved at the Smith-McDowell House through primary documentation.
Douglas Ellington: Asheville's Boomtown Architect presents a look at Ellington's iconic Asheville creations along with other buildings he completed throughout his career in other cities.
HillBilly Land explores the power, prevalence, and persistence of the hillbilly stereotype from the days of its beginnings in the late 19th century to the present day.
In 1918 vs 2020, we take an in-depth look at the 1918 influenza epidemic in Western North Carolina through newspaper clippings, advertisements, ephemera, photographs, and oral history and place the events of 1918 into context with our present-day response to the coronavirus pandemic.
How Are We Doing? Buncombe Seeks Public Input on Variety of Services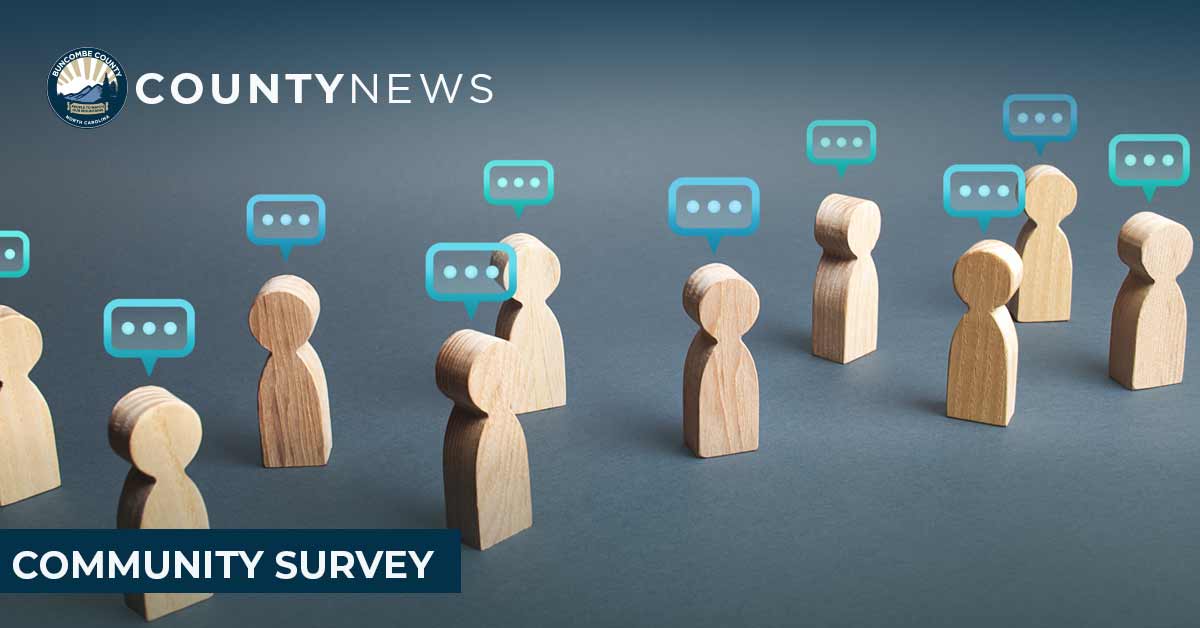 Need to get something off your chest about Buncombe County? Are you concerned about issues and areas where we could be providing better service? There's a survey for that. Your voice can help change the future of Buncombe County. All we need is 10-15 minutes of your time.
Buncombe County is continually striving to make its strategic priorities a reality. To that end, we are launching the Buncombe County Community Survey to help us gather valuable input that will guide us in future decisions concerning everything from economic development, to County park facilities.  A randomly selected sample of County residents will receive the survey, and your anonymous answers will help drive key initiatives, programs, and identify other opportunities and challenges. "It is vitally important for residents to have the opportunity to share their opinions with us, and we hope the Community Survey provides one more avenue for that feedback," says County Manager Avril Pinder.
The ETC Institute in partnership with Buncombe County's Strategy & Innovation Department will administer the survey. Households will receive a questionnaire by mail, and staff asks that anyone 18 years or older complete and return it using the enclosed paid postage. The community survey is available in multiple languages, should take about 10-15 minutes of your time, and instructions are included to complete online or over the phone if needed. The survey will not ask residents to share any personal identifying information.
We thank you for your time and valuable insights as we continually evaluate our existing programs and resources while searching for new opportunities to better serve our community. Your voice is important and Buncombe County Government is committed to offering a broad range of opportunities for public input. If your household does not receive a survey we encourage residents to sign up for our e-newsletter at buncombecounty.org, or text bcalert to 99411 to stay informed about community meetings and engagement opportunities. To share your concerns anonymously please email [email protected].
It's fall! Adopt a Stormdrain help keep creeks clean
It's fall! Along with beautiful leaves & cozy sweaters comes clogged storm drains, flooding streets, & polluted rivers
Help us reach our goal of 100 storm drains adopted by the end of 2021! If you are looking for a volunteer opportunity this year to help keep your community clean, safe, and beautiful, look no further than the Adopt-A-Storm Drain Program. This volunteer program allows individuals or businesses to adopt a storm drain in the Central Asheville Watershed and keep it clean by picking up trash and debris several times a month. The adoption process is easy: pick a storm drain using the link below that you would like to adopt, fill out the adoption form, meet with a member of RiverLink to go over the responsibilities, and begin!
Fall LEAF Festival Tickets are NOW OPEN!

**Important Things to Note**
You MUST be a CURRENT LEAF Member to purchase a Weekend Plus Ticket.
You MUST be signed into your LEAF Account (little yellow silhouette in the upper right corner)
Tickets at each tier are LIMITED! Discount Ticket Pricing ends when tickets set for this level sell out (typically end of August).
You MUST, absolute MUST bring your best most fun LEAFy attitude!!
Redeeming credit? You must call the office (or send us an email with a good time to call) 828-68-MUSIC  [828-686-8742]
Native American Resistance to the 16th Century Spanish Invasion of WNC
In this 1-hour program, Dr. David Moore, an archaeologist at Warren Wilson University, discusses the Joara Native American Village and Native resistance to the Spanish invasion of WNC in the 1500s. Dr. Moore has been involved with the archaeology of this site near modern Morganton, NC for nearly three decades. He describes the findings of ongoing excavations and places them in context with the culture of the Native peoples who eventually thwarted Spanish colonization attempts in the Appalachian Mountains.
These programs are provided free for our members. For the general public, please consider donating $5.00 or more for each program you watch.
All proceeds fund future programming.
On this Day in WNC History Tidbit
On this Day in WNC History Tidbit
Do you follow us on social media? If not, you've missed our new 2021 series –
On This Day in WNC History!

Every week we explore the headlines and overlooked events that happened
on a particular day in Western North Carolina history.

Follow us on social media for more!
ON THIS DAY in WNC history: On October 2, 1929, deputies fired into a crowd of striking workers in Marion, NC. Six were killed and even more wounded at the Marion Manufacturing Company in one of the deadliest acts of strike busting in the South.

This year marked an apogee of strikes and labor organization in southern textile mills. Eight years prior, over 100 miners were killed at the Battle of Blair Mountain in West Virginia in a period of coal clashes and unionization attempts. Later in the 1920s, many textile workers reacting to grueling and dirty work conditions under the "stretch-out" system, along with a reduction of their pay in company scrip, began organizing and demanding better conditions. Spearheaded by the National Textile Workers Union (an organization supported by the Communist Party), concurrent strikes began early in 1929 at the Bemberg-Glanzstoff Rayon Corporation in Elizabethton, Tennessee and at Loray Mills in Gastonia, North Carolina. Female employees were key to the organization of both strikes, and the latter is most famously remembered for the death of Ella May Wiggins. National Guard members, local police, and union-busting mobs were called to both of these events.

The Marion strikes (which occurred at the neighboring Clinchfield Mill as well) began July 11. Workers struck without official union support, resisting involvement by communist organizers. After frequent violence and threats, with two National Guard units present, workers returned to these mills September 11, with no raise in pay and a mandated 55-hour workweek. Marion Manufacturing Mill refused to rehire 114 of the strikers, leading to further anger. Workers struck again on October 2, and deputies were dispatched by the local sheriff. Though some details are murky, deputies shot into a crowd of strikers, killing four on site, wounding at least fifteen, with two others dying later. Nearby hospitals refused medical care to strikers, and churches of the mill village refused to administer their funerals. Eight deputies were charged, but acquitted in December. They contended the strikers were armed, but no guns were found, and the New York Times reported those killed were shot in the back.

The memory of these events will be examined in our upcoming event, Marion Mill Massacre in Memory, on Thursday, Oct 14.

Image: Raleigh News and Observer, Oct. 4, 1929
Reimagined Competition for 2021 Gingerbread Season
The Omni Grove Park Inn, home of the iconic National Gingerbread House Competition, announced a reimagined Competition for 2021. After a virtual 2020, the Resort is planning to welcome back participants in-person this year, along with an esteemed panel of judges, including renowned Food Network Chef, Carla Hall.
Gingerbread enthusiasts are now encouraged to enter the Competition (find entry details HERE) and begin dreaming up dazzling designs for their confectionary creations. The 2021 Competition will take place at The Omni Grove Park Inn on November 22, 2021.
November 8, 2021: Competitor Entry Form Deadline.
November 15, 2021: Digital Content and Description Summary Form Deadline.
November 22, 2021: Awards Ceremony and Winners Announcement.
December 1-12, 2021: 12 Days of Gingerbread series on The Omni Grove Park Inn social channels highlighting top finalists. Assets will be available.
November 2021 – January 2, 2022: In-person Gingerbread Display will be open for public viewing at The Omni Grove Park Inn.
UScellular™ Community Connections Program: Earn up to $1,000 for your organization
Earn up to $1,000 for your organization
UScellular™ is proud to sponsor nonprofit K-12 youth organizations such as sports teams, STEM programs, marching bands and dance teams through the Community Connections Program.
Join the thousands of organizations across the country who've rallied to earn critical funds through Community Connections over the past 5 years.
Eligibility Checklist:
Focus on K-12 youth services.
Registered nonprofit organization, and/or 501(c)(3) with a valid EIN
Located within a UScellular service area ZIP code:
See Official Rules  for complete eligibility requirements.
WCCA Wins Grant to Save Tebeau Children's Center more help needed
A recent grant award by the Perry N. Rudnick Endowment Fund to help renovate and save the Tebeau Children's Center. In addition to bringing Head Start, Early Head Start and NC Pre-K education programs to Henderson County's underprivileged children under 5 years old, the renovation project will restore a community landmark that has provided childcare since the mid-1970's!
WCCA is trying to raise the necessary funding to renovate the old daycare center and turn it into a modern early childhood education center.
WCCA has been awarded a $25,000 grant by the Perry N. Rudnick Endowment Fund of
the Community Foundation of Henderson County. The funds will be used to help
renovate and save the 70-year old Tebeau Children's Center in Hendersonville, NC.
● The old daycare center which is located near Pardee Hospital off 9th Avenue between
Hendersonville Elementary and Middle School has been around since the mid-70's. It
was called Stay 'n Play, then Lovin' & Learning, and Hendersonville School for Little
Folks. Generations of Henderson County families have relied on the center for childcare.
● After it closed in early 2020, WCCA bought the Tebeau Drive property. WCCA is in the
process of renovating and remodeling the facility to make it a modern early childhood
education center to serve nearly 100 children and families.
● David White, CEO for WCCA said "We're grateful to partner with a group like the Perry
N. Rudnick Endowment Fund and the Henderson County Community Foundation to
save a piece of Henderson County's past. Their support is an investment in future
generations of our children!"
● WCCA has raised just over $402,000 of the $850,000 needed to renovate the Tebeau
Center in time for its opening in April 2022. If you would like to help support this
worthwhile effort, please visit WCCA.org and donate!
Winter Tree Carnival w/ Rabbit Rabbit
The free display of trees is sponsored + decorated by local community members, nonprofit orgs + bizzes, and a portion of the event's proceeds will benefit Manna FoodBank.
WINTER TREE CARNIVAL
Reserve your tree today by clicking HERE
$300 = Adopt a tree to decorate. One tree allowed per business/organization.
$600 = Adopt a tree to decorate and adopt an additional tree for a non-profit organization.