Arts and Theatre
Browse through upcoming arts and theater events in Hendersonville, NC, including musicals, plays, operas, and more.
Monday, September 25, 2023
Applications open: 2024 Asheville Fringe Arts Festival
Do you have a boundary-pushing, innovative performance piece, short film or installation that you're ready to share?
We will open applications for the film portion of the festival in fall 2023. Films must be submitted via FilmFreeway. Our application fee for films is $5.
NOW CONSIDERING WORKS OF ALL KINDS
We accept live performances from 5 to 60 minutes in length, plus installations and films. We're open to other types of performance as well – let's talk! Depending on its length, your piece may be grouped with another show, or scheduled as a Random Act of Fringe. RAFs are free and open to the public, and artists receive a stipend for their performance, rather than relying on door sales.
Typically each artist with a ticketed show gets 2 performances. But in 2024, we're exploring the option of giving a few shows 3 performances, at select venues only. Our venues range from 20-80 person capacity.
3. THE ASHEVILLE FRINGE ARTS FESTIVAL IS A JURIED FESTIVAL.
We carefully review each and every submission. You'll know by late October if your piece is selected. Should your piece get selected, there is a $35 participation fee.
ArtsAVL's: Thomas Wolfe Auditorium FAQ is Now Live
ArtsAVL's first Town Hall of 2023-24, focused on the current state and future possibilities for Thomas Wolfe Auditorium, drew over 400 attendees. ArtsAVL collected your questions after the event for an FAQ page. This page will continue to be updated as the discussion evolves. Answered questions include possible next steps, details of non-ticketed events that happen in the auditorium, the economic impact of the space's closure, and much more.
Missed the Town Hall? Read our article here, and watch the video here.
Immediate Next Steps: City Council will hold a special meeting on Tues, Sept 26 at 3pm
Asheville Community Theatre Youth Production Classes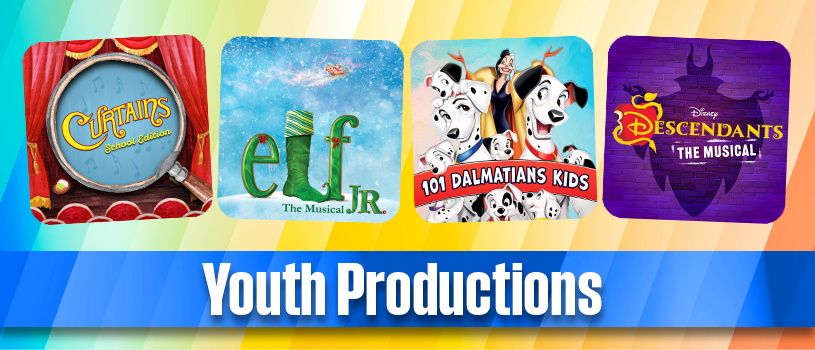 What is a Youth Production?
An ACT Youth Production is an immersive performance workshop that is specially tailored for young artists who aspire to learn and grow in the performing arts. This hands-on experience offers a unique opportunity for students to undergo a comprehensive exploration of the theatrical process. Starting with auditions, they are taught how to prepare and present their best selves, and throughout the rehearsal process, students collaborate with the cast in a dynamic and supportive environment. A distinctive feature of this program is the inclusion of choreography and voice training sessions that enable students to discover and improve their vocal prowess and dancing abilities, thus turning them into well-rounded performers. Every aspect is designed to nurture creativity, foster teamwork, and instill a genuine love for theatre. All students are encouraged to participate, regardless of their previous experience or exposure to theatre.
Interested in Technical Theatre classes?
If you're interested in getting hands-on experience with technical theatre, our Tech & Run Crew class is tailored just for you. Whether you're a beginner with a budding interest or a seasoned tech enthusiast aiming to sharpen your skills, you will get the opportunity to work on real productions in an education environment.
Buncombe County Special Collections call for proposals
Buncombe County Special Collections is excited to announce a call for proposals for the third year of its creative residency program.
This is an annual opportunity for artists in Buncombe County to create new, research-driven creative work using BCSC's historic resources as source material and/or inspiration, and to present their work in the Carolina Record Shop, a dedicated exhibition space in the BCSC reading room. Artists age 18 and up, based in Buncombe County, working in any creative discipline are invited to apply.
Buncombe County Special Collections is looking for projects that will:
Offer new, diverse perspectives on our shared history
Identify and address gaps and/or amplify narratives that are historically underrepresented in the collection
Educate and inspire non-traditional users of archives and special collections to engage with the collection in new ways.
More information (including the PDF of the call for proposals) is available at here. The 2024 Creative Residency is made possible in part by the Trust Fund for Buncombe County Public Libraries.
You can also visit Buncombe County Special Collections in the lower level of Pack Memorial to view the current exhibition in the Carolina Record Shop, "Belonging & Non-Belonging: The History and Future of Zines in Western North Carolina," curated by 2023 resident Miles Lamberson.
Cole Caswell: The Source, From the Blue Ridge
Tracey Morgan Gallery is pleased to present a solo exhibition by photographer Cole Caswell in our project space. This is Caswell's first exhibition with the gallery and is presented in conjunction with Orly Cogan: Holding On & Letting Go in our main gallery. An opening reception for both artists will be held Friday, Sep-tember 15 from 6-8PM.
On view in this exhibition is a recent series of 60 unique tintype landscape photographs all taken in the mountains of Western North Carolina. Though his homebase and studio are on an island off the coast of Maine, Caswell has been living and working nomadically for the past decade, traveling around in his 1990s bus with a portable darkroom. Drawn to the Appalachian Mountains near Asheville, NC, Caswell spent four weeks in the spring of 2023 developing this new body of work.
These works show an interest in human's place within the natural world, on both a macro and micro level. While contemporary life has largely pulled us away from a meaningful connection to place, these photo-graphs feel grounded in the earth, with an intensely magnetic aura and depth that is counterintuitive to their two-dimensional surfaces. Caswell embraces the idiosyncrasies and imperfections inherent to this analog medium, allowing the material itself to become a co-collaborator. The photographs are dark and moody, seeming to unearth something beautifully sinister and complex buried deep within the landscape. Utilizing an historic photographic process of wet-plate collodion in a contemporary context, the works serve as a res-pite from our technologically saturated world.
"The Source," included in the show's title, is in reference to the sun, which is prominently depicted. Through the analog tintype photographic process, we are given access to views of the sun which would not be possi-ble with the naked eye. The small scale of the tintypes (10 x 8 inches) gives a pleasing and almost unset-tling intimacy to the otherwise vastness of earth's star – serving as small portals to expansive celestial spac-es.
In addition to the unique tintypes, four editioned and framed 25 x 20 inch enlargements from the series will be on view.
Cole Caswell's work explores our ability to subsist within the contemporary environment. He has collabo-rated with the arts collective Spurse, The Nation Park System, and The Kohler Center for The Arts. He is the current Visual Artist Fellow for the State of Maine for his work focused on threatened coastal landscapes and he holds an adjunct faculty position at Southern Maine Community College, where he develops and teach-es photography courses remotely. In addition to these teachings Cole has lectured at the Maine Media Work-shops; Kohler Arts Center; The Halide Project; Syracuse University's School of Architecture; The School of the Museum of Fine Arts; Tufts University; and the Bakery Photo Collective. His work has been shown ex-tensively around North America and is the subject of numerous publications. His studio is located on Peaks Island off the coast of Maine.
Orly Cogan: Holding On + Letting Go
Tracey Morgan Gallery is pleased to present Holding On & Letting Go, an exhibition of textile-based work by New York artist Orly Cogan. This is Cogan's first solo exhibition with the gallery. An opening reception with the artist will be held Friday, September 15 from 6-8PM.
Using vintage fabrics such as table clothes, bed linens, and dish towels as her base material, Cogan adds hand interventions of embroidery, crochet, appliqué and paint, layering contemporary imagery onto repurposed textiles, engaging with ideas of feminism, beauty, art history, fairy tales, fantasy, and desire. Through semi-erotic depictions of the human figure, Cogan creates contrasting visual dialogues with traditional foundations associated with femininity and domesticity.
Cogan sees her work as in collaboration with the original makers of the fabrics she uses, which were most likely handmade by women of past generations. The act is both subversive and playful – honoring the craft of other artisans while co-opting their wares to explore sexuality and presumptions about gender roles.
While the recent works selected for this exhibition continue Cogan's interest into the many facets of feminism and eroticism, they more broadly explore themes of attachment/detachment in interpersonal relationships, family, and work. They look at the paradox of parenting (Cogan is mother to a teenager), in which parents must simultaneously be protectors and providers, while allowing their children to find their own identities on their own terms. Cogan notes this challenge is surprisingly like the process of art making, which necessitates the artist letting go of preconceived notions of the final piece to create.
Included with the two-dimensional framed, stretched, and free hanging works is an installation in the center of the gallery, Confections (2006-ongoing). Comprised of entirely fabricated crocheted and knitted cakes and other desserts, this piece looks at indulgence and temptation, again using a traditionally "feminine" trope to unpack the many aspects of human longing.
Orly Cogan was born in Israel and educated at The Cooper Union for the Advancement of Science and Art in NYC and The Maryland Institute College of Art. She has been exhibiting her work throughout the US and Europe for over two decades and has been at the forefront of the fiber arts movement, with an emphasis on Feminism in contemporary art. Cogan has been included in a number of notable national and international museum and university exhibitions, including The Aldrich Museum of Contemporary Art, CT; The Museum of Arts & Design, NY; Riverside Museum, Riverside, CA; The Hudson River Museum, NY; The Textile Museum of Toronto, Canada (with Judy Chicago); The Rijswijk Textile Biennial in The Museum Rijswijk; and at The Museum of Decorative Arts and Design, Oslo among others. Cogan's work is found in various public and private collections including The Museum of Arts & Design, NY and MIT. She has curated several acclaimed group exhibitions in NYC. Cogan's work has been published in several books and museum catalogues. Reviews of her work are included in the New York Times, New American Paintings, the Los Angeles Times, W Magazine, Elle, Art in America, Art News, and Art Forum, among many others. She currently lives and work in New York, NY.
The local ReStore ReUse Contest is officially open for
submissions. Now through September 30, residents can show off their creativity and talent for
a chance to win in the 12 th annual contest. Fabulous furniture make-overs, remarkable
renovations, or unique yard art…if you recently took on a DIY project using predominantly
reused building materials, the Asheville Habitat ReStore wants to know. There are five
categories this year plus Best in Show, and all entries must be submitted electronically. For
guidelines and entry form, visit ashevillehabitat.org/restore .
The creativity of this community never ceases to amaze. Past projects have included a fence
fashioned from doors, a potting bench built from pallets, a wine bar made from a vintage
console radio, a chair constructed from an oil drum, and so much more. To see photos from
2022, click here.
A panel of five judges will select winners in the following categories: Furniture, Homesteading,
Live/Work Space, Home Décor, Art + Best in Show. Winners will be announced in mid-
October.
Exhibition: NEO MINERALIA
Photo credit:
Sae Honda. Courtesy of the Artist.
NEO MINERALIA suggests that recent rock formations no longer fit within the traditional groups: Igneous, Metamorphic, and Sedimentary. Instead, the Anthropocene, the era of human influence on the climate and environment, has introduced two post-natural rocks: Synthetic and Digital.
NEO MINERALIA presents a selection of new geological specimens crafted by ten international artists exploring rocks as reflections of our effects on human and nonhuman ecologies. By embedding synthetic materials (plastics, e-waste) and layers of data points (critical, financial, social) into the craftsmanship of these artifacts, the artists transgress the definition of rocks, turning them from passive aggregates of minerals into metaphorical aggregates of data. Within their apparent "rockness" we can decode hopes, warnings, and speculative future scenarios.
The featured works stemming from places as varied as Mexico, Japan, Poland, and Australia (including a curated artists' books library), collectively signal a new era of planetary and geological consciousness where we are asked to read, feel, and listen to rocks in new ways.
Exhibition: Something earned, Something left behind
Photo credit:
J Diamond, "Pony II," 2022. Courtesy of the Artist
Something earned, Something left behind is an exhibition of objecthood; a critical analysis of the transactional and political languages of everyday and culturally significant objects. This exhibition challenges a history of exclusion and inclusion of People of Color (POC) and their narratives from the canon of craft based on subject matter. It dissects this history's origins and precedent as an economic transaction to gain access to white spaces.
Racial and ethnic identity influences the way individuals perceive themselves, the way others perceive them, and the way they choose to behave. For this reason, People of Color are expected to perform certain roles in order to fit into hegemonic institutions. These roles can be an active shrinking of themselves and the racialized part of them, or a personal exploitation of their racialized selves. This exhibition addresses and redresses the ways narrowed populations have been included, and the ways in which they have been asked to participate.
Together, this work creates space for and legitimizes POC narratives with depth and care. The exhibiting artists' practices work against institutionalized expectations of POC work, expanding discourse and inserting new subjectivity into the canon of craft art. It engages with a community hungry for the revitalization and resuscitation of non-Western voices within art spaces. This exhibition challenges the expectations of art from artists of marginalized backgrounds and embraces a new subjectivity of interrogating one's inherited experiences.
Exhibition: Crafting Denim
Photo credit:
Photograph by Bowery Blue Makers
Jeans – with their standardized pockets, rivets, and denim – are so much a part of everyday wardrobes that they are easy to overlook. Yet, in workshops across the nation, independent makers are reevaluating the garment and creating jeans by hand, using antiquated equipment and denim woven on midcentury looms. Crafting Denim explores how and why jeans have come to exist at the intersections of industry and craft, modernity, and tradition.
A product of industrial factory production for over a century, jeans are being recast by a new cohort of small-scale makers including craftspeople like Ryan Martin of W.H. Ranch Dungarees, Takayuki Echigoya of Bowery Blue Makers, and Sarah Yarborough and Victor Lytvinenko of Raleigh Denim, who favor choice materials and small-batch fabrication. The jeans they make merge craft traditions with industry and extend the conversation between hand and machine.
Each maker creates a distinctive product but shares a deep appreciation for materials, tools, history, and denim. These jeans are in dialogue with the past and in line with contemporary interests in sustainability. The small workshops featured here are sites of innovation and preservation, and visitors are invited to take a close look at an everyday item and imagine alternative contexts for making and living in our own clothes.
Beyond the Lens: Photorealist Perspectives on Looking, Seeing, and Painting
Throughout the history of painting from the mid-19th century forward, artists have used an

endless variety of approaches to record their world. Beyond the Lens: Photorealist Perspectives on Looking, Seeing, and Painting continues this thread, offering an opportunity to explore a singular and still forceful aspect of American art. Photorealism shares many of the approaches of historical and modernist realism, with a twist. The use of the camera as a basic tool for organizing visual information in advance of painterly expression is now quite common, but Photorealists embraced the camera as the focal point in their creative process.

Beyond the Lens presents key works from the collection of Louis K. and Susan Pear Meisel,

bringing together paintings and works on paper dating from the 1970s to the present to focus on this profoundly influential art movement. The exhibition includes work by highly acclaimed formative artists of the movement such as Charles Bell, Robert Bechtle, Tom Blackwell, Richard Estes, Audrey Flack, and Ralph Goings as well as paintings by the successive generations of Photorealist artists Anthony Brunelli, Davis Cone, Bertrand Meniel, Rod Penner, and Raphaella Spence. Featured artworks in the exhibition include diverse subject matters, but the primary focus is on the common and every day: urban scenes, "portraits" of cars, trucks, and motorcycles, still life compositions using toys, food, candy wrappers, and salt and pepper shakers. All provide opportunities for virtuoso studies in how light, reflection, and the camera as intermediary shapes our perception of the material world.

This multigenerational survey demonstrates how the 35-mm camera, and later technological

advances in digital image-making, informed and impacted the painterly gesture. Taken together, the paintings and works on paper in Beyond the Lens show how simply spellbinding these virtuosic works of art can be.

"Beyond the Lens offers a fascinating look into the Photorealism movement and delves into the profound connection between the artists' observation and creative process," says Pamela L. Myers, Executive Director of Asheville Art Museum. "We are delighted to present this curated collection of artworks encapsulating the creative vision and technical precision that defines this artistic genre."

Photorealism found its roots in the late 1960s in California and New York, coexisting with an explosion of new ideas in art-making that included Conceptual, Pop, Minimalism, Land and Performance Art. At first, representational realism coexisted with the thematic and conceptual explosion but was eventually relegated to the margins regarding critical and curatorial attention. Often misunderstood and sometimes negatively criticized or lampooned as a betrayal of modernism's commitment to abstraction, the artists involved in Photorealism remained committed explorers of the trail they had blazed. In the decades of the late twentieth century and early twenty-first century, realistic and symbolic painting experienced a renaissance, as contemporary artists are increasingly drawn to narrative and storytelling. Concurrently, using a camera as a preparatory tool equally legitimate and valuable as pencils and pens has made the rubric of Photorealism increasingly relevant.

This exhibition is organized by the Asheville Art Museum and guest curated by Terrie Sultan.

This exhibition is sponsored in part by Jim and Julia Calkins Peterson.
Romare Bearden: Ways of Working Exhibition
Romare Bearden (Charlotte, NC 1911–1988 New York, NY), African American writer and artist, is renowned for his collages. He constantly experimented with various techniques to achieve his artistic goals throughout his career. This exhibition highlights works on paper and explores his most frequently used mediums, including screen-printing, lithography, hand-colored etching, collagraph, monotype, relief print, photomontage, and collage.
Bearden's work reflects his improvisational approach to his practice. He considered his process akin to that of jazz and blues composers. Starting with an open mind, he would let an idea evolve spontaneously.
"Romare Bearden: Ways of Working highlights Bearden's unique artistic practice and masterful storytelling through art," says Pamela L. Myers, Executive Director of the Asheville Art Museum. "We are thrilled to collaborate with Jerald Melberg Gallery to present these extraordinary works on paper in conversation with Bearden's collage Sunset Express, 1984 in the Museum Collection (on view in the Museum's SECU Collection Hall). This exhibition will also provide a glimpse into the cultural histories and personal interests that influenced his art-making practice, and we hope it encourages introspection and dialogue with our visitors."
Jerald Melberg states, "Romare Bearden's groundbreaking artistic practice continues to captivate audiences worldwide. With an unparalleled legacy of creativity and innovation, Bearden's contributions to art remain deeply influential years beyond his life." We have enjoyed organizing this exhibition with the Asheville Art Museum to showcase his artistic genius and inspire visitors from the Western North Carolina region and beyond."
This exhibition is made possible in part by the Judy Appleton Fund. Many thanks to the Jerald Melberg Gallery for the loan of these important artworks and to Mary and Jerald Melberg for their long-standing support of the arts, artists, and the Asheville Art Museum.
The Art of Food: From the Collections of Jordan D. Schnitzer and His Family Foundation
The Art of Food features works from important postwar artists, like Robert Rauschenberg, Roy Lichtenstein, John Baldessari, Wayne Thiebaud, Ed Ruscha, Andy Warhol, David Hockney, and Jasper Johns, alongside the work of contemporary artists, like Alison Saar, Lorna Simpson, Enrique Chagoya, Rachel Whiteread, and Jenny Holzer, among others.

The Art of Food features more than 100 works in mediums that include drawings, paintings, photographs, prints, sculptures, and ceramics by 37 artists.

Each artist has a unique means of depicting food in their work that, when seen alongside others, creates a nuanced representation of the complex place food holds in everyday life. Cross-historical resonances between artists in the exhibition spark novel meditations on food and its discontents, while speaking to a broad range of audiences.
Western North Carolina Glass: Selections from the Collection
Western North Carolina is important in the history of American glass art. Several artists of the Studio Glass Movement came to the region, including its founder Harvey K. Littleton. Begun in 1962 in Wisconsin, it was a student of Littleton's that first came to the area in 1965 and set up a glass studio at the Penland School of Craft in Penland, North Carolina. By 1967, Mark Peiser was the first glass artist resident at the school and taught many notable artists, like Jak Brewer in 1968 and Richard Ritter who came to study in 1971. By 1977, Littleton retired from teaching and moved to nearby Spruce Pine, North Carolina and set up a glass studio at his home.
Since that time, glass artists like Ken Carder, Rick and Valerie Beck, Shane Fero, and Yaffa Sikorsky and Jeff Todd—to name only a few—have flocked to the area to reside, collaborate, and teach, making it a significant place for experimentation and education in glass. The next generation of artists like Hayden Wilson and Alex Bernstein continue to create here. The Museum is dedicated to collecting American studio glass and within that umbrella, explores the work of Artists connected to Western North Carolina. Exhibitions, including Intersections of American Art, explore glass art in the context of American Art of the 20th and 21st centuries. A variety of techniques and a willingness to push boundaries of the medium can be seen in this selection of works from the Museum's Collection.
Drop-In Crochet Lessons with Flowstate Artist in Residence Ingrid Phillip
Learn the art of crochet with September Flowstate artist in residence Ingrid Phillip!
Free. Ages 8 & up. Snacks provided!
Space is limited. To register, please stop by or call the library at 828-250-4738.
Does your little kid have a big imagination and lots of energy? Then this class exploring the fundamentals of theatre is just for them! During this 8-week class, students will explore favorite storybook characters and bring them to life through acting and creative and imagination play. This high-energy class will celebrate your young artist's creativity, develop skills in improvisation, public speaking, and expression, and release creative energy in a meaningful way. With new material every semester, this class can (and should) be taken multiple times! We will end the semester with a taped video performance that will be emailed out to all families!
Middle School Acting Class
In this 8-week semester, young artists will learn to create dynamic relationships through theatre games, improvisation, and scene work. With an emphasis on ensemble storytelling, character creation, physicality, and voice and speech, students will leave feeling more collaborative, creative, and confident making bold choices on stage and in life. No prior experience is necessary, only an open mind! With new material every semester, this class can (and should) be taken multiple times. We will end the semester with a taped video performance that will be emailed out to all families!
This 8-week class is designed for curious young performers eager to explore the "FUN"-damentals of acting. Through high-energy theatre games, improvisation, pantomime, storytelling, and ensemble-based activities, students will hone their theatre skills, build meaningful connections with other young artists, and discover their creative potential! With new material every semester, this class can (and should) be taken multiple times. We will end the semester with a taped video performance that will be emailed out to all families!
3rd-5th Musical Theatre Class
In this 8-week session discover the fun and fundamentals of musical theatre technique by integrating acting, singing, and simple choreography in the development of a Broadway repertoire. Students will learn proper vocal technique, story-telling through song, musical theatre-style choreography, and how to work within an ensemble. With new material every semester, this class can (and should) be taken multiple times. We will end the semester with a taped video performance that will be emailed out to all families!
Apple Country Woodcrafters
Meetings are held monthly on the fourth Monday with a social at 6:00 p.m. and the meeting following at 6:30 p.m. Most end around 8:00 p.m. Meetings are held at the Grace Lutheran Church in Hendersonville at 1245 6th Avenue. Most meetings include a Show & Tell segment with members sharing their work, and a Feature Presentation with a guest speaker covering a wide variety of woodworking topics.

Additionally, the club periodically schedules field trips, visiting operations of interest to its members. Past field trips have included saw mills, chair makers and woodcraft suppliers.

The public is welcome to attend our monthly meetings or to stop by our shop. New members of any skill level are always welcome.