Calendar of Events
Looking for things to do in Hendersonville, NC? Whether you're a local or just passing through we've got loads of great tips and events to help you find your perfect adventure.
Interested in adding an event to our calendar? Please click the green "Post Your Event" button below.
Monday, September 25, 2023
Applications open: 2024 Asheville Fringe Arts Festival
Do you have a boundary-pushing, innovative performance piece, short film or installation that you're ready to share?
We will open applications for the film portion of the festival in fall 2023. Films must be submitted via FilmFreeway. Our application fee for films is $5.
NOW CONSIDERING WORKS OF ALL KINDS
We accept live performances from 5 to 60 minutes in length, plus installations and films. We're open to other types of performance as well – let's talk! Depending on its length, your piece may be grouped with another show, or scheduled as a Random Act of Fringe. RAFs are free and open to the public, and artists receive a stipend for their performance, rather than relying on door sales.
Typically each artist with a ticketed show gets 2 performances. But in 2024, we're exploring the option of giving a few shows 3 performances, at select venues only. Our venues range from 20-80 person capacity.
3. THE ASHEVILLE FRINGE ARTS FESTIVAL IS A JURIED FESTIVAL.
We carefully review each and every submission. You'll know by late October if your piece is selected. Should your piece get selected, there is a $35 participation fee.
ArtsAVL's: Thomas Wolfe Auditorium FAQ is Now Live
ArtsAVL's first Town Hall of 2023-24, focused on the current state and future possibilities for Thomas Wolfe Auditorium, drew over 400 attendees. ArtsAVL collected your questions after the event for an FAQ page. This page will continue to be updated as the discussion evolves. Answered questions include possible next steps, details of non-ticketed events that happen in the auditorium, the economic impact of the space's closure, and much more.
Missed the Town Hall? Read our article here, and watch the video here.
Immediate Next Steps: City Council will hold a special meeting on Tues, Sept 26 at 3pm
Asheville Community Theatre Youth Production Classes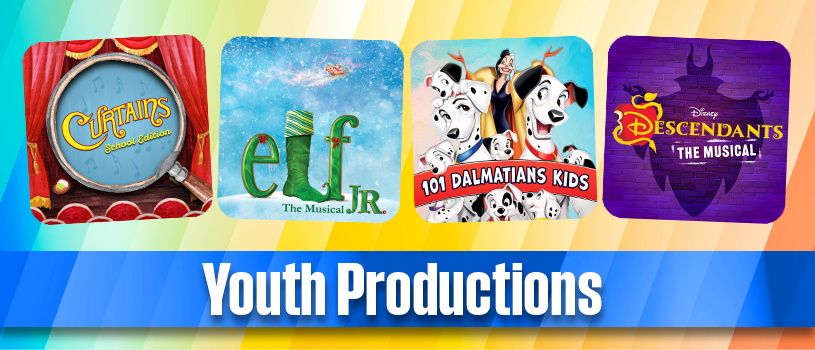 What is a Youth Production?
An ACT Youth Production is an immersive performance workshop that is specially tailored for young artists who aspire to learn and grow in the performing arts. This hands-on experience offers a unique opportunity for students to undergo a comprehensive exploration of the theatrical process. Starting with auditions, they are taught how to prepare and present their best selves, and throughout the rehearsal process, students collaborate with the cast in a dynamic and supportive environment. A distinctive feature of this program is the inclusion of choreography and voice training sessions that enable students to discover and improve their vocal prowess and dancing abilities, thus turning them into well-rounded performers. Every aspect is designed to nurture creativity, foster teamwork, and instill a genuine love for theatre. All students are encouraged to participate, regardless of their previous experience or exposure to theatre.
Interested in Technical Theatre classes?
If you're interested in getting hands-on experience with technical theatre, our Tech & Run Crew class is tailored just for you. Whether you're a beginner with a budding interest or a seasoned tech enthusiast aiming to sharpen your skills, you will get the opportunity to work on real productions in an education environment.
Buncombe County Special Collections call for proposals
Buncombe County Special Collections is excited to announce a call for proposals for the third year of its creative residency program.
This is an annual opportunity for artists in Buncombe County to create new, research-driven creative work using BCSC's historic resources as source material and/or inspiration, and to present their work in the Carolina Record Shop, a dedicated exhibition space in the BCSC reading room. Artists age 18 and up, based in Buncombe County, working in any creative discipline are invited to apply.
Buncombe County Special Collections is looking for projects that will:
Offer new, diverse perspectives on our shared history
Identify and address gaps and/or amplify narratives that are historically underrepresented in the collection
Educate and inspire non-traditional users of archives and special collections to engage with the collection in new ways.
More information (including the PDF of the call for proposals) is available at here. The 2024 Creative Residency is made possible in part by the Trust Fund for Buncombe County Public Libraries.
You can also visit Buncombe County Special Collections in the lower level of Pack Memorial to view the current exhibition in the Carolina Record Shop, "Belonging & Non-Belonging: The History and Future of Zines in Western North Carolina," curated by 2023 resident Miles Lamberson.
Cole Caswell: The Source, From the Blue Ridge
Tracey Morgan Gallery is pleased to present a solo exhibition by photographer Cole Caswell in our project space. This is Caswell's first exhibition with the gallery and is presented in conjunction with Orly Cogan: Holding On & Letting Go in our main gallery. An opening reception for both artists will be held Friday, Sep-tember 15 from 6-8PM.
On view in this exhibition is a recent series of 60 unique tintype landscape photographs all taken in the mountains of Western North Carolina. Though his homebase and studio are on an island off the coast of Maine, Caswell has been living and working nomadically for the past decade, traveling around in his 1990s bus with a portable darkroom. Drawn to the Appalachian Mountains near Asheville, NC, Caswell spent four weeks in the spring of 2023 developing this new body of work.
These works show an interest in human's place within the natural world, on both a macro and micro level. While contemporary life has largely pulled us away from a meaningful connection to place, these photo-graphs feel grounded in the earth, with an intensely magnetic aura and depth that is counterintuitive to their two-dimensional surfaces. Caswell embraces the idiosyncrasies and imperfections inherent to this analog medium, allowing the material itself to become a co-collaborator. The photographs are dark and moody, seeming to unearth something beautifully sinister and complex buried deep within the landscape. Utilizing an historic photographic process of wet-plate collodion in a contemporary context, the works serve as a res-pite from our technologically saturated world.
"The Source," included in the show's title, is in reference to the sun, which is prominently depicted. Through the analog tintype photographic process, we are given access to views of the sun which would not be possi-ble with the naked eye. The small scale of the tintypes (10 x 8 inches) gives a pleasing and almost unset-tling intimacy to the otherwise vastness of earth's star – serving as small portals to expansive celestial spac-es.
In addition to the unique tintypes, four editioned and framed 25 x 20 inch enlargements from the series will be on view.
Cole Caswell's work explores our ability to subsist within the contemporary environment. He has collabo-rated with the arts collective Spurse, The Nation Park System, and The Kohler Center for The Arts. He is the current Visual Artist Fellow for the State of Maine for his work focused on threatened coastal landscapes and he holds an adjunct faculty position at Southern Maine Community College, where he develops and teach-es photography courses remotely. In addition to these teachings Cole has lectured at the Maine Media Work-shops; Kohler Arts Center; The Halide Project; Syracuse University's School of Architecture; The School of the Museum of Fine Arts; Tufts University; and the Bakery Photo Collective. His work has been shown ex-tensively around North America and is the subject of numerous publications. His studio is located on Peaks Island off the coast of Maine.
College Street Parking Deck Applications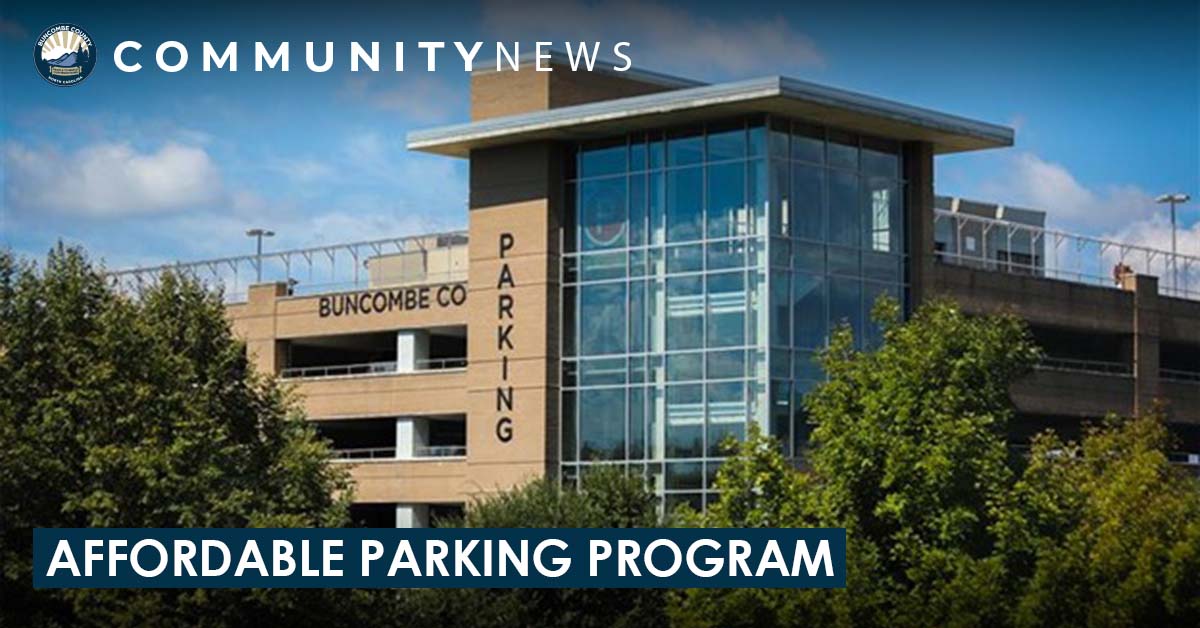 Do you work in downtown Asheville? If so, Buncombe County's expanded affordable parking program could save you hundreds of your hard-earned dollars. The program already includes 150 spots at the Coxe Avenue parking deck (located at 11 Sears Alley) for a discounted price of $40 per month. After research and public input, the County is excited to offer an additional 50 spots at the College Street parking deck (located at 164 College Street, across from the judicial complex) for $40 per month. This initiative, focused on service industry and retail workers, is now taking applications.
The expansion of the Affordable Parking Program comes after nearly 800 survey respondents shared their support and echoed the need for the program. To help meet that demand, the County is now offering a total of 200 discounted spots for downtown workers. "We've heard a lot of positive feedback, and it's helping a lot of people. Behind housing, transportation is next highest expense for many people… so providing people in the workforce with an affordable way to get close to where they work is really very valuable," said Commission Chair Brownie Newman.
To be eligible, you need to work in Downtown Asheville and make 80% area median income (AMI), which is less than $22.88 per hour or $3,967 per month. Applications are now open for the program, and it offers 75 spots at Coxe Avenue and 50 at College Street. If you think you're eligible, then please go ahead and apply.
Dolly Parton's Imagination Library: International Literacy Month
We are currently celebrating Dolly Parton's Imagination Library gifting 200 million books globally since 1995. In honor of this milestone, seven magical Dolly bookmarks will be hidden in Imagination Library books for enrolled children and families during September's International Literacy Month.

Lucky recipients who discover the bookmarks will have the chance to receive a video chat, a personalized letter, autographed photo from Dolly, and four Dollywood Theme Park tickets. Additionally, the Dollywood Foundation will donate $2000 on behalf of each chosen child to their local Imagination Library partner, recognizing them as the true heroes of the program.

Dolly Parton's Imagination Library impacts the pre­-literacy skills and school readiness of children under the age of 5 in Buncombe County. The program mails a new, free, age-appropriate book to registered children each month until they turn five years old. Dolly Parton's Imagination Library creates a home library of up to 60 books and instills a love of books and reading from an early age. If you have any questions about the program, please send an email to [email protected].

A national panel of educators selects the Imagination Library titles, which include: The Little Engine that Could, Last Stop on Market Street, Violet the Pilot, As an Oak Tree Grows, The Tale of Peter Rabbit, Llama Llama Red Pajama, Look Out Kindergarten, here I come, and many more (take a look at all the titles).

Program Launch and Expansions

Literacy Together became a Dolly Parton's Imagination Library affiliate in November 2015 with support from the Buncombe Partnership for Children. Through this program, registered children in Buncombe County receive a free book in the mail each month. Their parents also have the opportunity to attend workshops to learn how to build their children's early literacy skills. Parents in need of literacy assistance are encouraged to receive tutoring through Literacy Together's adult programming.

The program served 200 children during the 2015/16 fiscal year. The program expanded to serve 400 children in July 2016, and 600 in August 2017. In July 2018, capacity increased to 1,900 thanks to a special allocation in the North Carolina state budget. We're now serving 4,600 kids in Buncombe County.  
Food Drive for MANNA FoodBank
Did you know MANNA FoodBank provides more than 58,000 meals a day in Western North Carolina? MANNA works in partnership with the Buncombe County Community Connectors to provide much-needed food to 12 locations in under-resourced areas throughout our community. Donations will be collected for two weeks at area libraries and select public-facing County buildings beginning September 25 and ending on October 7.
MANNA served over 155,000 people in June 2023, which was another alarming high in a months-long trend of tens of thousands of people across the mountains needing food support each week. March 2023 marked the end of the pandemic-era SNAP benefit expansion, resulting in a new peak that has since continued to climb.
Buncombe County is asking the community to pitch in to help meet this need by dropping food items by one of our 12 Buncombe County Public Libraries or public-facing buildings.
You can drop off donations at the following locations around Buncombe County (look for the collection bins and signs):
Public libraries

Black Mountain
East Asheville
Enka Candler
Fairview
Leicester
North Asheville
Oakley/South Asheville
Pack Memorial
Skyland/South Buncombe
Swannanoa
Weaverville
West Asheville

Register of Deeds at 205 College St.
Tax at 94 Cox Ave.
HHS building at 40 Coxe Ave.
Elections at 59 Woodfin
Family Justice Center at 35 Woodfin
Permits and Inspections at 30 Valley St.
County administration building at 200 College St.
MANNA's most-needed items include: 
Canned meats (beef, chicken, tuna)
Peanut butter (plastic jars only)
Dried/canned beans (pork and beans, pinto, kidney, black)
Hearty soups (pop-top cans preferred)
Meals in a box or can (beef stew, chili, mac & cheese)
Canned fruit (fruit cocktail, raisins, apple sauce)
Canned vegetables (green beans, carrots, greens)
Cereals and grains (rice, pasta, cereal in a box or bag)
Fruit and vegetable juices
Dry milk (instant non-fat)
Thank you to everyone for helping us with this initiative to support children and families throughout our community.
Homeowner Grant Program Inquiry Process Open
\
Buncombe County is excited to announce the inquiry process for the 2023 Homeowner Grant Program opens Aug. 1. This program is officially in its third year, and qualified homeowners will have an opportunity to receive financial assistance for housing-related costs. The website buncombecounty.org/homeownergrant will start accepting inquiries Aug. 1-Sept. 30, or homeowners can call (828) 250-5500. You must call or submit an inquiry to determine eligibility.
You may qualify for up to $300 in unincorporated Buncombe County, and up to $500 in City of Asheville. Please note that applicants who received grants last year will need to re-apply.
Through this program, residents who own residential property in Buncombe County that they have lived in as their primary residence for at least five years and who earn at or less than 80% of Area Median Income (AMI) as a household may be eligible to participate.
If eligible, grantees may choose to have grant funds applied to their property tax bill and/or paid and applied to other housing-related obligations such as housing costs, mortgage, or homeowner's insurance. Payments are made directly to the source of the approved bill. Payments will not be made directly to individuals. There are several new aspects to this year's program including new eligibility requirements, and now mobile-home owners may receive the grants.
You must have owned and lived in your home for 5 years or more
Your home must by your primary and only residence
Your household income is at or below 80% of area median income (AMI)
Your household cannot already be receiving tax deferment assistance like elderly/disabled, or Veterans exemptions.
You must not have more than $60,000 in liquid resources (for example: your cash on hand, checking & savings accounts combined, or other investments available to you within 7 days)
The inquiry process will be open through Sept. 30. Eligible homeowners can submit an inquiry at buncombecounty.org/homeownergrant after Aug. 1 or call (828) 250-5500 to start the application process. Phone support is available in any language. Please note that we anticipate a high volume of calls and inquiries at the onset, and it may take a few weeks for a case manager to get back with you.
"If you think you may qualify, but you aren't sure, please give our team a call," says Economic Services Director Phillip Hardin. "We know there are a number of unique circumstances, and our staff will work with homeowners to help find solutions."
Hops for Hunger w/ 12 Bones Brewing and Appalachian Mountain Brewing
This month, you can make a difference for someone needing food by enjoying a local beer! Our friends at 12 Bones Brewing and Appalachian Mountain Brewing are designating one of their delicious beers as their Pint with Purpose, where every beer sold in September helps provide FOUR MEALS we can get to our neighbors right now!

12 Bones Brewing will be donating $1 of every pint of Coastal Grandmother Kölsch, and Appalachian Mountain Brewery is donating $1 for every pint of their Spoaty Oaty Pale Ale!

Thank you to these Hops for Hunger brewery partners for taking action in September to help feed WNC families!

12 Bones Brewing   5 Foundy St Ste 10, Asheville, NC 28801

Appalachian Mountain Brewing 46 N Mills River Rd, Mills River, Nc 28759
LEAF announces Festival Line Up
LEAF Fall Festival, 'Legends of The Americas': Full schedule announcement
 LET THE HEALING BEGIN:
HEALING ARTS SCHEDULE ANNOUNCED! 

LEAF Global Arts is here for ALL the arts, from music and dance to visual and performance art. Add to that list Healing Arts, which allow us to more deeply experience LEAF Festival — and ourselves! (Look for a reveal of Handcraft Artists & Vendors next week.)

Expand your LEAF weekend with Healing Arts, Movement, and Earth Skills workshops, all with the intention of helping you flow with whatever comes your way. Enjoy flow yoga to live music, nature hikes, dance, music workshops, sound healing, meditation, and more.

"Incredibly excited for the Fall healing arts and earth skills workshop offerings. There is something for everyone, including various types of yoga, meditation, kudzu basket weaving, sound healing, dance,

forest bathing, exploring your personal strengths, and more.

Fill your weekend with self care for your mind, body, and soul.

We are grateful for all the artists coming to LEAF Festival."

~ Madison, LEAF Vendor Coordinator 

 READY, SET, LEAF! 

FULL PERFORMANCE SCHEDULE WITH TIMES ANNOUNCED!

"We are beyond thrilled to unveil our meticulously crafted schedule for LEAF's Fall Festival, 'Legends of The Americas,' October 19-22, complete with TIMES and all the latest updates. Every moment has been designed with you in mind, forging connections that transcend borders and ignite the spirit. We call to every soul, near and far, to dive deep into the enchantment that awaits. Let the rhythm of these magical cultures enthrall you, let the melodies tell stories that resonate with the heart.

The world of LEAF beckons — are you ready to witness the magic?

Dive in now!"

~ Otto Vazquez, Artistic Curator
Membership with the Organic Growers School
OGS has kicked off its membership opportunities for donors. We depend on the community and members like you.  Become a member and help the Organic Growers School transform the food system to serve the needs of all people.
Donate at the $120 level or more, once annually or in monthly increments, to receive an OGS gift! Plus, you'll receive discounts to OGS special events, 10% off select OGS programs such as the Gardening Series, Homegrown Dream, Farm Dreams, and the annual Spring Conference, and discounts from our partners listed below:
Chelsea Green Publishing – 35% off
Chestnut School of Herbal Medicine- 10% off
Fifth Season Gardening Company – 10% orders of $50 or more
Mountain Rose Herbs  – 10% off
New Society Publishers – 35% off
Seven Springs Farm Supply – 7% off
And many more to come!
Becoming a member is as simple as making a contribution as mentioned above, and we'll handle everything else for you!
Orly Cogan: Holding On + Letting Go
Tracey Morgan Gallery is pleased to present Holding On & Letting Go, an exhibition of textile-based work by New York artist Orly Cogan. This is Cogan's first solo exhibition with the gallery. An opening reception with the artist will be held Friday, September 15 from 6-8PM.
Using vintage fabrics such as table clothes, bed linens, and dish towels as her base material, Cogan adds hand interventions of embroidery, crochet, appliqué and paint, layering contemporary imagery onto repurposed textiles, engaging with ideas of feminism, beauty, art history, fairy tales, fantasy, and desire. Through semi-erotic depictions of the human figure, Cogan creates contrasting visual dialogues with traditional foundations associated with femininity and domesticity.
Cogan sees her work as in collaboration with the original makers of the fabrics she uses, which were most likely handmade by women of past generations. The act is both subversive and playful – honoring the craft of other artisans while co-opting their wares to explore sexuality and presumptions about gender roles.
While the recent works selected for this exhibition continue Cogan's interest into the many facets of feminism and eroticism, they more broadly explore themes of attachment/detachment in interpersonal relationships, family, and work. They look at the paradox of parenting (Cogan is mother to a teenager), in which parents must simultaneously be protectors and providers, while allowing their children to find their own identities on their own terms. Cogan notes this challenge is surprisingly like the process of art making, which necessitates the artist letting go of preconceived notions of the final piece to create.
Included with the two-dimensional framed, stretched, and free hanging works is an installation in the center of the gallery, Confections (2006-ongoing). Comprised of entirely fabricated crocheted and knitted cakes and other desserts, this piece looks at indulgence and temptation, again using a traditionally "feminine" trope to unpack the many aspects of human longing.
Orly Cogan was born in Israel and educated at The Cooper Union for the Advancement of Science and Art in NYC and The Maryland Institute College of Art. She has been exhibiting her work throughout the US and Europe for over two decades and has been at the forefront of the fiber arts movement, with an emphasis on Feminism in contemporary art. Cogan has been included in a number of notable national and international museum and university exhibitions, including The Aldrich Museum of Contemporary Art, CT; The Museum of Arts & Design, NY; Riverside Museum, Riverside, CA; The Hudson River Museum, NY; The Textile Museum of Toronto, Canada (with Judy Chicago); The Rijswijk Textile Biennial in The Museum Rijswijk; and at The Museum of Decorative Arts and Design, Oslo among others. Cogan's work is found in various public and private collections including The Museum of Arts & Design, NY and MIT. She has curated several acclaimed group exhibitions in NYC. Cogan's work has been published in several books and museum catalogues. Reviews of her work are included in the New York Times, New American Paintings, the Los Angeles Times, W Magazine, Elle, Art in America, Art News, and Art Forum, among many others. She currently lives and work in New York, NY.
Pollinator Raffle benefit: Asheville City and Buncombe County School teachers
Only 200 tickets will be sold! Deadline to purchase tickets is September 30, drawing will be held October 2, 2023. The winner receives a site consultation followed by a fully-installed up to 10ft X 10ft native pollinator garden located in Buncombe or adjoining county.  Skilled "Pollenteers" will provide complete site preparation, soil conditioning, and a detailed management plan for your new garden.
Your raffle ticket will support Asheville City and Buncombe County School teacher registrations for the educational Symbolic Monarch Migration program.
The local ReStore ReUse Contest is officially open for
submissions. Now through September 30, residents can show off their creativity and talent for
a chance to win in the 12 th annual contest. Fabulous furniture make-overs, remarkable
renovations, or unique yard art…if you recently took on a DIY project using predominantly
reused building materials, the Asheville Habitat ReStore wants to know. There are five
categories this year plus Best in Show, and all entries must be submitted electronically. For
guidelines and entry form, visit ashevillehabitat.org/restore .
The creativity of this community never ceases to amaze. Past projects have included a fence
fashioned from doors, a potting bench built from pallets, a wine bar made from a vintage
console radio, a chair constructed from an oil drum, and so much more. To see photos from
2022, click here.
A panel of five judges will select winners in the following categories: Furniture, Homesteading,
Live/Work Space, Home Décor, Art + Best in Show. Winners will be announced in mid-
October.
Septic Repair Assistance Program
If you've been struggling to complete a septic system repair at your home, Buncombe County may be able to help homeowners with the cost of the project through a unique grant opportunity. The Septic Repair Assistance Program (SRP) provides financial assistance to repair failing septic systems for qualifying homeowners who do not meet the income limit of 80% of Buncombe County Area Median Income ($64,250 for a family of four). Applications are accepted continuously until further notice.
Previous program participants report that the application process is easy and agree that the program benefits are important as it can be expensive to repair septic systems. If you think you may qualify, please call our staff at (828) 250-5360 to learn more about this opportunity and to see if you qualify.
To apply for financial assistance, you must:
Be a resident of Buncombe County and own and occupy your home.
Obtain a septic system repair permit from Buncombe County Environmental Health. To request a repair permit, you must submit an application to Environmental Health. Once the application is received, an Environmental Health Specialist will make a site visit and evaluate the existing system, determine repair options, and issue a repair permit.
Obtain bids from at least three septic system contractors. Once the repair permit has been issued, you are responsible for obtaining bids from at least three contractors. A bid is an estimate of how much the repair will cost. We recommend that you request bids from more than three contractors to ensure that you receive at least three of the bids in a timely manner.
Complete a Grant Application form. This form requests specific information needed to determine grant eligibility, including verification of income.
Submit the Grant Application and copies of three contractor bids to Buncombe County Permits & Inspections, 30 Valley St., Asheville, NC 28801 or [email protected].
For more information, please see the attached document. Applications will be accepted until further notice.
Special Olympics Fall Sports Registration is OPEN
Special Olympics Fall sports registration is now OPEN!
Choose your sport and join the fun! Athletes can pick from soccer, bocce, basketball, and tennis. For any questions, please email [email protected]!
VOTE FOR Appalachian Wild: Animal, Wildlife and Marine Welfare Award
| | |
| --- | --- |
| APPALACHIAN WILD AND HELP THE ORGANIZATION WIN A LAND ROVER DEFENDER | |
Wildlife Husbandry ​Fall Internships
Fall internships have a minimum requirement of 12 hours per week that will be completed within a weekly schedule determined prior to beginning the internship. Interns are required to commit to a 4-5 month internship period. Hour commitments are based on seasonal needs.
No two days in wildlife rehabilitation are the same. Interns must be flexible, dedicated, dependable, and comfortable working as part of a team with fellow interns and volunteers. As well as communicating with the public as needed, interns will carry out a weekly set schedule that they are accountable for during the entirety of their internship.
Wildlife Husbandry Interns (12 hours/week) As a Wildlife Husbandry Intern, you will play a vital role in all aspects of our wildlife rehabilitation operations. This internship offers a unique opportunity to gain hands-on experience in wildlife care, rehabilitation processes, and facility management while contributing to the well-being of injured and orphaned wildlife in Western North Carolina. This internship provides an immersive experience in various aspects of wildlife care and rehabilitation, based on the intern's interest.
​
Responsibilities:
Wildlife Rehabilitation: Participate in the full rehabilitation process, including feeding, cleaning, record-keeping, and monitoring the progress of wildlife patients. Assist in the medical treatment and documentation as directed by staff. Observe and learn how to safely handle, feed, and care for various species of wildlife.
Daily Animal Care: Provide attentive and compassionate care to injured and orphaned wildlife and their enclosures. Ensure enclosures are clean, safe, and appropriately equipped for the animals' needs. Assist with feeding schedules and dietary preparations.
Animal Husbandry: Learn and practice proper animal husbandry techniques to ensure the well-being of the wildlife in our care. Assist with environmental enrichment activities to stimulate natural behaviors.
Wildlife Transport and Communication: Support wildlife transport efforts as needed, ensuring the safe and secure transfer of animals. Collaborate with the wildlife rehabilitation network in Western North Carolina to facilitate seamless communication and animal transfers.
Facility Upkeep and Maintenance: Contribute to the cleanliness and organization of the rehabilitation facility. Assist in facility maintenance tasks to ensure a safe and efficient work environment.
Details:
The internship requires a commitment of at least 5 months.
Start and end dates are flexible to accommodate academic schedules.
The intern will work approximately 12 hours per week at the wildlife rehabilitation facility in Candler, NC.

Qualifications:
Flexibility and adaptability.
Dedication and reliability.
Attention to detail.
Willingness to learn.
Ability to work collaboratively in a team setting with fellow interns and volunteers.
Passion for the rescue and rehabilitation of injured wildlife.
Benefits:
Gain invaluable hands-on experience in wildlife rehabilitation and animal care.
Learn from experienced professionals in the field of wildlife rescue and rehabilitation.
Develop critical skills in animal husbandry, medical care, and facility management.
Contribute to the conservation efforts of a respected wildlife refuge.
Opportunity to explore various aspects of a non-profit organization.