Calendar of Events
Looking for things to do in Hendersonville, NC? Whether you're a local or just passing through we've got loads of great tips and events to help you find your perfect adventure.
Friday, August 23, 2019
'Mountain Top Polka Band' Oktoberfest Tour Dates
August 23, Appalachian Ridge Hard Cidery in Hendersonville
August 24, HiWire Brewing Company at the Big Top
Sept. 22, Up Country Brewing on Haywood Road
Sept. 28, Southern Appalachian Brewery in Hendersonville
Oct. 4, Garden Deli in Burnsville
Oct. 6, Emmanuel Lutheran Church and School in West Asheville
Oct. 10, Highland Brewing Company and
Oct. 20, Saint Paul Mountain Vineyard in Hendersonville
11th Annual Blue Ridge Pride Festival Volunteer Opportunity
Give us 2-4 hours. Enjoy a day of music and memories — and the knowledge that you helped to bring a community together! You'll also get a little swag: a 11th Annual Festival Tee Shirt, snacks, a drink ticket, and our new Blue Ridge Pride Center buttons and stickers. Volunteer roles include: setup and breakdown, selling wristbands, beverages or merchandise, and assisting with volunteer check-in or VIP. Learn more and sign up here.
Asheville Community Theatre RALLFE $10,000 Cash
We've sent three lucky winners to London and one lucky winner to Hawaii – but in this summer's raffle, someone's going to win $10,000! Heck, you could go to BOTH London and Hawaii if you won (fly coach, stay in hostels?) Or build that outdoor firepit you've seen on HGTV, or rent a super swank beach house for a week, or anything you want, really, because it's your $10,000!
Raffle tickets are $50 and only 500 will be sold! And proceeds from every ticket you buy supports operations and programming at Asheville Community Theatre!
ELIGIBILITY: Present employees of Asheville Community Theatre and any immediate family members residing with the employees are not eligible to participate. Must be 18 years or older to enter. Contest void where prohibited. You need not be present to win.
Beer City Cup Adult Soccer Tournament is in need of volunteers

Calling all soccer lovers. Beer City Cup Adult Soccer Tournament is in need of volunteers. Proceeds benefit the Buncombe County Special Olympics. Volunteers are needed to pour beer at the beer tents.
Beer City Cup 2019
Thank you for your interest in volunteering at the beer tent for the Beer City Cup Soccer Tournament representing Buncombe County Special Olympics. If you choose to volunteer then you will get a t-shirt and a beer token for after your shift. Please note that you will be standing the entire time of your shift.
CONVERTIBLES NEEDED FOR APPLE FESTIVAL PARADE, Monday September 2nd 2019
Do you have a Classic, Antique, or Newer Convertible?  Do you know someone who does?  We need Convertibles for the Henderson County Apple Festival Parade on Monday September 2, 2019.
Bring your Classic, Antique or Newer Convertible to the "Top Notch Towing" on  Asheville Highway  ( Hwy 25) across from the "old Boyd New Car Showroom at 1 PM on Monday, September 2nd, 2019.  Convertibles are needed to drive a number of VIP's, Apple Festival President, Apple Festival Grand Marshall, Past President of Apple Festival and other VIP's..
   It is anticipated that we will need an increased number of Convertibles this year to carry Apple Festival Dignitaries, Veterans, and  other VIP's.
Apple Festival VIP's will be assigned to each car; magnetic signs designating the VIP will be placed on the respective cars.
Council on Aging Offers Free Medicare Classes August-September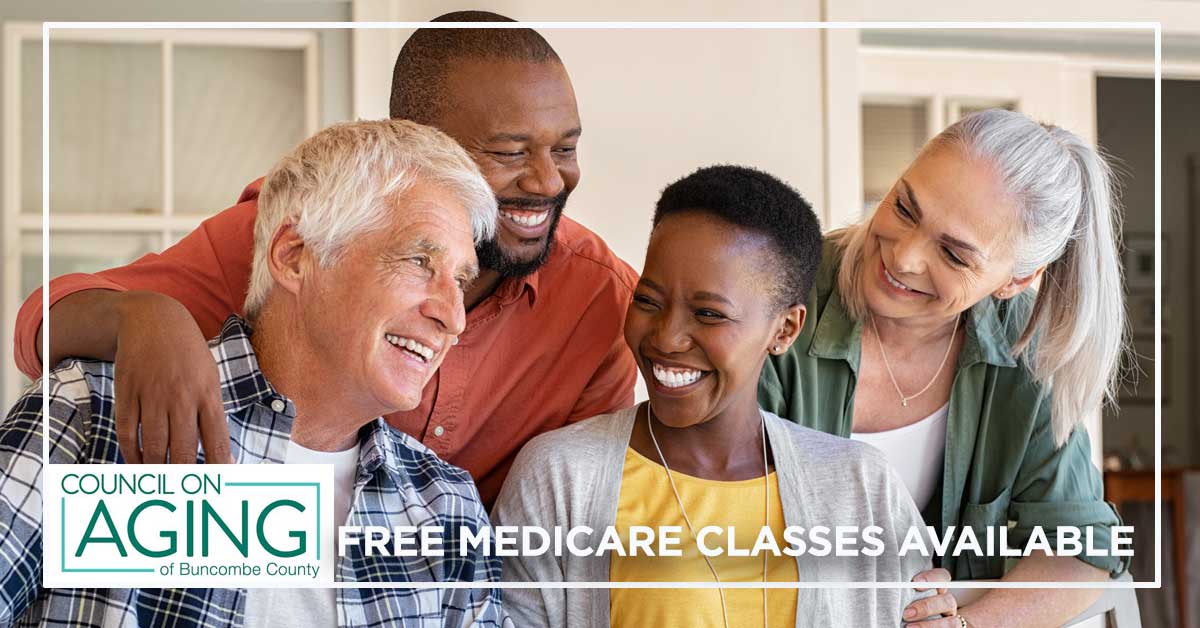 The Council on Aging of Buncombe County in conjunction with the N.C. Department of Insurance's Seniors' Health Insurance Information Program (SHIIP) announces its classes "Introduction to Medicare – Understanding the Puzzle" for August – September 2019. The classes will explain how Medicare works, the enrollment process, how to avoid penalties, and ways to save money.
The classes are free and open to the public.
Residents who are new to Medicare, caregivers, and others who help senior citizens with their Medicare insurance should consider attending this informative class. The information presented is unbiased and accurate. No products are sold, recommended, or endorsed.
Medicare Classes:  August – September 2019
Aug. 21, 2 p.m. – 4 p.m. PM Blue Ridge Health, 2579 Chimney Rock Rd, Hendersonville
Aug.  23, 2 p.m. – 4 p.m. Goodwill, 1616 Patton Ave, Asheville
Aug. 28, 2 p.m. – 4 p.m. Sacred Heart Catholic Church, 150 Brian Berg Dr, Brevard
Sept. 5, 10:30 a.m. – 12:30 p.m. Reuter YMCA, 3 Town Square Blvd, Asheville
Sept. 13, 2 p.m. – 4 p.m. OLLI/Reuter Center, UNCA, One University Heights, Asheville
Sept. 17, 10 a.m. – 12 p.m. Woodfin YMCA, 40 N Merrimon Ave #101, Asheville
Sept. 20, 2 p.m. – 4 p.m. Goodwill, 1616 Patton Ave, Asheville
Sept. 25, 2 p.m.- 4 p.m. Black Mountain YMCA, 25 Jane Jacobs Rd, Black Mountain
Oct. 1, 2 p.m.- 4 p.m. Ferguson YMCA, 31 Westridge Market Pl, Candler
Get $5K for Your Nonprofit: 2019 Tipping Point Grant Applications Open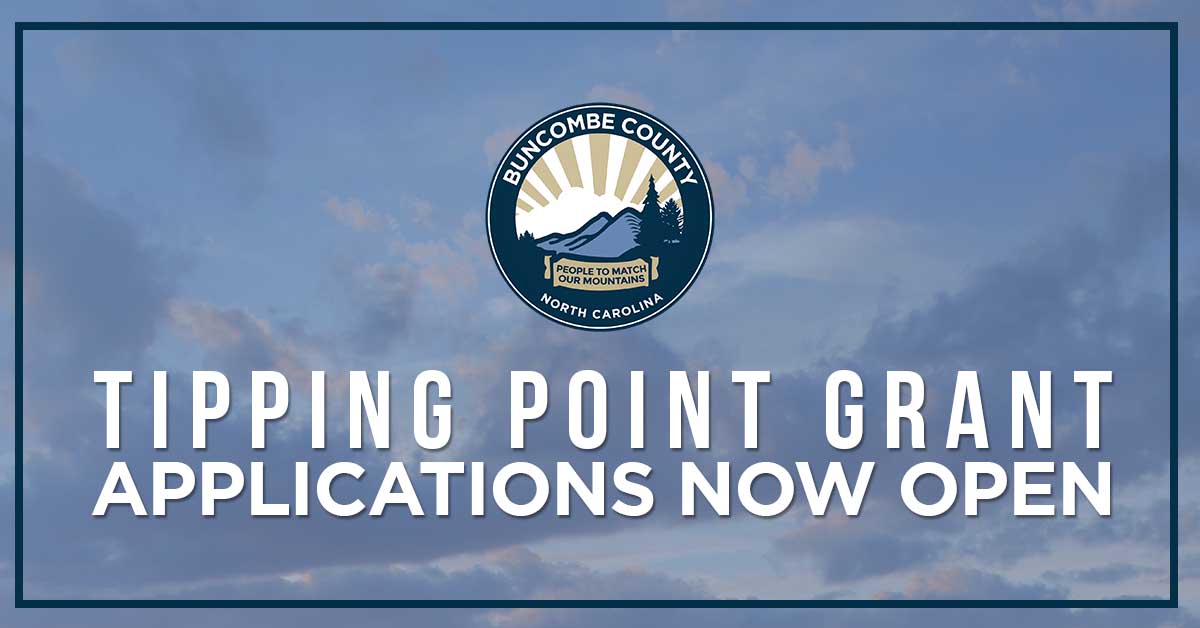 Buncombe County is excited to announce applications are open for nonprofits looking for a cash infusion. For the fourth year, Tipping Point Grants are seeking proposals from nonprofit organizations working to help support County Commissioners' six strategic priorities:
All projects must be a part of a Buncombe County-based nonprofit with 501c3 or a similar charitable IRS tax exempt designation. All individual innovators must be in partnership with a nonprofit agency.
Ready to apply for a Tipping Point Grant?
Official Tipping Point Grant applications are required. You may apply online here, or you can pick up hard copy applications at the Community Engagement office at 199 College St., right next door to the Register of Deeds' office from 8 a.m.-5 p.m. Please contact the office to make sure someone is there to provide you with an application. The deadline for submitting a grant is on Friday, Aug. 30, 2019 by 5 p.m.
Optional grant writing workshops will be hosted by Buncombe County on Wednesday, Aug. 14, 2019, 3-5 p.m., Thursday, Aug. 15 and Friday, Aug. 16 from 5-7:30 p.m. Workshops will be held on the ground floor of 200 College St.
These are free sessions and open to anyone. Applicants will be able to get support on proposal writing and will be able to leave the workshop with an application ready to go and/or submitted. If you have any questions, contact Rasheeda McDaniels at (828) 250-4102.
For complete information about Tipping Point Grants, visit BuncombeCounty.org/Grants.
Justice Forum Pisgah Legal Jose Antonio Vargas Registration Open
KEYNOTE SPEAKER:
JOSE ANTONIO VARGAS
Jose Antonio Vargas
is a Pulitzer Prize-winning journalist, Emmy-nominated filmmaker, author of Dear America: Notes of An Undocumented Citizen and a leading voice for the human rights of immigrants. He is the Founder and CEO of Define American, the nation's leading nonprofit media organization that fights injustice and anti-immigrant hate through the power of storytelling.
Mr. Vargas will share details of his childhood journey to the United States from the Philippines and his life in America as an immigration reform activist. Some have called him the most famous undocumented immigrant in America.
The Blood Connection and Outback Steakhouse Join Forces to Save Lives BLOOD DRIVE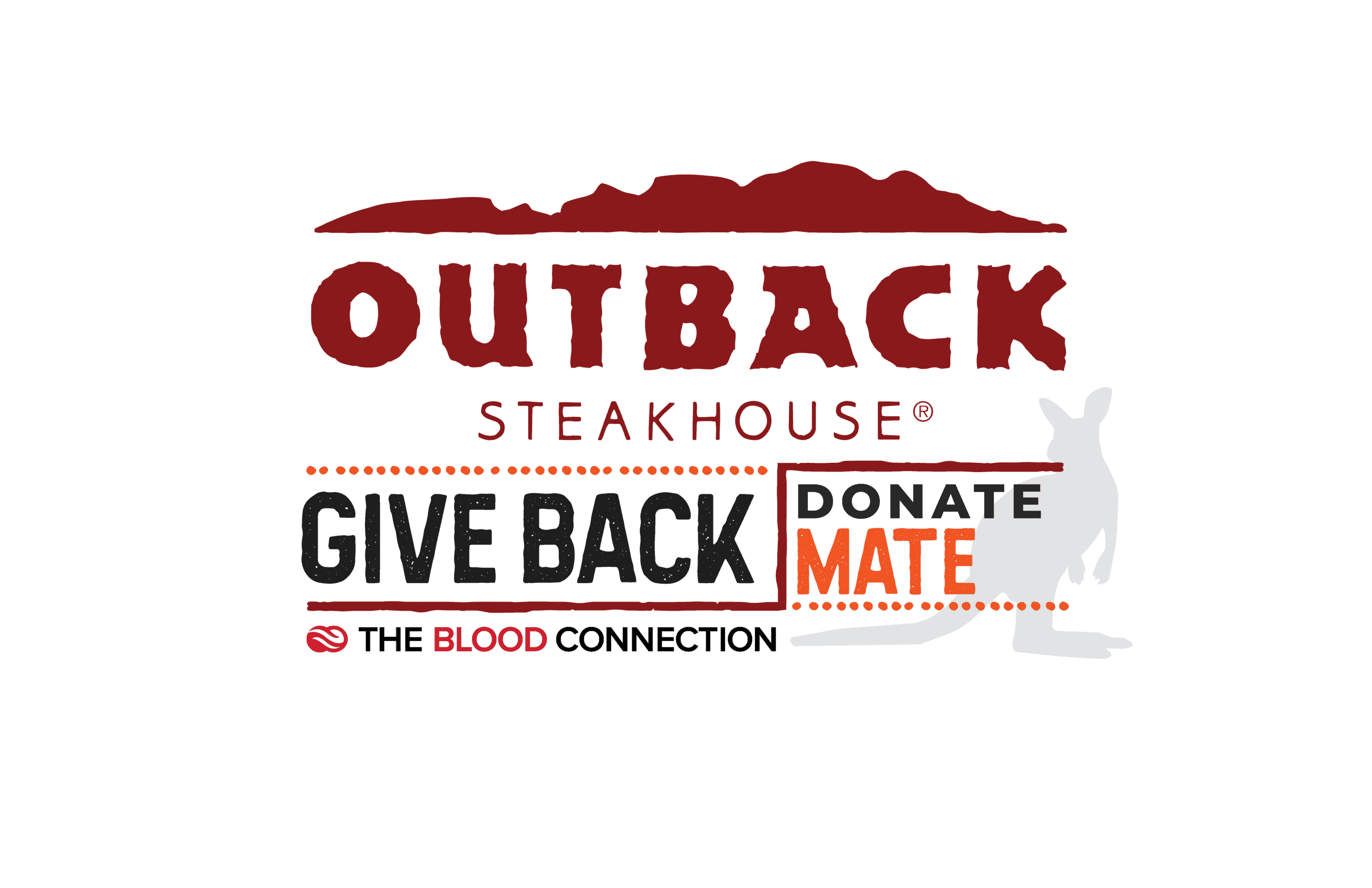 Outback Give Back – Donate, Mate!
There's never been a better time to stop by your local Outback Steakhouse! And The Blood Connection is giving you an easy way to eat for FREE.
For the entire month of August, TBC and Outback Steakhouse are working together to spread the word about blood donation. Partnerships like this are essential to the community's blood supply. Outback Steakhouse's enthusiasm to partner with TBC has helped the blood center reach new donors and save more lives!
The Outback Give Back Promotion runs August 1st – August 29th. Donors who give blood at any TBC center on any Thursday will receive a $20 Outback gift card and a free Bloomin' Onion ® coupon. To find a center near you, click here.
On August 29th, 18 Outback Steakhouse locations will host a blood mobile for a collective blood drive at the same time, 2-7 P.M. Blood donors will receive a $20 Outback gift card and a free Bloomin' Onion® coupon. After donating, they can walk right in and enjoy a free dinner at Outback, a thank you for saving lives!
Donors can visit any TBC center in the Upstate of South Carolina, and Raleigh and Asheville in North Carolina: 435 Woodruff Road, Greenville, SC; 341 Old Abbeville Highway, Greenwood, SC; 5116 Calhoun Memorial Hwy, Easley, SC; 1308 Sandifer Boulevard, Seneca, SC; 270 North Grove Medical Park Drive, Spartanburg, SC; 225 Airport Road, Arden, NC; 5925 Glenwood Avenue, Raleigh, NC. Centers are open Monday through Friday 7 a.m. to 7 p.m. and on the weekends 7 a.m. to 5 p.m.
Volunteers needed urban scavenger hunt

This urban scavenger hunt will take teams of four around the downtown area via a series of clues to sixteen different locations where they will be required to complete a task before receiving their next clue.  Two volunteers will staff each secret location, checking teams in and out, throughout the day. Contact [email protected] directly if you are interested in assisting with this event or sign up by CLICKING HERE.
Volunteers Needed! Time Travel Gala
We are looking for a team of volunteers to help with the Time Traveling Gala on September 28th.
Please note, we will not be using volunteer bartenders this year but will need lots of docents/general volunteers to help us keep the evening running smoothly.
Youth Art Competition Application Deadline October 1, 2019
Hot Works 4th Asheville Fine Art Show, October 26 & 27, 2019 takes place in Pack Square Park, downtown Asheville. This art show is juried by art professionals and brings artists to sell his/her art in all discipline including paintings, sculpture, clay, glass, fiber, jewelry, wood and more. All art is original and personally handmade by the artist who is present at the show. There is something for everyone, in all price ranges. You will see many artists at this show who do not attend other shows in North Carolina or South Carolina.
As part of our commitment to bring art education into the community, a Youth Art Competition for grades K-8 or ages 5-13 is integrated within a 10×20 space at the Asheville Fine Art Show. Sponsored by Institute for the Arts & Education, the associated 501c3 non-profit organization, all students in grades K-8 or ages 5-13 are encouraged to enter his/her original and personally handmade art that will be publicly displayed in the art show the entire weekend. On Sunday, October 27 at 3pm, there is $250 in youth art awards presented. Students are exposed to the rules and entrepreneurship opportunity of doing art shows for a living. The program brings families to the art show and exposes them to great art.
The registration packet for the 2019 Convention is now posted on the CIAssoc web site. All convention information is located under the MEMBERS tab, using the link Annual Convention.
https://www.facebook.com/events/1024751174386928/
Come see us at the fair!
https://www.facebook.com/events/333017124045375/?event_time_id=333017137378707
Free Dead Friday at The One Stop
FREE DEAD FRIDAYS @ The One Stop
– feat. members of Phuncle Sam acoustic
Join us at The One Stop at Asheville Music Hall every Friday at 5:30PM for our FREE Acoustic Grateful Dead series Featuring members of Phuncle Sam and great drink and food specials.
https://www.facebook.com/events/244820139590703/?event_time_id=244820252924025
Friday Bike Nite's Are Back!
Bike Nite is back EVERY FRIDAY through the end of Summer!!
Live Music // DJs // Ride Alongs // And so much more!!
We will be having a kick off party later this month and a huge end of season event later this summer. Stayed tuned for details!!
https://www.facebook.com/events/372453063350999/?event_time_id=372453083350997
Grand Opening of The Haen Gallery Brevard
New work by Larry Gray, J. Aaron Alderman, Angelita Surmon, Jose Barreda, and Alicia Armstrong will be
featured during an evening of music, wine, food, and celebration.
The Haen Gallery Brevard moved to their new location on Broad Street in June of this year. The
Haen Gallery in Asheville remains at its 52 Biltmore Avenue location, where it has operated for
thirteen years.
Cruise then Booze Paddle Outing with Oskar Blues Brewery
CRUISE THEN BOOZE
$30.00 Per Person
EVERY FRIDAY EVENING JUNE THROUGH AUGUST.
START YOUR SUMMER EVENING OFF RIGHT WITH A 2 HOUR PADDLE TRIP DOWN THE FRENCH BROAD AND END AT OSKAR BLUES BREWERY FOR A COLD CRAFT BEER (Drinks Not Included In Cost).
HEADWATERS OUTFITTERS WILL MEET YOU AT OSKAR BLUES BREWERY AT 5:30 PM WITH BOATS, LIFE-JACKETS, AND PADDLES. A QUICK 2 MINUTE SHUTTLE TO PISGAH FOREST ACCESS WILL PUT YOU AT THE LAUNCH SITE OF YOUR PADDLE TRIP. END YOUR PADDLE AT THE PENROSE BOATING ACCESS. THE SHUTTLE (APPROXIMATE 10 MIN.) WILL TAKE YOU BACK TO OSKAR BLUES AND THE TAPROOM IS OPEN TILL 10:00 PM.
ENJOY GREAT BEER AND LIVE MUSIC……..PLEASE DRINK RESPONSIBLY!
COST- $30.00 PER PERSON
**GUEST DO NOT HAVE TO BE 21 TO PADDLE**
**DRINKS ARE NOT INCLUDED IN COST**
https://www.facebook.com/events/2291829214372611/?event_time_id=2291829251039274
Friday night float, 2nd & 4th Fri of the month
Evening paddle, when the crowds are gone and wildlife are coming out. 6 PM – 8:30 PM, offered the 2nd and 4th Friday in June, July & August
https://www.facebook.com/events/1052206058295884/?event_time_id=1052206078295882
Soul Benefactor LIVE at Music In The Valle 2019
Soul Benefactor
LIVE @
Music In The Valle 2019
Friday, August 23, 2019
************************
Valle Crucis Park
Valle Crucis, NC
6:30 to 8:30 p.m.
**Admission is FREE, but a $5 to $10 donation to the park is suggested and appreciated. Music In The Valle is FAMILY FRIENDLY** A BIG thanks to our generous sponsors The Gamekeeper Restaurant and Bar, MountainBound Fly Guides, & Motorcycle Medic!
About Soul Benefactor:
Led by multi-instrumentalists and vocalists Aaron Burleson and Dave Brewer, Soul Benefactor has been been cranking out live soul, rock, funk and blues at venues throughout the High Country and beyond for more than a decade. The band's brassy focus on high-energy music from Memphis, Muscle Shoals and Motown gets people of all ages moving and grooving on the lawn or dance floor at every show!!
Seating is not provided, so bring chairs or a blanket. Food is available for purchase at all concerts.
#musicinthevalle #vallecrucisnc #livemusic #soulbenefactor
https://www.facebook.com/events/558785284524986/