Calendar of Events
Looking for things to do in Hendersonville, NC? Whether you're a local or just passing through we've got loads of great tips and events to help you find your perfect adventure.
Friday, December 6, 2019
Making Room for Joy – an Advent Retreat with Jeannie Dubose
Enter the Advent Season with this 24-hour retreat facilitated by Jeannie Dubose. Whether you are in the midst of a sunny stretch or a blue patch, come explore how "Making Room for Joy" can draw you closer to God. We will reflect on the theological context for this topic, as well as addressing how part of accessing our delight includes a willingness to acknowledge our losses. In addition, we will engage music, images, poetry, scripture, and interactive questions — all as portals for awakening, as John O'Donohue says, "to what your heart would love to say."
Jeannie DuBose is an award-winning author, illustrator, and spiritual director. As an experienced facilitator and retreat leader, Jeannie works with a variety of institutions and groups, including churches, schools, prisons, and wellness centers. A graduate of Vanderbilt University, she received a masters in counseling psychology from Georgia State University, a certificate in spiritual formation from Columbia Theological Seminary, and is an ordained elder in the Presbyterian Church, USA.
Jeannie and her husband raised their three children in Atlanta where she worked at Trinity Presbyterian Church as the Director of Spiritual Formation; they currently make their home in Montreat, NC. Jeannie has written and illustrated two memoirs: The Mother Daughter Dance and Tending the Fire: The Story of a Marriage. To learn more about Jeannie's work, visit www.jeanniedubose.org.
https://www.facebook.com/events/457262801772838/
Saturday, December 7, 2019
Barnes & Noble – Biltmore Park Holiday Book Drive
This Christmas Season marks our fifth year for our wonderful partnership with Barnes and Noble in Biltmore Park for their Annual Saint Nicholas Project Book Drive.
The books are given to every child as a bonus gift to the families as they begin shopping in the Ingles Toy Store on December 11th. Last year, more than 3,000 books were collected and given to delighted parents.
"Books open up worlds of learning, adventure, and fun, and kids who have books and read at home do better at school. Reading with children is a great way for families to spend time together, too! Donating books through the Barnes and Noble Saint Nicholas Project Book Drive gives children and families a great opportunity to experience all the marvels to be found between the covers of a book!"
Nancy McLean- Volunteer Coordinator for the Saint Nicholas Project and former retired teacher
When you are out shopping, stop by Barnes and Noble at Biltmore Park and pick up a few books for the Eblen Saint Nicholas Project / Ingles Toy Store and thank everyone there for their kindness and hard work that brings so much joy to so many this Christmas. We would love to be able to give each child a book again this year.
Christmas at Biltmore adds a touch of Downton Abbey
Known for its monumental scale of traditional holiday décor and dazzling lights, this year Biltmore's annual Christmas at Biltmore celebration will offer even more than ever before.
A yuletide feast for the senses, Christmas at Biltmore begins Nov. 1, 2019. One week later, on Nov. 8, the estate will welcome Downton Abbey: The Exhibition, an immersive experience that celebrates the global hit television series and new feature film.
Biltmore House aglow with five dozen Christmas trees
Biltmore House interiors will shine with the sparkle of more than 50 hand-decorated Christmas trees, ribbons and garlands measured by the mile, and thousands of lights. A majestic 35-foot Fraser fir in the Banquet Hall is the home's holiday centerpiece. For the first time, hand-decorated Christmas trees will be displayed on the balcony that wraps around the home's two-story Library.
Candlelight Christmas Evenings
During Candlelight Christmas Evenings, candlelight, firelight, and live music will create a magical environment that elevates seasonal celebrations inside Biltmore House. A 55-foot Norway Spruce on the home's front lawn lit with 55,000 lights will greet guests as they arrive to enter Biltmore House.
The warm welcome continues at Antler Hill Village & Winery with a constellation of holiday lights leading to the Winery and estate restaurants. A towering tree of lights will illuminate the Village Green, with a sea of lighted grapevine spheres nestled in the landscaping. Lights cascading from the trees that surround the bonfire area near Antler Hill Barn will offer a unique touch to the experience.
Downton Abbey: The Exhibition
Downton Abbey: The Exhibition will feature interactive elements that connect fans to their favorite characters, fashions, locations, and historic events of the era. Showcased in two estate locations, the exhibition pairs seamlessly with the real-life story of the Vanderbilt family at Biltmore. Amherst at Deerpark will host multimedia presentations and some of the series' most recognizable sets—including Mrs. Patmore's hectic kitchen and the gossip-fueled servants' quarters. At The Biltmore Legacy in Antler Hill Village, a gallery of more than 50 costumes from the series will be on view.
The exhibition will run through April 7, 2020. Access to Downton Abbey: The Exhibition is included with daytime admission, Candlelight Christmas Evenings admission, or an overnight stay that includes daytime admission.
Christmas at Biltmore 2019 Event Calendar
Christmas at Biltmore daytime experience – Nov. 1, 2019, through Jan. 5, 2020
Candlelight Christmas Evenings nighttime experience – Nov. 1, 2019, through Jan. 4, 2020 
Illumination of Antler Hill Village – Nov. 1, 2019, through Jan. 4, 2020, 5:30 p.m. to midnight
Downton Abbey: The Exhibition at Biltmore's Amherst and the Biltmore Legacy in Antler Hill Village – Nov. 8, 2019, through April 7, 2020
A Gardener's Place How-to Seminar: "Illuminated Holiday Tablescapes" – daily Nov. 1 through Dec. 31, 2019, at 1:30 p.m.
Conservatory's annual seasonal display – Nov. 1, 2019, through Jan. 5, 2020
Complimentary wine tasting at Biltmore Winery. Winery specialty tours available with additional price and reservations required – Nov. 1, 2019, through Jan. 5, 2020
Bonfires in Antler Hill Village with s'mores kits available for purchase at The Creamery – Nov. 1, 2019, through Jan. 3, 2020, select dates, 3 to 10 p.m.
Roving Holiday Carolers in Antler Hill Village – select dates
Candlelight Winery Tour with a look into the winemaking process and tasting with light cheese pairing. Additional price and reservations required.
Visits with Santa at the bandstand in Antler Hill Village – select dates
The Inn on Biltmore Estate's Annual Gingerbread House Tea – additional price and reservations required – Dec. 14 through 22, 2019, select dates, 1 to 3 p.m.
Festive holiday meals prepared by award-winning chefs served in all of the estate's restaurants – ongoing
Fall Personal Training Specials YWCA
We are excited to bring back two very popular Personal Training specials through the end of the year! From now through December 31st, we are pleased to offer new YWCA Fitness and Aquatics Center members 2 free Personal Training Sessions as a sign-up bonus, and all members are entitled to 20% off Personal Training packages!  Our team of Certified Personal Trainers offer support, motivation, and accountability to help you reach your personal health and fitness goals. Together with your trainer, you will create and implement an individualized exercise plan for proper form, function, and results. To sign up, inquire at the Guest Services desk or on our website.
 
Foster Parent Training Classes Announced for 2020
You might have heard about the need to recruit more foster parents in Buncombe County. "We currently have 300 kids in foster care in Buncombe County," says Heather Hill-Pavone, Buncombe County Licensing Social Worker. "Only some of those kids get to stay in Buncombe County as we only have 100 licensed foster homes with BCHHS." We need your help to let people in our community know about the upcoming Foster Parent Training Classes happening in 2020!
These courses begin the licensure process for becoming a foster parent. They are offered quarterly, for anyone in Buncombe County, who is interested in becoming a foster parent. While the next round of Foster Parent Training Classes starts on September 11, the classes for 2020 are NOW on the calendar! You can sign up by clicking this link.
2020 Schedule: 
Winter Classes: Jan 16, 2020 through Feb 20, 2020 (Thursdays) at Buncombe County Health and Human Services in Downtown Asheville
Spring Classes: March 25, 2020 through April 29, 2020 (Wednesdays) at Biltmore Church in Arden, NC
Summer Classes: June 2, 2020 through July 7, 2020 (Tuesdays) at Biltmore Church in Arden
Fall Classes: September 14, 2020 through October 19, 2020 (Mondays) at Buncombe County Health and Human Services in Downtown Asheville
Hendersonville Home for the Holidays
November 29
Downtown Street Lighting & Santa's Arrival
5:00pm  
The lighting of downtown holiday lights and Santa's arrival kick off the holiday season in Downtown Hendersonville.  The evening features entertainment, sing-along, hot chocolate and a visit from Santa Claus at the Historic Courthouse on Main Street. Click for more information Downtown Hendersonville
November 8 – 17
Flat Rock Playhouse presents:  "The Lion, the Witch, and the Wardrobe"
Four kids travel through a wardrobe to the land of Narnia and learn of their destiny to free it with the guidance of a mystical lion! The play was based on the novel by C. S. Lewis. 828-693-0731 Click for tickets Flat Rock Playhouse
November 29 – December 23
Peppermint the Bear Scavenger Hunt
Free
Peppermint Bear will take you on a fun-filled bear hunt through downtown Hendersonville looking for her cubs.  As you search for the cubs, visit at least 12 of the 22 downtown participating businesses to be eligible for prizes. Complete the entry form in the brochure and drop it in Peppermint's mailbox, located in front of the Visitor Center, by December 23rd. For more details about the Scavenger Hunt, stop by the Visitor Center at 201 South Main Street.
December 7
Hendersonville Christmas Parade
10:00am
A traditional hometown Christmas parade travels along Main Street from Five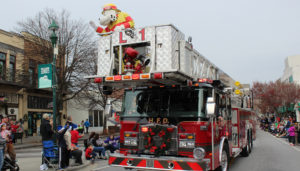 Points to Caswell Street. Sponsored by the Hendersonville Merchants & Business Association. This year's theme is the "The Magic of Christmas". Visit the Hendersonville Merchants & Business Association web site to download a Parade application. 828-692-4179
November 29 – December 22
Flat Rock Playhouse Mainstage presents:  "A Flat Rock Playhouse Christmas"
An all-new Christmas production follows up last year's smash holiday hit. This original musical revue performed by your favorite Flat Rock Playhouse singers and dancers is filled with holiday cheer. Celebrate the holidays Vagabonds style!  Click for tickets Flat Rock Playhouse
December 6
Olde Fashioned Hendersonville Christmas
Main Street / 5pm – 8pm
The Downtown merchants open their doors and invite holiday shoppers in with a festive window displays, decorations, caroling, music, and refreshments. 828-697-2232.
December 8
Holiday Tour of Historic Inns and Cookie Caper
1pm-4pm
$20
The Holiday Tour of Historic Inns and Cookie Caper is a self-guided tour of several inns and the Cookie Caper part of the tour is a delicious Christmas treat at each inn. The inns on tour include the 1898 Waverly Inn, Charleston Inn, Mill House Lodge, Echo Mountain Inn and Brightwaters Guesthouse. 828-697-3010
December 18 – January 1
Iceless Skating Rink
Regular Hours 11am-6pm, EXCEPT Christmas Eve 11am-3pm, Christmas Day Closed, New Year's Eve 11am-3pm, and New Year's Day from 1pm-6pm
Admission: $10, Children 10 & under $5 (payment by cash or check only)

Enjoy ice-skating in Downtown Hendersonville this holiday season. The  iceless rink is located at the Visitor Center on South Main Street. The synthetic surface is made from special polymers that does not require liquid, so it can be enjoyed year-round in any temperature.  A curling lane is also available. Curling involves players sliding stones on the ice towards a target. Play a variety of free games while you wait your turn on the ice. Skate rental included in admission price. Admission: $10, Children $5 for ages 10 & under, with group rates available for groups of 10 or more, but must call to reserve a time for groups, $5 for for 30 minutes of curling. Regular Hours 11am-6pm, EXCEPT Christmas Eve 11am-3pm, Christmas Day Closed, New Year's Eve 11am-3pm, and New Year's Day from 1pm-6pm. Operates weather permitting. Benefits the Henderson County America In Bloom Program, 828-768-4413 To learn more go to: Henderson County America in Bloom
December 20 – 22
Main Street Holiday Hayrides
5pm – 8pm
Free
Take a magical hayride through Historic Downtown Hendersonville among its twinkling lights and festive decorations. Board the tractor-drawn wagon ride at the Visitor Center, located at 201 South Main Street. Reservations are not accepted, first-come, first-served basis.
Nature Center Raffle Fundraiser
Peppermint the Bear Scavenger Hunt Hendersonville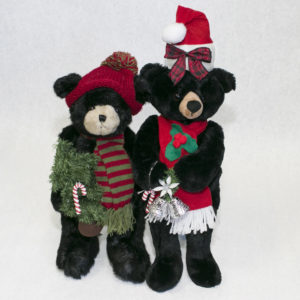 Peppermint the Bear is a special friend of Santa and she needs your help finding her missing cubs! They were sent out to get holiday decorations and a tree, and have not come home. Find Peppermint at the Visitor Center, and then head out to shops along Main Street to look for her cubs. If you help her find 12 of her cubs, you will be eligible to win a prize. The scavenger hunt is available from 11/29-12/23, so that the bears will be home in time for Christmas!
More information can be found at the Visitor Center.
SEC Women's Basketball Tournament Season Ticket Sale Now
Basketball Season is Back!
The SEC Women's Basketball Tournament returns to Bon Secours Wellness Arena for the second year in a row on March 4-8! Get uninterrupted action to all 13 games of the tournament and save by purchasing your reserved ticket book today! Tickets for the tournament are $120 for a reserved book.
All tickets prices are subject to additional taxes and fees.
United Way of Asheville and Buncombe County's annual Holiday Book Drive
United Way of Asheville and Buncombe County's annual Holiday Book Drive begins on November 1st.
We're excited to once again work alongside Capstone Health and Barnes & Noble (Tunnel Rd.) this holiday season to place as many books as possible into the hands of local students.
For more information on this year's Holiday Book Drive and how you can help, click the button below.
And don't forget, to end the drive on a high note, we'll once again host a Book Wrapping Party for supporters wishing to spread some holiday cheer. We'll gather at Highland Brewing on December 11th, from 5:30 P.M.-7:30 P.M. to organize and wrap all the books collected during the drive.
Shop at Barnes & Noble Asheville and Support Students in Buncombe County
Starting November 1st and running through December 31st, Barnes & Noble Booksellers at the Asheville Mall is hosting a book drive so customers can easily donate books to local middle school youth. It's such a simple and needed way to support local students. You can simply purchase the books while doing your holiday shopping, leave them with your cashier at check-out, then we will collect the books at the end of the month and distribute them to commmunity partners and students throughout Asheville and Buncombe County.
You can also drop off new, unwrapped books at our office located on 50 South French Broad Avenue in Asheville. If you do, please drop them off by December 10 so we can wrap them up for distribution.
ZOOM Into the Asheville Art Museum
Buncombe County Public Libraries have a fantastic program to give library card holders access to free passes for local museums and attractions. It's called a ZOOM pass, and you can check one out with your library card.
What You Need to Know
Use our online reservation system to reserve a one-day pass for the location of your choice. Passes may be reserved up to one month in advance and most passes are family passes that will admit several adults and children. You can pick up your pass at any library the week before your visit.
In addition to the Asheville Art Museum, we currently have free passes for the WNC Nature Center, the NC Arboretum, the Asheville Museum of Science and the Greenville Zoo.
Check out our ZOOM page and your passes to area attractions today!
Most passes are family passes for multiple adults and kids, but be sure and read the instructions on each pass to see who is covered. Then pick up your ZOOM pass at the library and enjoy your day!
This program was funded by Buncombe County and the Buncombe County Friends of the Library. Please contact your local library for more information or visit buncombecounty.org/library.
Breakfast with Santa Tryon Resort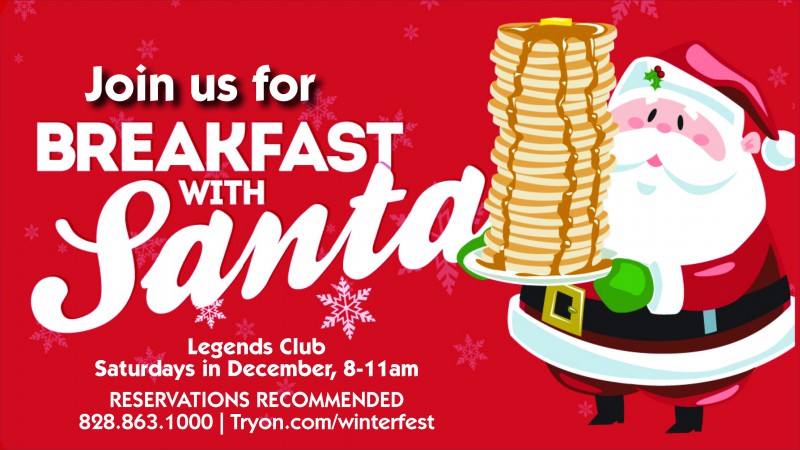 Saturdays at Tryon Resort are packed with holiday fun!
Bring the kids to dine on a pancake breakfast with Santa from 8am-11am, followed by story time with Mrs. Claus. Tickets are $12 for children and $15 for adults, and reservations are recommended. Call 828-863-1130 for reservations.
Then after breakfast, decorate cookies while watching classic Christmas movies in the General Store. Free carousel rides are also available.
Ingles Magical Christmas Toy Drive Benefit Eblen Charitites Saint Nicholas Project
Winter Wonderland at Carolina Ace Hardware
This year's Christmas display theme is "Winter Wonderland." Come take your family photos at this magical display. Santa will be available on special dates, contact store for more details! Display also open when Santa is not there.
Winter Wonderland at the Grove Arcade
Discover the magic and craftsmanship of Omni Grove Park Inn's Annual Gingerbread House Competition. From November 20th through January 2nd, these miniature worlds will be on display at Grove Arcade.
Intricately designed by hand, each Gingerbread House will fill you with a sense of childlike wonder. Don't miss your chance to experience the magic. ✨
All are welcome!
Toby Dickerson, a local Gulf War veteran, is organizing a veterans' coffee and information meeting. The first of this monthly event will be held Saturday, December 7, 2019, from 8:30am- 10am at the Ryan's Steakhouse located at 1000 Brevard Road, Asheville (next to the Asheville outlets).
The purpose of the monthly coffees is to build a community of veterans to help one another. Male and female veterans from all branches and eras are welcome. Representatives from veteran service organizations, non-profits, health and benefits will be present to provide information and answer questions.
Rockin' Winter Photo Contest
Winter can be the most beautiful time of the year at Chimney Rock. Leafless trees make for expansive views of Lake Lure and the Hickory Nut Gorge. The sky is clear; you're likely to find a quiet spot to sit and enjoy the peacefulness. You may even see a critter scamper by you in the forest. Capture that special moment or scene on your camera, enter it in our Winter Wonders Photo Contest and tell us about it. We'll use the winning entries on our website and Facebook album, and you'll win some fun prizes. Photos must be taken within the Chimney Rock section of the Park.
Cost: No additional cost to enter.
https://www.facebook.com/events/1883673098397455/?event_time_id=1883673131730785
92nd Annual Christmas Greens Market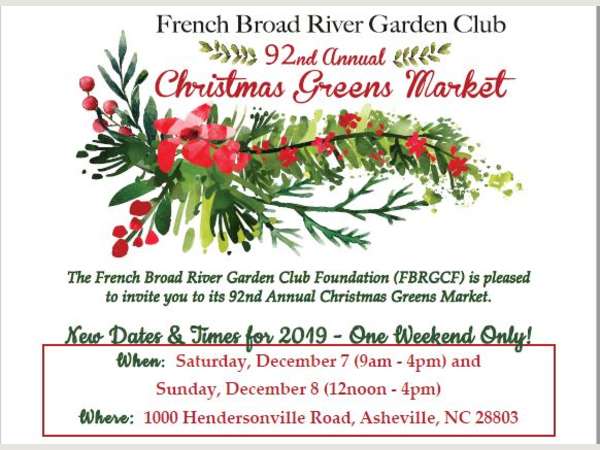 This historical event features unique, handmade goods crafted by regional artists. Materials are locally-sourced and all-natural. It is truly a one-of-a-kind experience, offering exclusive art for holiday gift-giving and home decorating.
Cookies and fresh apple cider served throughout the day, along with a warming fire on the lawn, marshmallows to roast, and cornhole games for enjoyment. Homemade holiday baked goods are also for sale!
Rain or Shine. Cash/Checks/Credit Cards accepted. 100% of Club proceeds supports local horticultural and conservation scholarships and projects
Adult Studio Drawing Journey Journals Asheville Art Museum
Sign up by November 8! In Drawing Journey Journals, travel the Museum's galleries, drawing as you go in handmade journals with watercolor pencils; then, transform your sketches into paint in the Studio. Engage in basic drawing exercises during each class, as well as learn tips and tricks to inform your drawing with the elements of composition, light, perspective, and color. Carry drawing and writing techniques used in class over into your personal travel journals, plein air painting, and self-expression.
Click the button below to learn more, or call 828.253.3227 x122 to register by phone.
Bullington Gardens Holiday Sale & Open House
Join the Elves at Bullington Gardens to shop for Amaryllis, Poinsettias, wreaths, unique holiday crafts, ornaments and so much more!