Calendar of Events
Event Cancellations Due to Coronavirus
Several upcoming events have been canceled or postponed due to concerns about the new coronavirus (COVID-19). Events listed on this page may be outdated, so please visit the event website or contact the event organizer for the latest information.
Event organizers can contact us to update their event's information.
Looking for things to do in Hendersonville, NC? Whether you're a local or just passing through we've got loads of great tips and events to help you find your perfect adventure.
Tuesday, July 14, 2020
5 Summer Activities for the Organic Garden
Summer is in full bloom, vegetable gardens are thriving, and now we can sit back and enjoy. Yes, we can. Up to a point. Garden chores will always be there, but taking things a bit easy will go a long way to keeping you happy. There's no need to be in a mad scramble all the time.
In order to keep a handle on the garden and prevent becoming overwhelmed, here are a few things you can do through the summer to keep your garden doing well. And, if something isn't working, change it. That's the fun of gardening.
Read the Free Article.
Anything That Floats 2020-French Broad in Wonderland
Join RiverLink on the River July 10-31 for Anything That Floats 2020- French Broad in Wonderland!
We continue to take measures to ensure social distancing and are excited to offer an adapted version of the Anything That Floats Parade. This year we are hosting a semi-virtual river float with a flexible time frame that ensures you can safely experience the river while uniting for a common cause- clean water and the protection of our watershed!
Registration includes participation in the event, a free swag bag full of awesome goodies, a free raffle ticket for a chance to win some amazing prizes, and more! We look forward to seeing you on the river!
July 1 – September 7, 2020
Included with Biltmore Admission
Our fun-for-all-ages botanical model train displays invite you to experience our grounds in an engaging new way. Located in Antler Hill Village, the displays feature replicas of train depots from around the country. Each beautifully executed piece was handcrafted from such natural elements as leaves, bark, and twigs.
Blue Ridge Craft Trails Month
July is the Blue Ridge Craft Trails Month in Henderson County, hosted by the Blue Ridge National Heritage Area. Explore three distinct trails guide visitors through the towns of Hendersonville and Flat Rock, and into the Blue Ridge Mountain countryside, showcasing 18 nationally-renowned artists in their studios and galleries on this self-guided tour.
Cat Adoption Fees Reduced at Blue Ridge Humane
 If you've ever considered adding a feline companion into your family, now is the perfect time to adopt. Blue Ridge Humane Society has discounted the regular cat adoption fee to $25, down from the regular $75 for the immediate future due to a high number of cats and kittens waiting for adoption from the organization. Studies have shown that owning a pet significantly cuts down on an owner's stress and anxiety. Having a pet in your life drastically improves your overall mental and physical health.
"This time of year, animal shelters, including Blue Ridge Humane, are flooded with cats," says Angela Prodrick, Executive Director of Blue Ridge Humane. "Choosing to adopt a cat now not only rescues that cat's life, but also opens space for us to take in more kittens that are so desperately in need of homes." Karla Pan, Adoption Center Director adds "Cats are always their authentic selves, offer sincere company, and love without limits. We can all use more of this right about now, so Blue Ridge Humane Society has reduced our adoption fees to make it easier to welcome a new cat into your home."
To view animals currently waiting for adoption, visit https://www.blueridgehumane.org/adopt/. Blue Ridge Humane also provides an animal request form in the case that there isn't a match currently available.
All adoptions are currently following the contact-free and digital adoption procedure implemented by Blue Ridge Humane in May. The new procedure includes adoption counseling from Blue Ridge Humane staff, a contact-free or virtual meet and greet between a potential adopter and the animal they are interested in, as well as a contact-free animal pick-up after completing the required paperwork and payment digitally. After finding an animal they are interested in, the adopter can fill out the application form on the Blue Ridge Humane website under Adopt, and staff will be in touch with more information about the animal and the next steps.
The Blue Ridge Humane Society, Inc., is a 501(c)3 animal welfare organization started in 1950 dedicated to ensuring the highest quality of life for animals in Henderson County and our neighboring communities. BRHS cares for pets awaiting adoption at the Adoption Center; offers low-cost vaccine clinics, animal education programs, pet training classes, and youth education and projects; coordinates community pet food assistance, emergency vet assistance, and the Spay Neuter Incentive Program (SNIP), which is a collaboration with Henderson County, the City of Hendersonville, and the Henderson County Animal Services Center.
If you believe in our cause, consider making a donation or learning how to volunteer by visiting the Blue Ridge Humane Society's website at www.blueridgehumane.org or call (828) 692-2639.
####
Community Tool School Online Summer Camp: Dyeing For A Picnic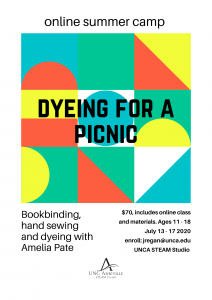 Dyeing For A Picnic is 5 days of textile crafts. Participants will dye fabric, hand sew, create a hand bound journal, make reusable beeswax food wraps and learn cord knotting techniques. Recommended age 11+, with adult supervision – participants will be using chemical dye and will need access to the stove to melt beeswax. All materials are included in the kit and there will be a daily check in and video tutorials. Course runs July 13 – 17. $70 pp.
Digital BMC: past performances by BMC orchestras, faculty, and guest artists

Posted July 2, 2020; originally aired in the 2016 season
https://www.brevardmusic.org/online/digital-bmc/?utm_source=Brevard+Music+Center&utm_campaign=a4740e663a-EMAIL_CAMPAIGN_1_31_2018_COPY_01&utm_medium=email&utm_term=0_b154873bc5-a4740e663a-131688489
Selected past performances by BMC orchestras, faculty, and guest artists on YouTube, SoundCloud, and Open Air Brevard.
Folk Music of North Carolina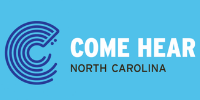 Explore a series of posts to learn how the roots of American music run deep in North Carolina.
Girl Power: Virtual Dance Camp for Girls
Welcome to Zahiya Online's LIVE dance classes! We are so excited to have you and big hugs and high fives for taking time for you and your wellbeing.
Our classes are for everyone and every body. All are welcome and all are celebrated, you belong in class.
Once you register for class, we will email you the Zoom link, get yourself set up and meet us online!
Here 's a little bit more about how it works:
Help Buncombe Expand Broadband Internet Access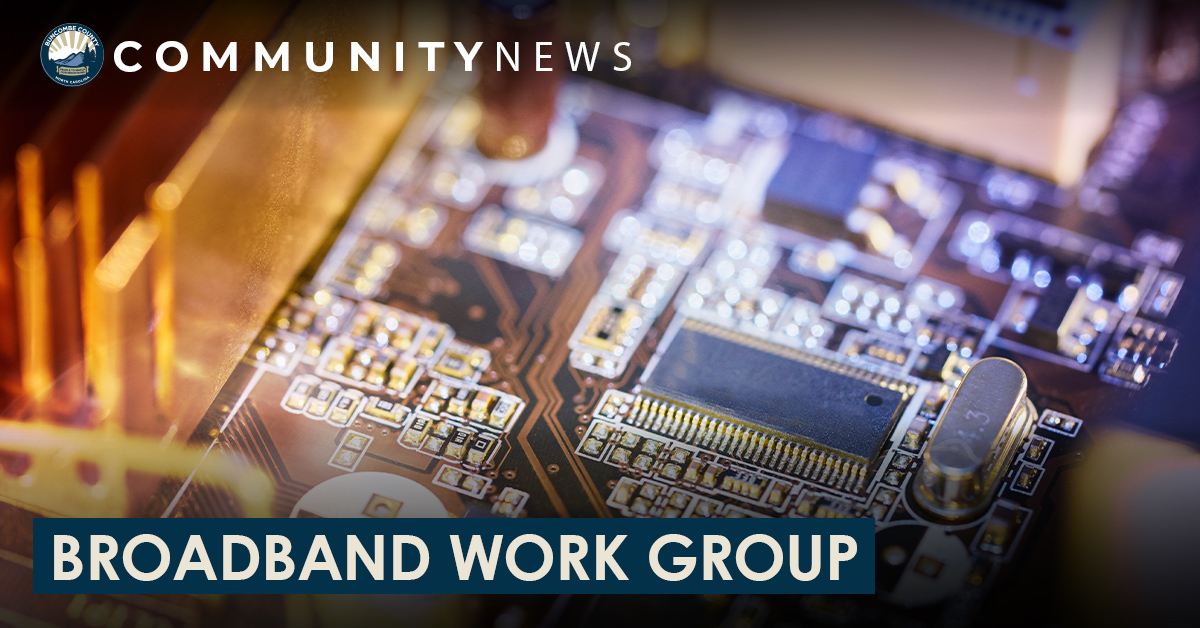 Are you interested in helping Buncombe County expand reliable, high-speed internet? If so, we need your help. Please consider joining the Buncombe Broadband Working Group. Applications are due by Friday, July 17.
Objective:
This posting is for 3-5 community members to the Buncombe Broadband Working Group which will support the evaluation of proposals submitted to Buncombe County for high-speed internet solutions.
Term:
Members shall serve for approximately 6 months, but the term may be extended or reduced based on responses from high-speed internet providers. Members may be replaced at any time at the sole discretion of the respective institution or organization. Time commitment is an estimated 4-5 hours each month.
Responsibilities:
The workgroup will:
Develop a Request for Proposal document for high-speed internet services in Buncombe County,
Objectively evaluate the proposals received,
Weigh proposals based on cost, and ability to deliver excellent, sustainable service using the scoring matrix provided to bidders through the RFP, and
Provide a recommendation to County leadership.
Qualifications:
Applicants must be Buncombe County residents. Ideal candidates have an understanding of the technical requirements of high-speed internet operations, experience leading or supporting community high-speed internet initiatives, or experience/relationships working with high-speed internet providers. Candidates must report any potential conflicts of interest.
To Apply:
Please complete the Boards and Commissions application found here and return to Lamar Joyner at [email protected] by Friday, July 17.
Introducing Bookfix: Custom Reading Recommendations
Miss browsing the library's shelves? Let us help with Bookfix. Call or email your local library to have a librarian put together a bundle of books tailored to your specific interests. You can pick up your personal Bookfix bundle at our curbside hold pickup service. Our Ask a Librarian line is available Monday-Saturday at (828) 250-4700 or you can email [email protected].
Keith's Corner: Keith discusses Strauss's tone poem Don Quixote
Keith discusses Strauss's tone poem Don Quixote and the experience of preparing and performing it with the Brevard Music Center Orchestra and internationally renowned cellist Johannes Moser. The featured recording is from that performance in 2015.

https://www.brevardmusic.org/online/keiths-corner/?utm_source=Brevard+Music+Center&utm_campaign=a4740e663a-EMAIL_CAMPAIGN_1_31_2018_COPY_01&utm_medium=email&utm_term=0_b154873bc5-a4740e663a-131688489
Lincoln Center at Home presents Ballet Hispánico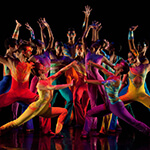 Hailed as a "masterpiece" by the Chicago Sun-Times, Ballet Hispánico presents choreographer Gustavo Ramírez Sansano's CARMEN.maquia – a Picasso-inspired, contemporary take on Bizet's classic opera. Recorded at Lincoln Center, this riveting, imaginative and theatrical performance will be available online until Tuesday, July 14.
Research Your Family History Free
For the month of July, genealogists and historians can access the popular Ancestry.com database from home for free. All you need is a library card.
Among the billions of records available, Ancestry.com includes census records and indexes, vital, church, military, public member trees; birth, marriage and death records; tax, criminal, land and wills stories, memories and histories, pictures, city directories, immigration and travel schools, maps and more. There are records from the United States as well as international records, so no matter where your family might be from, you will probably be able locate them in the Ancestry database.
Find a new branch of your family tree with Ancestry. Visit the library website at buncombecounty.org/library and use the Virtual Library tab to access Ancestry. If you don't have a library card, email us at [email protected] and we can give you a card by email. Call 828-250-4700 with any questions.
From our home to yours: students and faculty share new concerts, living room recitals, and masterclasses.
Enjoy our inaugural Virtual Living Room Concert. BMC violin faculty member Benjamin Sung discusses and performs Eugène Ysaÿe's Sonata No. 2, I. Obsession, Prelude. This movement includes quotes from Bach's E Major Partita infused with the recognizable melody of the "Dies Irae".
BMC trombone faculty member David Jackson joins Michael Dease, the Director of the Jazz Institute @ Brevard, who wrote this special arrangement of "Lift Every Voice and Sing." Originally for a vocal chorus, this arrangement features eight trombone parts supported by string bass, organ, and drums.
BMC alums and 2020 students RJ McDowell and Wesley Hamilton share this special at-home performance. Written by Italian composer Alessandro Rolla, this viola duet lets both parts shine. This is the first movement, Allegro Maestoso, from the Duo in G Major. RJ holds degrees from Furman University and Belmont University, and Wesley recently graduated with her undergraduate degree from the University of Georgia.
Smokin' Hot Summer Online Vendor Event
Come and hang out with us as a bunch of small businesses show you their products, play games, and participate in giveaways! It will be so fun!
Please fill out the registration form in the ticket link to join as a vendor and pay your fee.
Nature Connects®: Art with LEGO® Bricks
Please note: Nature Connects®: Art with LEGO® Bricks has been postponed until July; however, the exhibit will have an extended schedule and will be open until November 1. We look forward to seeing you!
The Arboretum is excited to welcome back the widely popular traveling exhibit, Nature Connects®: Art with LEGO® Bricks by Sean Kenney. Featuring 14 larger-than-life-size sculptures place created with nearly 500,000 LEGO Bricks, this family-friendly exhibit draws inspiration from the living world and combines art, play and science to create an inspiring intersection of education, entertainment and the environment. New sculptures include a 5-foot tall colorful peacock, giant dragonfly, bonsai tree and more!
"The Many Faces of Chimney Rock" Photo Contest
WEDNESDAY, JULY 1 – FRIDAY, JULY 31
Summer is all about outdoor fun, spending quality time together as a family and taking in the wonderful sights of nature. During this time of year, it's easy to find many human faces in the Park, but you can also see other faces as well. Whether it's faces of animals, faces in the rock formations, or even outlines of faces in the ground. Be sure to submit your best photo interpretation into our summer-themed "The Many Faces of Chimney Rock" Photo Contest. We'll use the winning entries on our website and Facebook album, and you can win some fun prizes. Photos must be taken within the Chimney Rock section of the Park.
GREAT PRIZES WILL BE AWARDED TO 3 WINNING ENTRIES
CONTEST RULES:
There is no fee to enter the contest. All photographs must be taken inside Chimney Rock at Chimney Rock State Park only in areas accessible to guests between January 1, 2020 – February 29, 2020.
The contest is open to amateur and professional photographers.
Up to three photos per person can be submitted via any of the following ways to be eligible to win:

Facebook: First, like the Chimney Rock at Chimney Rock State Park page and share our photo contest post on your wall. Then post your photo to our wall with the photographer's name and a brief caption (25-75 words) through your personal Facebook account. Next, send us a private message including your contact information specified in rule #3.
Pinterest: First, re-pin our photo contest pin to one of your boards and follow our 2017 The Different Seasons of Chimney Rock Spring Photo Contest Board so we can easily contact you. Then pin your photo with the hashtags #chimneyrock AND #photocontest with your personal account, and include the photographer's name and a brief caption (25-75 words).
Twitter: First, follow Chimney Rock Park and retweet our tweet about the photo contest. Then tweet your photo to @ChimneyRockPark with the photographer's name and the hashtag #photocontest. Next, send us private messages with your brief photo caption.
E-mail: If you don't have access to any social media sites listed above, you may email your digital photo with your contact information specified in rule #3 to [email protected].
Snail Mail: Send your print photo with the clearly marked photographer's name, city & state, a brief typed photo caption and a phone number to: Photo Contest, Chimney Rock Management LLC, PO Box 39, Chimney Rock, NC 28720.

Every entry should be clearly labeled with the photographer's name, city & state, a brief photo caption your photo of the Seasons of Chimney Rock, an email address and the best phone number to reach you.
Photos should be available at a minimum resolution of 1200 x 1600 pixels (1 MB minimum) to be eligible to win. Photos taken via smart phones, tablets and other mobile devices are welcome if they meet minimum requirements.
For entries showing human faces, you must list their name(s) and have written permission from any photographed person(s) to use their image.
Entries should reflect the photographer's interpretation of love at Chimney Rock. Emphasis will be placed on quality, composition and creativity. All entries may be used in promotions of Chimney Rock and park-related activities.
Digital images can be optimized but not dramatically altered with photo editing software. Black and white photographs are welcome.
Decisions of the judges are final.
Winners will be notified and announced on Chimney Rock's social media channels. For more information, call 1-800-277-9611 or email us at [email protected].
Environmental Impact II Exhibit
This exhibit will reopen on Wednesday, July 1, and will be on display daily through Sunday, August 2. On display daily from 9 a.m. to 5 p.m. inside the Baker Exhibit Center, Environmental Impact II features more than 50 artworks, including paintings, photography, sculptures and film, focused on generating public attention surrounding environmental issues and unintended consequences…
To help protect the safety of our guests and staff, a one-way route will be enforced inside the exhibit hall. All guests ages 11 years and older will be required to wear a face covering while inside the Baker Exhibit Center. Thank you for your cooperation! 
Fairy Trail at Bullington Gardens
The Fairy trail is open Monday thru Saturday, 9am-4pm. We encourage all visitors to be patient as there will be limits to the number of people allowed on the trail at the same time. While the trail is outdoors, there are some small spaces and we want to ensure our guests and fairies are safe. Please practice appropriate social distancing and bring a mask in case. Masks are not required, but are considerate in a close area. Our restrooms are not open to the public at this time. Please make arrangements prior to visiting.
Rules of the trail:
Do not move or rearrange fairy displays. The fairies are very fond of their own decorating.
Do not leave trash on the trail. Fairies do not like litter in their town.
Please ensure children and pets are supervised at all times. Dogs and loud noises can scare the fairies into hiding.
Do not disturb wildlife or vegetation. The fairies depend on the vegetation to build their homes.
The trail is one way only. Please stay on the trail at all times.
The Fairies can't wait to see you all here!
P.S. the Fairies would like us to remind you that we are a non-profit and donations are greatly appreciated. Help us keep the fairies living in the style with which they've become accustomed.