Details
2021-10-16T00:00:00-04:00
2021-10-16T23:59:57-04:00
Information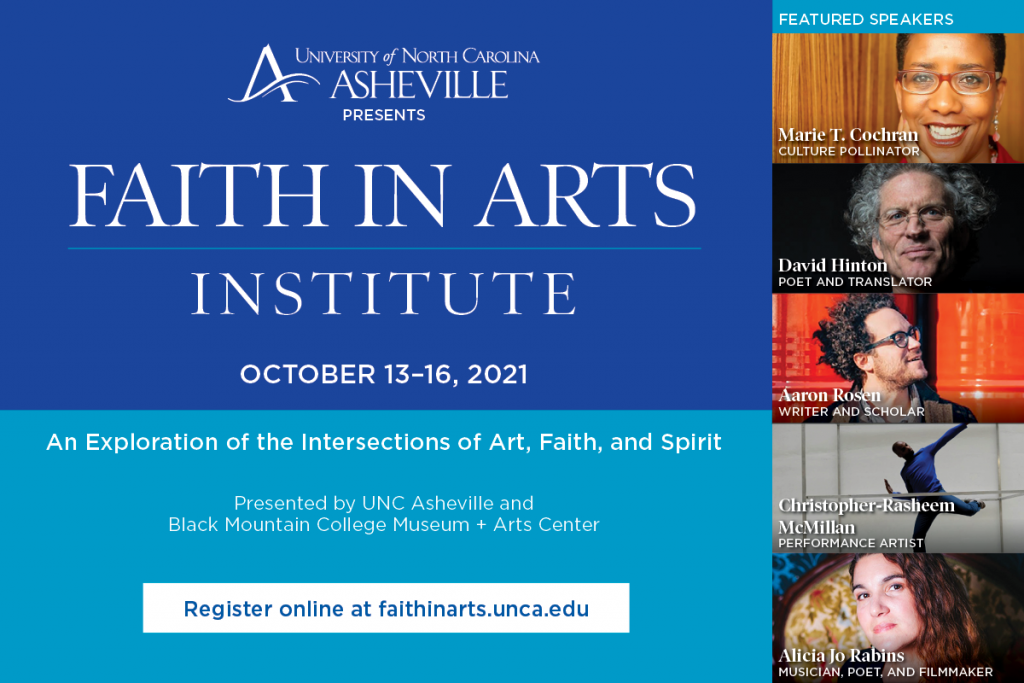 This fall, the Faith in Arts Institute will bring together artists, creatives, and scholars to celebrate and explore the intersections of faith and arts. The multi-day festival, happening October 13-16, 2021 in the heart of Asheville, NC, will feature a combination of free public performances, lectures, and film screenings, plus intimate registration-only institute workshops and contemplative practices. Events will take place on campus at the University of North Carolina Asheville and downtown at the Black Mountain College Museum + Arts Center. A full lineup of participants and performers is below.
Can our experience of the arts – as creators, listeners, viewers, readers – and the ways we talk about those experiences, offer us a way to also talk across what might otherwise divide us? The Faith in Arts Institute proposes this question while providing a platform to celebrate artists and creatives who draw on spiritual or religious practices as an influence in their work and exploring ways that arts have played a role in spirituality and religion. Through workshops, lectures, performances, and exhibitions, the Faith in Arts Institute engages attendees in contemplative and reflective practices while providing a welcoming space intended to evoke open and honest dialogue. Together, performers and presenters will join institute participants in thoughtful discussions, powerful performances, and evocative film screenings.
A limited number of Faith in Arts Institute passes are now on sale for $60 at faithinarts.unca.edu/ and blackmountaincollege.org/faith-in-arts/. Passholders will be admitted to all events including intimate workshops, contemplative practices, and small group conversations which will be limited to Institute participants only. A variety of other performances, screenings, and talks will be free and open to the public as indicated.
For more information including a full schedule, visit faithinarts.unca.edu/
Faith in Arts Institute 2021 Participants and Performers
Kimberly Bartosik – Choreographer
Julie Levin Caro – Art historian, Warren Wilson College
Curt Cloninger – New Media Artist and Author (Hot-Wiring Your Creative Process), UNC Asheville
Marie T. Cochran – Installation Artist and Culture Pollinator
David Hinton – Poet and Translator
Rachel Elizabeth Harding – Historian, Poet, and Essayist
Jessica Jacobs – Poet (Take Me with You, Whenever You're Going)
Kay Larson – Art Critic and Author (Where the Heart Beats: John Cage, Zen Buddhism, and the Inner Life of Artists)
Thomas Moore – Pianist
Alicia Jo Rabins – Poet, Musician and Filmmaker, A Kaddish for Bernie Madoff
Christopher-Rasheem McMillan – Performance artist
Aaron Rosen – Writer and scholar