Details
2020-10-26T00:00:00-04:00
2020-10-27T00:00:00-04:00
Information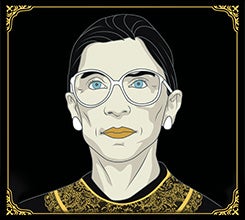 The Oscar-nominated and Emmy-winning documentary RBG, directed by award-winning filmmakers Betsy West and Julie Cohen, chronicles the inspiring and personal story of Ginsburg's rise to the nation's highest court while becoming an unexpected pop culture icon. "From her Supreme Court chambers to her exercise room, what a privilege and a joy it was for us to train our cameras on RBG, and capture the story of this feisty, determined, brilliant woman who used her talents to make our world a better place," said West and Cohen.
"What makes it memorable is its portrait of a woman with an exceptional intellect, to be sure, but also a lifelong capacity for staggering amounts of minutely detailed, unswervingly purposeful work." – Joe Morgenstern, Wall Street Journal
"The movie's touch is light and its spirit buoyant, but there is no mistaking its seriousness or its passion. Those qualities resonate powerfully in the dissents that may prove to be Justice Ginsburg's most enduring legacy, and RBG is, above all, a tribute to her voice." – A.O. Scott, The New York Times
In addition to owning the film, you'll also have access to a long-form Q&A with the directors from earlier this summer.