Details
2023-05-26T00:00:00-04:00
2023-05-27T00:00:00-04:00
Contact
City of Asheville
8282511122
Information
The City is seeking public input on the College Patton Bike Lane Project design through an online survey. Your responses will remain anonymous and will help City staff make updates to the plan that best accommodate all needs on the corridors. Staff will collect survey responses through Tuesday, June 5, 2023, and will share input received from this survey in an update to the City Council Planning and Economic Development Committee and on the City's project page.
This project proposes to add buffered bike lanes in the core of Downtown on College Street between Spruce Street and Pritchard Park and on Patton Avenue between Pritchard Park and Biltmore Avenue.
Goals for this project include: creating protected east-west bicycle connections downtown that would connect to the larger bicycle network and creating a safer, more inviting multimodal environment downtown for everyone including bicyclists, pedestrians, and motor vehicles (including delivery trucks).
In addition to the proposed bike lanes, this project also includes restriping high-visibility crosswalks and reconfiguring loading zones throughout the project area.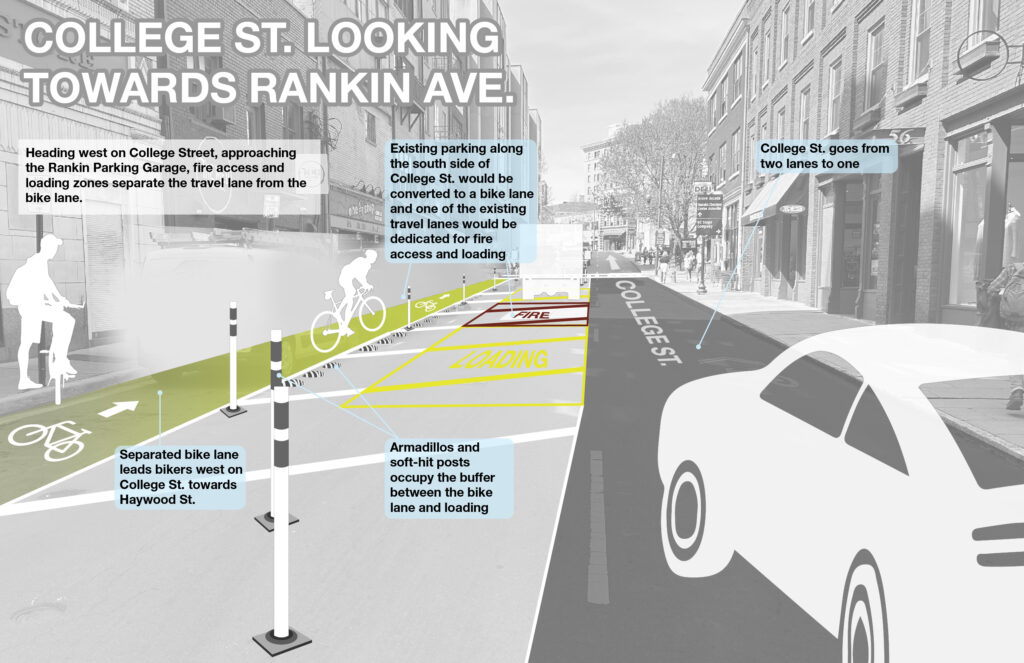 This project is supported by City Councils 2036 Vision of Transportation and Accessibility. This Vision ensures whether you drive a car, take the bus, ride a bike or walk, that getting around Asheville is easy. Public transportation should be widespread, frequent, and reliable. Sidewalks, greenways, and bike facilities can get us where we want to go safely and keep us active and healthy. This Vision ensures it is easy to live in Asheville without a car and still enjoy economic, academic, and social success.