Calendar of Events
Looking for things to do in Hendersonville, NC? Whether you're a local or just passing through we've got loads of great tips and events to help you find your perfect adventure.
Thursday, November 21, 2019
Asheville Holiday Parade Volunteers Needed
We are still in need of volunteers for the parade coming up on November 23rd. If you can help us spread the word or come give us a hand it would be greatly appreciated. We are looking forward to this years parade "Peace on Earth" theme and can't wait to see everyone.
As always thank you for your support, we couldn't do our events without our volunteers help!
Nature Center Raffle Fundraiser
Sing your lil heart out all night long!
Ask about our Karaoke Krasher events (last Thursday of every month)
Zack Neel is going to be cooking every thursday. Come hungry bc his shit is fiiiii-yaaaaaa??? Burgers, dogs, wings, kabobs…who knows?!? Stay tuned for the menu! #theboyisbackintown #puttheburgerintheburgerbar #yum
https://www.facebook.com/events/2238333363096870/?event_time_id=2238333473096859
Late Night Music by Lil Meow Meow
Catch Lil Meow Meow Plays your favorite R&B and Rap jams every Thursday night! No cover. Party at Aux from 10pm-2am.
https://www.facebook.com/events/503021823559298/?event_time_id=503021970225950
I play old school music, YOU sing what you want!
***Don't forget to check out our Monthly theme nights and start planning your costumes. If you don't want to dress up you can wear a shirt to match the theme. (Dressing up is not mandatory)
July 18-Stranger Things *new season (Dress 80's era)
Augaust 29-Grease Lightning (T Bird, Pink Ladies, 50/60's era)
September 26-Hotel Transylvania (Monster on Vacation)
October 31-HALLOWEEN (Wear what you want)
Novermber 21-Pajama Party (Onesies, Flannel's, NO Lingerie)
December 19-9th Annual Get Vocal Formal (Dress to the 9)
All dates are subject to change.
https://www.facebook.com/events/631322933995027/?event_time_id=647696782357642
Friday, November 22, 2019
Asheville Holiday Parade Volunteers Needed
We are still in need of volunteers for the parade coming up on November 23rd. If you can help us spread the word or come give us a hand it would be greatly appreciated. We are looking forward to this years parade "Peace on Earth" theme and can't wait to see everyone.
As always thank you for your support, we couldn't do our events without our volunteers help!
Barnes & Noble – Biltmore Park Holiday Book Drive
This Christmas Season marks our fifth year for our wonderful partnership with Barnes and Noble in Biltmore Park for their Annual Saint Nicholas Project Book Drive.
The books are given to every child as a bonus gift to the families as they begin shopping in the Ingles Toy Store on December 11th. Last year, more than 3,000 books were collected and given to delighted parents.
"Books open up worlds of learning, adventure, and fun, and kids who have books and read at home do better at school. Reading with children is a great way for families to spend time together, too! Donating books through the Barnes and Noble Saint Nicholas Project Book Drive gives children and families a great opportunity to experience all the marvels to be found between the covers of a book!"
Nancy McLean- Volunteer Coordinator for the Saint Nicholas Project and former retired teacher
When you are out shopping, stop by Barnes and Noble at Biltmore Park and pick up a few books for the Eblen Saint Nicholas Project / Ingles Toy Store and thank everyone there for their kindness and hard work that brings so much joy to so many this Christmas. We would love to be able to give each child a book again this year.
EVENT PLANNING CERTIFICATE PROGRAM
It's critical for planners to know how to effectively organize, budget and market a variety of different events to keep the company in the green, out of trouble, and on the minds of donors, business partners, and customers. Earning a certificate in Event Planning will expose you to the many different facets of being an event planner from managing people and projects to increasing exposure and dollars for your organization. Participants can earn a certificate by attending six of the designated event planning workshops (EP), which are offered each semester. Participants do not enroll in the certificate program, but rather complete the workshops at their own pace. Workshops are offered each semester (spring and fall) on either Thursday or Friday from 9 a.m. until 4 p.m. at WCU at Biltmore Park, Asheville, NC.

Instructors will distribute a case study at the end of each EP workshop, and participants submit the case studies to the program coordinator when all 6 workshops are completed to complete the final requirement for the certificate. The workshop instructors include professionals from the Western North Carolina business and hospitality industry and faculty from Western Carolina University.

Complete 6 of the below EP workshops and earn a certificate.

Fee: $119 per workshop or register for 6 workshops for $640 (a 10% discount!) Workshops include lunch and continuing education credits.

FIVE-STAR CUSTOMER SERVICE FOR THE HOSPITALITY INDUSTRY Friday, August 16, 2019
MAKING EVERY PENNY COUNT: EVENT BUDGETING 101 Friday, September 20, 2019
CURRENT & TESTED SOCIAL MEDIA STRATEGIES FOR DIGITAL MARKETING  Friday, October 18, 2019
ENGAGE, STRATEGIZE, CULTIVATE – THE ART OF SECURING EVENT SPONSORSHIPS Thursday, October 24, 2019
MAXIMIZING YOUR RETURN FROM TRADESHOWS, EXPOS AND FAIRS Thursday, November 7, 2019
CONTRACT NEGOTIATIONS, LIABILITY AND RISK FACTORS Friday, November 22, 2019
Nature Center Raffle Fundraiser
United Way of Asheville and Buncombe County's annual Holiday Book Drive
United Way of Asheville and Buncombe County's annual Holiday Book Drive begins on November 1st.
We're excited to once again work alongside Capstone Health and Barnes & Noble (Tunnel Rd.) this holiday season to place as many books as possible into the hands of local students.
For more information on this year's Holiday Book Drive and how you can help, click the button below.
And don't forget, to end the drive on a high note, we'll once again host a Book Wrapping Party for supporters wishing to spread some holiday cheer. We'll gather at Highland Brewing on December 11th, from 5:30 P.M.-7:30 P.M. to organize and wrap all the books collected during the drive.
Shop at Barnes & Noble Asheville and Support Students in Buncombe County
Starting November 1st and running through December 31st, Barnes & Noble Booksellers at the Asheville Mall is hosting a book drive so customers can easily donate books to local middle school youth. It's such a simple and needed way to support local students. You can simply purchase the books while doing your holiday shopping, leave them with your cashier at check-out, then we will collect the books at the end of the month and distribute them to commmunity partners and students throughout Asheville and Buncombe County.
You can also drop off new, unwrapped books at our office located on 50 South French Broad Avenue in Asheville. If you do, please drop them off by December 10 so we can wrap them up for distribution.
THE UNDERGROUND
Asheville's Gay Bar/An Alternative Industrial Dance Bar
DRAG SHOW!!!!
WNC Farmer's Market
570 Brevard Road, in Asheville, North Carolina
8-6pm Daily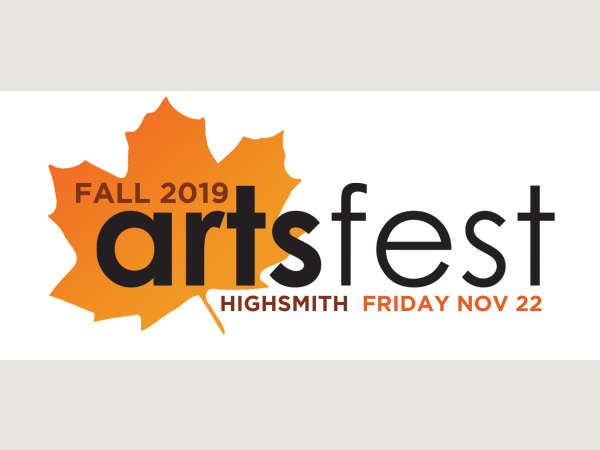 Arts Fest is a bi-yearly event taking place on the campus of UNC Asheville that displays the artistic talents of the faculty, staff, and student population at UNC Asheville.
"Dressing for the Occasion: Mid-Century Sandburg as Celebrity and Family Man"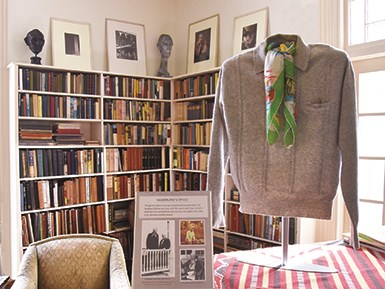 "Dressing for the Occasion" offers visitors a window into the style, culture, and feel of mid-century America. The family's clothing and accessories weave together the roles of Carl Sandburg as a prominent writer, celebrity, father, and husband. This temporary exhibit offers an exciting opportunity for the public to view objects that are normally in storage or in the possession of Sandburg family members. Tours of the Sandburg Home are offered daily from 9:30 am to 4:30 pm. Tickets are available first come, first served, each day from the visitor information area in the ground level of the Sandburg Home.
Nearly every room in the historically furnished house museum will be included in the exhibit. Visitors will see the characteristic scarves Carl Sandburg wore as he played his guitar and sang folk songs to entertain his family and guests, the dress Lilian Sandburg wore to meet President Lyndon B. Johnson, and many other mid-century pieces worn by the Sandburgs and their daughters. Historic photographs, paired with the clothing, will provide context.
Clemson/USC Compete in Rivalry Blood Bowl
Ahead of the big rivalry game next Saturday, Clemson will first go head-to-head with South Carolina in another competition. For the 35th time, the two schools will go compete in the Annual Blood Bowl to see which university can get the most people to donate blood (and save the most lives). Endorsed by All-American Running Back CJ Spiller, The Blood Connection will host several blood drives around Clemson's campus to help CU bring home the win! TBC is the Clemson community's blood provider. For TBC Blood Bowl locations and to make an appointment, go to www.thebloodconnection.org/bloodbowl 
WHAT: Alpha Phi Omega's 35th Annual Blood Bowl
WHO: Clemson University APO vs. University of South Carolina APO
WHERE: Clemson Campus (1 inside and 7 mobile locations): Hendrix (inside), Riggs, Fernow, Brackett, ASC, Vickery, Watts, Bowman *members of the community can donate inside Hendrix
WHEN: November 18-22, 10a-7p every day
WHY: The Blood Connection is the Clemson community's blood center. TBC is the exclusive blood supplier for every Upstate hospital, including AnMed Health. That means when donors give blood with TBC, it stays local, saving the lives of neighbors and fellow Clemson Tigers. TBC needs around 600 donations a day to maintain a steady supply for local hospitals. Be a team player and save lives with TBC during Blood Bowl week! Let's beat USC!
Fall Foliage Photography Contest
Capture photos of your friends and family members enjoying the vivid hues of fall and enter them into our photo contest. We'll use the winning entries on our website and Facebook album, and you'll win some fun prizes. Photos must be taken within the Chimney Rock section of the Park.
No additional costs to enter.
The first-place winner will receive an overnight getaway to Hickory Nut Gorge with a stay at the Historic 1927 Lake Lure Inn & Spa, two passes to the Park, brunch for two at the Historic 1927 Lake Lure Inn & Spa and two tickets for a tour with Lake Lure Boat Tours.
The contest's second-place winner will receive two passes to the Park, lunch for two at the Old Rock Cafe and two tickets for a tour with Lake Lure Boat Tours.
Chimney Rock's Facebook followers will select the People's Choice Award winner. Followers will have a week to like and share their favorite photo from an album of Winter Photo Contest entries posted on the Park's Facebook page at facebook.com/chimneyrockparknc. The People's Choice Award Winner will receive two passes to the Park, lunch for two at Old Rock Cafe and their photo will be featured on the Park's Facebook page.
Shutterbugs interested in capturing Mother Nature's wintry beauty can do so by entering Friday through Tuesday from 10 a.m. to 6 p.m. during the Park's winter hours.
All entries must be submitted to [email protected] or to the Parks' Facebook page through Facebook messenger.
https://www.facebook.com/events/354841472011965/?event_time_id=354841505345295
November National Novel Writing Month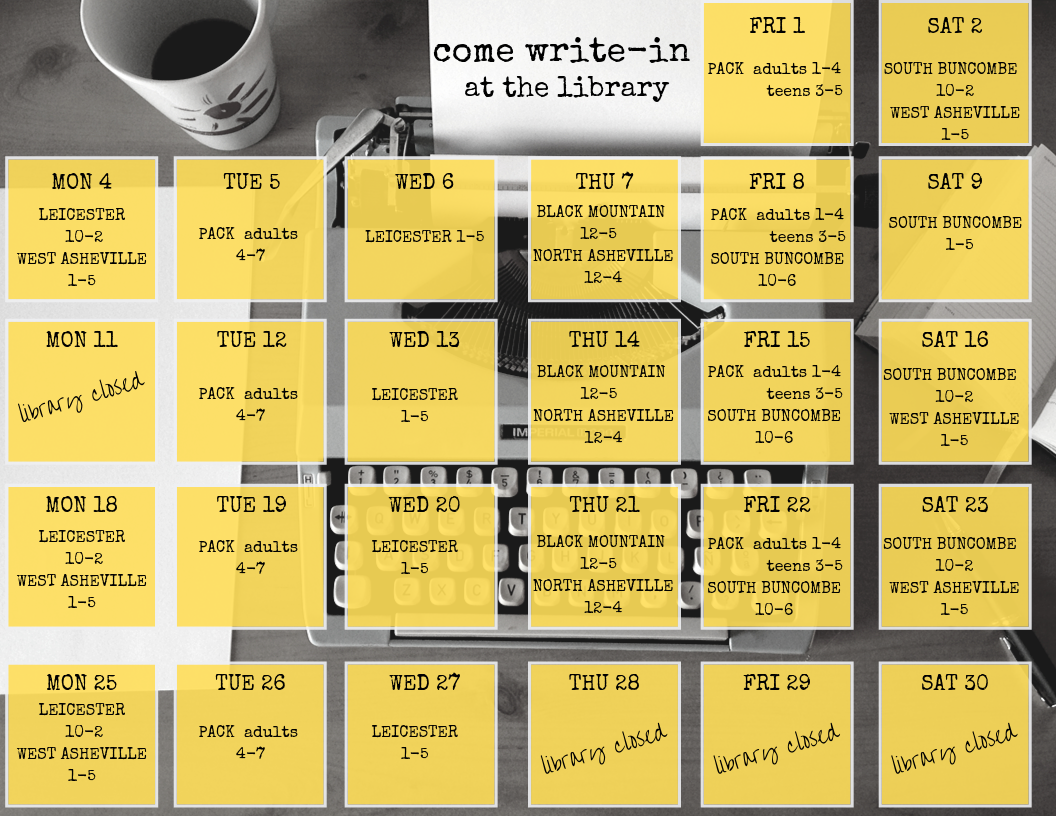 The Buncombe County Public Library system is supporting Asheville writers during National Novel Writing Month (NaNoWriMo) by offering quiet writing spaces, raffle prizes, and a NaNoWriMo NoMo' party in early December.
NaNoWriMo is a writing challenge to write 50,000 words of a novel during the thirty days of November. It began in 1999 and is supported by an international nonprofit organization of the same name.
The Black Mountain Library, Leicester Library, Pack Library, North Asheville Library, South Buncombe Library, and West Asheville Library will all be offering quiet spaces for writers to work on their 50,000 word count goal throughout the month. Some branches will offer tea, coffee and snacks as well. The Pack Library Youth Services department will host a Teen Writer's Café every Friday afternoon. "We wanted to have a space at a library in the county every day where a writer could come plug in their laptop or pull out their notebook and chip away at their word count with no interruptions," Anna Booraem, Branch Manager of the South Buncombe Library, says.
Each time a writer comes to one of the library writing spaces to work on their novel in November, they will be entered into a raffle for prizes to be given away at the NanoWrimo NoMo' party. The raffle prizes will include treats from local businesses, including Dynamite Coffee, as well as some official NaNoWriMo swag.
The NaNoWriMo NoMo' party will be held at the Lord Auditorium in the Pack Library on Saturday, Dec. 7, from 2-3:30 pm. The party is for any writer who participated in NaNoWriMo. There will be food, activities and opportunities to meet other writers, as well as a "micro mic" that will give each writer a chance to read one paragraph from their novel to the group.
Of Threads, On Place: A Selection of Historical and Contemporary Textiles from Buncombe County
Explore just how far back our fiber art roots go by viewing centuries old textiles alongside contemporary works. Partnering archives reveal the cultural impact cloth and making have played in our region, while local makers of today continue to investigate place, process, and storytelling through the manipulation of fibrous materials. Techniques include weaving, embroidery, appliqué, natural dyeing, pulled-work, bobbin lace, and quilting.
Santa Claus Is Coming to Asheville Mall
Just hear those sleigh bells jingling all the way to Asheville Mall! Santa Claus is on his way to Asheville, and we're celebrating his arrival on Saturday, November 16. Your little elves-in-training are invited to visit Santa at Center Court, near Barnes & Noble and ULTA, to share their Christmas lists and holiday wishes.
Santa will be available from November 16th to December 24th, when he begins his holiday trek around the world. Your elves-in-training can visit with Santa Monday through Saturday from 10am to 1pm, 2pm to 5pm, and 6pm to 9pm; and Sundays from noon to 3pm and 4pm to 6pm.
Ho Ho Ho! FREE Santa Photo Experience
November 16 through December 24, 2019
11 a.m. – 8 p.m. Monday – Friday, 10 a.m. – 8 p.m. Saturday, Sundays, 12 p.m. – 6 p.m. and Christmas Eve, 9 a.m. – 5 p.m. inside Food Court
FREE Santa Photos are back! From November 16th through December 24th, every family who visits Santa will receive two FREE 4"x6" Santa photo prints and a digital download of a single image. Additional photos and Christmas merchandise are available for purchase. FREE Santa Photo is located inside the Food Court and is sponsored by N.C. Arboretum Winter Lights.