Calendar of Events
Looking for things to do in Hendersonville, NC? Whether you're a local or just passing through we've got loads of great tips and events to help you find your perfect adventure.
Saturday, October 26, 2019
Asheville Pizza & Brewing Company's 2nd Annual Video Contest
Asheville Pizza & Brewing Company's 2nd Annual Video Contest where we create a contest for local filmmakers with three Jury Award cash prizes is now open to submissions.
The 2019 contest is to create a fake movie trailer that is between 30-60 seconds in length.
Also, just like our 2018 contest we are giving all qualifying entries a $25 Asheville Brewing Co. gift card that is good to use at any of our three locations.  No other contest actually pays filmmakers to enter.
After 20+ years of giving WNC great pizza, beer and movies we are thrilled to provide this annual contest supporting the filmmakers of the future.
Here are some bullet points of the contest details:
Length of the fake movie trailers must be between 30-60 seconds.
The fake movie trailers can be any of any genre, but must follow the rules and content guidelines to qualify (link below). Please stress this.
It is open to all ages, and any resident of Western North Carolina.
Submissions are now open and the deadline to submit a video is Sunday, November 10th at 11:59pm.
Qualifying entries will be shared on our Facebook/Instagram pages and also will play in our pre-show entertainment before movies at our Merrimon movie theater.
JURY AWARDS = $300 for 1st Place / $150 for 2nd Place / $100 for 3rd Place
PEOPLE'S CHOICE AWARDS = We'll post all of the qualifying videos to both our Facebook and Instagram pages, and let the public vote on their favorites. The winners receive Asheville Brewing Co. gift cards.
Please direct people to the video contest web page below on our website for all the rules and guidelines:
All questions can be emailed to:
Christmas at Biltmore adds a touch of Downton Abbey
Known for its monumental scale of traditional holiday décor and dazzling lights, this year Biltmore's annual Christmas at Biltmore celebration will offer even more than ever before.
A yuletide feast for the senses, Christmas at Biltmore begins Nov. 1, 2019. One week later, on Nov. 8, the estate will welcome Downton Abbey: The Exhibition, an immersive experience that celebrates the global hit television series and new feature film.
Biltmore House aglow with five dozen Christmas trees
Biltmore House interiors will shine with the sparkle of more than 50 hand-decorated Christmas trees, ribbons and garlands measured by the mile, and thousands of lights. A majestic 35-foot Fraser fir in the Banquet Hall is the home's holiday centerpiece. For the first time, hand-decorated Christmas trees will be displayed on the balcony that wraps around the home's two-story Library.
Candlelight Christmas Evenings
During Candlelight Christmas Evenings, candlelight, firelight, and live music will create a magical environment that elevates seasonal celebrations inside Biltmore House. A 55-foot Norway Spruce on the home's front lawn lit with 55,000 lights will greet guests as they arrive to enter Biltmore House.
The warm welcome continues at Antler Hill Village & Winery with a constellation of holiday lights leading to the Winery and estate restaurants. A towering tree of lights will illuminate the Village Green, with a sea of lighted grapevine spheres nestled in the landscaping. Lights cascading from the trees that surround the bonfire area near Antler Hill Barn will offer a unique touch to the experience.
Downton Abbey: The Exhibition
Downton Abbey: The Exhibition will feature interactive elements that connect fans to their favorite characters, fashions, locations, and historic events of the era. Showcased in two estate locations, the exhibition pairs seamlessly with the real-life story of the Vanderbilt family at Biltmore. Amherst at Deerpark will host multimedia presentations and some of the series' most recognizable sets—including Mrs. Patmore's hectic kitchen and the gossip-fueled servants' quarters. At The Biltmore Legacy in Antler Hill Village, a gallery of more than 50 costumes from the series will be on view.
The exhibition will run through April 7, 2020. Access to Downton Abbey: The Exhibition is included with daytime admission, Candlelight Christmas Evenings admission, or an overnight stay that includes daytime admission.
Christmas at Biltmore 2019 Event Calendar
Christmas at Biltmore daytime experience – Nov. 1, 2019, through Jan. 5, 2020
Candlelight Christmas Evenings nighttime experience – Nov. 1, 2019, through Jan. 4, 2020 
Illumination of Antler Hill Village – Nov. 1, 2019, through Jan. 4, 2020, 5:30 p.m. to midnight
Downton Abbey: The Exhibition at Biltmore's Amherst and the Biltmore Legacy in Antler Hill Village – Nov. 8, 2019, through April 7, 2020
A Gardener's Place How-to Seminar: "Illuminated Holiday Tablescapes" – daily Nov. 1 through Dec. 31, 2019, at 1:30 p.m.
Conservatory's annual seasonal display – Nov. 1, 2019, through Jan. 5, 2020
Complimentary wine tasting at Biltmore Winery. Winery specialty tours available with additional price and reservations required – Nov. 1, 2019, through Jan. 5, 2020
Bonfires in Antler Hill Village with s'mores kits available for purchase at The Creamery – Nov. 1, 2019, through Jan. 3, 2020, select dates, 3 to 10 p.m.
Roving Holiday Carolers in Antler Hill Village – select dates
Candlelight Winery Tour with a look into the winemaking process and tasting with light cheese pairing. Additional price and reservations required.
Visits with Santa at the bandstand in Antler Hill Village – select dates
The Inn on Biltmore Estate's Annual Gingerbread House Tea – additional price and reservations required – Dec. 14 through 22, 2019, select dates, 1 to 3 p.m.
Festive holiday meals prepared by award-winning chefs served in all of the estate's restaurants – ongoing
DIYSigns Free Tool Designed to Help Educate about What's Recyclable
The Recycling Partnership announced the public beta launch of DIYSigns, the debut of a free online resource that anyone can use to help people know what to throw into the recycling. Whether at home, at the office, at school, at a sports stadium, or anywhere, education is needed to show what is recyclable and where.
"We know that consumer confusion is one of the top reasons why trash still ends up in recycling bins and carts. Our community partners have asked for our help in creating free and customizable posters, labels and signs and we were happy to deliver. Anything we can do to help public and private sector recycling succeed is a boost for the industry," said Keefe Harrison, CEO of The Recycling Partnership.
DIYSigns is an online tool with editable templates available in a variety of sizes from a bumper sticker to a poster – to fit just right wherever it's needed. 
Check out DIYSigns
!
Donate a Turkey for the Holidays MANNA
Now through Nov. 15:
Help Make a Local Family's Table a Bit Brighter and Donate a Turkey to our
TURKEY DRIVE!
This holiday season, we are hoping to fill families' tables across our region with the staples that we all enjoy during a special holiday meal.
Food with Hope and Dignity
One reality of food banking is that food banks commonly receive holiday-specific food donations after a holiday has already occurred, making it difficult for food banks to provide these food items in a timely way to our neighbors seeking food assistance. We want families across our 16 counties to be able to celebrate the holiday with the rest of the community, and with that hope in mind, we are looking for the community to step up and help us eliminate one more worry for families about how they will fill their own holiday tables.
Donate a Turkey for the Holidays
When you are out shopping, we encourage you to pick up an extra frozen turkey to donate to MANNA! We know that hunger is a daily worry for tens of thousands of people across our region, and something as simple as a holiday turkey can truly give the gift of happiness and hope to people living through the daily experience of food insecurity.
Drink Coffee, Support Special Olympics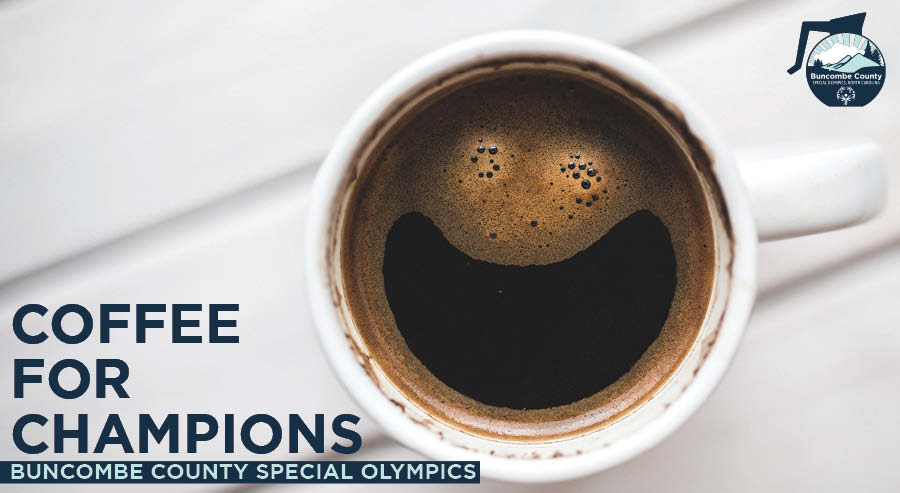 Buncombe County Special Olympics' annual Coffee for Champions fundraiser returns for a third year on October 1. During the month of October, local coffee shops donate up to five cents for each cup of coffee purchased at their establishments to support Special Olympics training and competitions for area youth and adults.
"We are a completely volunteer-driven, donation-funded program focused on inclusionary sporting opportunities for individuals with intellectual and physical disabilities," said Karla Furnari of Buncombe County Recreation Services, who is also a Buncombe County Special Olympics coach and Local Coordinator. "Coffee for Champions helps build connections between our athletes and the community. It also allows us to move away from labor intensive fundraising campaigns that often pull volunteers from other critical program needs such as coaching and transporting athletes."
A map on the organization's website lists participating coffee shops:
Donating Five Cents Per Cup

Ivory Road Café & Kitchen (1854 Brevard Road in Arden)
Mosaic Café & Coffee House (1 Town Square Boulevard in Biltmore Park)
Trout Lily Market (1297 Charlotte Highway in Fairview)

Donating One Cent Per Cup

Dynamite Roasting Company (3198 US Highway 70 in Black Mountain)
PennyCup Coffee Company West (362 Depot Street in Asheville's River Arts District)
PennyCup Coffee Company East (6 Beverly Road in Asheville's Haw Creek)
PennyCup Coffee Company North (857 Merrimon Avenue in North Asheville)
Round Earth Roasters (518 Hendersonville Road in Asheville)
Buncombe County Special Olympics is made possible through funding from donors and support from Buncombe County Government. To donate or volunteer, visit buncombecountyspecialolympics.org.
Special Olympics was founded by Eunice Kennedy in 1968 to celebrate changing attitudes about the talents of people with intellectual disabilities. Buncombe County Special Olympics provides year-round sports training and athletic competition for youth and adults. Sports include alpine skiing and snowboarding, aquatics, athletics, basketball, bocce, bowling, cheerleading, gymnastics, powerlifting, soccer, and tennis. The organization also offers the Adaptive Athlete Program in a partnership with South Slope CrossFit and Buncombe County Recreation Services.
Foster Parent Training Classes Announced for 2020
You might have heard about the need to recruit more foster parents in Buncombe County. "We currently have 300 kids in foster care in Buncombe County," says Heather Hill-Pavone, Buncombe County Licensing Social Worker. "Only some of those kids get to stay in Buncombe County as we only have 100 licensed foster homes with BCHHS." We need your help to let people in our community know about the upcoming Foster Parent Training Classes happening in 2020!
These courses begin the licensure process for becoming a foster parent. They are offered quarterly, for anyone in Buncombe County, who is interested in becoming a foster parent. While the next round of Foster Parent Training Classes starts on September 11, the classes for 2020 are NOW on the calendar! You can sign up by clicking this link.
2020 Schedule: 
Winter Classes: Jan 16, 2020 through Feb 20, 2020 (Thursdays) at Buncombe County Health and Human Services in Downtown Asheville
Spring Classes: March 25, 2020 through April 29, 2020 (Wednesdays) at Biltmore Church in Arden, NC
Summer Classes: June 2, 2020 through July 7, 2020 (Tuesdays) at Biltmore Church in Arden
Fall Classes: September 14, 2020 through October 19, 2020 (Mondays) at Buncombe County Health and Human Services in Downtown Asheville
Requesting Supplemental Breast Milk for Our Preemie Patient
Dear All,
One of our preemie patients is in need of supplemental breast milk. If you or someone you know is able to make a donation, the family would greatly appreciate it.
Please reach out to the Clinic's Front Desk for details. We can be reached at (828) 258-9016 or [email protected]
Sincerely,
Front Desk Staff
Chinese Acupuncture & Herbology Clinic
The Asheville Marathon & Half at Biltmore Estate Sign Up Now
The Asheville Marathon began 8 years ago with only a marathon option, which sold out quickly in its first year, and again the next year. A nationwide interest in half marathons was becoming popular, so for the 3rd year a half marathon option was added.  In the 4th year, the event expanded to two days of races and a half marathon on each day.  To add a twist in the 5th year the Backyard to Vineyard Challenge was created, where participants race in the Saturday half and Sunday full. The challenge was very popular and for the 6th anniversary, Backyard to Backyard Challenge was added, where participants run both the Saturday half and the Sunday half. Now in its 8th year both days of races, including the challenges, are expected to be sold out, with 3,100 participants.
The Asheville Marathon & Half at Biltmore Estate is held on and run entirely on the grounds of the Biltmore Estate, where runners will wind through paved and packed dirt roads to see hardwood forest, meadows, gardens, and extraordinary views of the Biltmore House and Estate. This is the original Asheville Marathon and first race of its kind to come to Biltmore Estate in Asheville, North Carolina; don't miss out on being part of history at Biltmore Estate.
For more information about the Asheville Marathon & Half at Biltmore Estate, visit
https://ashevillemarathon.com/. Follow the race on Facebook, Twitter and Instagram.
Wands for Wildlife collection has begun!
October is here!! Wands are being accepted throughout the month. Please go to the website for the form to send in with them and more information. SHARE THIS FORWARD! 
Since March of 2017 the
Wands for Wildlife
program has grown and spread all over the world! Engaging people of all ages and from all walks of life to take action, help the planet and save wild lives.
One Wander (wand donor) from Poland shared, "I am so happy that good people still exist in the world."
From a Preschool teacher in Illinois, "I was unsure if my preschoolers would understand conservation and pollution, but starting with taking care of animals was the perfect way to start the unit since it was a more concrete idea and something they had prior knowledge about."
Link to post that went up announcing the Appalachian Wildlife Refuge 'Wands for Wildlife' drive for October has begun….
CHARLIE TRAVELER PRESENTS: Satsang w/Jonny Wayne – [jam / indie]
WHERE: Asheville Music Hall, 31 Patton Ave, Asheville, 28801
WHEN: Saturday October 26, 2019
COVER: $15 early bird (limited amount!)
$18 advance
$20 day of show
DOORS: 8pm | SHOW: 9pm
GENRE: folk / soul / indie / hip hop
SEATING: Standing Room Only
AGES: 18+
WEB LISTING: https://ashevillemusichall.com
Satsang:
WEBSITE: www.satsangmovement.com
HEAR SOME MUSIC: https://satsang1.bandcamp.com
SEE A VIDEO: https://youtu.be/fr6r_1rGW3k
Satsang is a power trio creating a unique blend of soul, folk-rock and hip-hop, Satsang delivers lyrics that come from and are rooted in change, growth, awareness, and imperfection. The live show is everything that the band name suggests: a gathering of people to assimilate and share their truths. The rhythms put forth by the band keep everyone on their feet, and the lyrics leave them craving active and positive change. Satsang has toured all over the country and has shared the stage with the likes of Michael Franti & Spearhead, Steel Pulse, Nahko and Medicine for the People, Trevor Hall, Chris Berry, Mike Love, Jon Wayne and the Pain, Tubby Love, and many more.
Lead singer and songwriter Drew McManus creates music for his soul, fueled by the ever present task of personal growth and the beautiful life that he found in the Beartooth Mountains of Montana. Commenting on his difficult upbringing in Des Moines and residency in Chicago, McManus says, "I grew up in an environment where aggression, violence, abuse, and addiction were always present. It made me a lot of things; angry, sad, and ashamed. I hated my story and I was a slave to addiction. I tried for so long to hide from the reality of my story and the reality of how beautiful life could be." It wasn't until an intense spiritual experience lead Drew to break his cycle of addiction. "I had changed my entire outlook on everything" say McManus, "I began to realize that had everything not happened to me exactly like it did, I would not be exactly who/where/what I am right now." In an effort to share his revelation with others who may be in the same predicament, Drew began to write every day. "I was flooded with the urge to write down the lessons that kept revealing themselves in this surrender. And the connections I began making with other people by making this music vulnerable and open, began to change everything." These songs are a statement of lessons learned and a further understanding of self. "The whole story is what makes it beautiful, not just the good bits."
Satsang released their sophomore album Pyramids in March of 2017 and saw it quickly rise to #1 on the Billboard Reggae charts and #2 on the iTunes charts. We also surprise-released a new EP, In Between Another Blink on 12/6 and had it crack the top 20 on the iTunes Singer/ Songwriter chart with no advance promotion. The band spent the majority of the past summer touring in support of Michael Franti, Trevor Hall, Wookiefoot and Nahko and Medicine for the People creating legions of fans from coast to coast.
"For a generation lost in a sea of mindless beats and meaningless words, Satsang is a breath of fresh air. In a time where poetry feeds and stems from rebellion and roots music resurfaces as the anchor for social justice and people powered movements, these kinds of troubadours are imperative for greater change. I am honored to be witnessing these young men hold a torch for positivity and love in the struggle and remind us all that change takes hard work, but together we can preserve a world that we all want to live in."
– Nahko
" I welcome Satsang warmly to my senses. I'm instantly drawn to the familiar style of singing that devours island radio; caught off guard by harmonic elements. I like this!"
– HIRIE
"Satsang is a Sanskrit word that translates to mean "being with the truth." Satsang (the band), is a Montana-based trio, creating some of the most exciting underground and conscious music released today. Their Americana style is at times part folk, part melodic hip hop."
– Rootfire
Jonny Wayne (of Jon Wayne and the Pain):
WEBSITE: www.jonwayneandthepain.com
HEAR SOME MUSIC: https://soundcloud.com/JONWAYNEANDTHEPAIN
SEE A VIDEO: https://youtu.be/S3IT7rmjDVE
https://www.facebook.com/events/2358634647757498/
CommUNITY Salsa at THE BLOCK off biltmore
Hola Carolina and THE BLOCK off biltmore Present: CommUNITY Salsa
Salsa, Bachata, Cumbia, Merengue, Kizomba y mucho mas!!
with DJ Edi
$5
beginner dance lesson begins at 9:00, DJ begins at 9:30
Todos los Sabados de 9-2
https://www.facebook.com/events/1043582389166757/?event_time_id=1043582525833410
LATE SHOW: The Rocky Horror Show at The Grey Eagle
The Rocky Horror Show at The Grey Eagle — 10PM
The Rocky Horror Show is a musical with music, lyrics and book by Richard O'Brien. A humorous tribute to the science fiction and horror B movies of the late 1940s through to the early 1970s, the musical tells the story of a newly engaged couple getting caught in a storm and coming to the home of a mad transvestite scientist, Dr Frank-N-Furter, unveiling his new creation, a sort of Frankenstein-style monster in the form of an artificially made, fully grown, physically perfect muscle man named Rocky Horror, complete "with blond hair and a tan".
https://www.facebook.com/events/2694228350651030/
Shake what yo momma gave ya, every Saturday 11pm-2am. Dance Party. No cover. Do it.
https://www.facebook.com/events/341354513259016/?event_time_id=341354656592335