Calendar of Events
Looking for things to do in Hendersonville, NC? Whether you're a local or just passing through we've got loads of great tips and events to help you find your perfect adventure.
Saturday, December 7, 2019
Barnes & Noble – Biltmore Park Holiday Book Drive
This Christmas Season marks our fifth year for our wonderful partnership with Barnes and Noble in Biltmore Park for their Annual Saint Nicholas Project Book Drive.
The books are given to every child as a bonus gift to the families as they begin shopping in the Ingles Toy Store on December 11th. Last year, more than 3,000 books were collected and given to delighted parents.
"Books open up worlds of learning, adventure, and fun, and kids who have books and read at home do better at school. Reading with children is a great way for families to spend time together, too! Donating books through the Barnes and Noble Saint Nicholas Project Book Drive gives children and families a great opportunity to experience all the marvels to be found between the covers of a book!"
Nancy McLean- Volunteer Coordinator for the Saint Nicholas Project and former retired teacher
When you are out shopping, stop by Barnes and Noble at Biltmore Park and pick up a few books for the Eblen Saint Nicholas Project / Ingles Toy Store and thank everyone there for their kindness and hard work that brings so much joy to so many this Christmas. We would love to be able to give each child a book again this year.
Christmas at Biltmore adds a touch of Downton Abbey
Known for its monumental scale of traditional holiday décor and dazzling lights, this year Biltmore's annual Christmas at Biltmore celebration will offer even more than ever before.
A yuletide feast for the senses, Christmas at Biltmore begins Nov. 1, 2019. One week later, on Nov. 8, the estate will welcome Downton Abbey: The Exhibition, an immersive experience that celebrates the global hit television series and new feature film.
Biltmore House aglow with five dozen Christmas trees
Biltmore House interiors will shine with the sparkle of more than 50 hand-decorated Christmas trees, ribbons and garlands measured by the mile, and thousands of lights. A majestic 35-foot Fraser fir in the Banquet Hall is the home's holiday centerpiece. For the first time, hand-decorated Christmas trees will be displayed on the balcony that wraps around the home's two-story Library.
Candlelight Christmas Evenings
During Candlelight Christmas Evenings, candlelight, firelight, and live music will create a magical environment that elevates seasonal celebrations inside Biltmore House. A 55-foot Norway Spruce on the home's front lawn lit with 55,000 lights will greet guests as they arrive to enter Biltmore House.
The warm welcome continues at Antler Hill Village & Winery with a constellation of holiday lights leading to the Winery and estate restaurants. A towering tree of lights will illuminate the Village Green, with a sea of lighted grapevine spheres nestled in the landscaping. Lights cascading from the trees that surround the bonfire area near Antler Hill Barn will offer a unique touch to the experience.
Downton Abbey: The Exhibition
Downton Abbey: The Exhibition will feature interactive elements that connect fans to their favorite characters, fashions, locations, and historic events of the era. Showcased in two estate locations, the exhibition pairs seamlessly with the real-life story of the Vanderbilt family at Biltmore. Amherst at Deerpark will host multimedia presentations and some of the series' most recognizable sets—including Mrs. Patmore's hectic kitchen and the gossip-fueled servants' quarters. At The Biltmore Legacy in Antler Hill Village, a gallery of more than 50 costumes from the series will be on view.
The exhibition will run through April 7, 2020. Access to Downton Abbey: The Exhibition is included with daytime admission, Candlelight Christmas Evenings admission, or an overnight stay that includes daytime admission.
Christmas at Biltmore 2019 Event Calendar
Christmas at Biltmore daytime experience – Nov. 1, 2019, through Jan. 5, 2020
Candlelight Christmas Evenings nighttime experience – Nov. 1, 2019, through Jan. 4, 2020 
Illumination of Antler Hill Village – Nov. 1, 2019, through Jan. 4, 2020, 5:30 p.m. to midnight
Downton Abbey: The Exhibition at Biltmore's Amherst and the Biltmore Legacy in Antler Hill Village – Nov. 8, 2019, through April 7, 2020
A Gardener's Place How-to Seminar: "Illuminated Holiday Tablescapes" – daily Nov. 1 through Dec. 31, 2019, at 1:30 p.m.
Conservatory's annual seasonal display – Nov. 1, 2019, through Jan. 5, 2020
Complimentary wine tasting at Biltmore Winery. Winery specialty tours available with additional price and reservations required – Nov. 1, 2019, through Jan. 5, 2020
Bonfires in Antler Hill Village with s'mores kits available for purchase at The Creamery – Nov. 1, 2019, through Jan. 3, 2020, select dates, 3 to 10 p.m.
Roving Holiday Carolers in Antler Hill Village – select dates
Candlelight Winery Tour with a look into the winemaking process and tasting with light cheese pairing. Additional price and reservations required.
Visits with Santa at the bandstand in Antler Hill Village – select dates
The Inn on Biltmore Estate's Annual Gingerbread House Tea – additional price and reservations required – Dec. 14 through 22, 2019, select dates, 1 to 3 p.m.
Festive holiday meals prepared by award-winning chefs served in all of the estate's restaurants – ongoing
Hendersonville Home for the Holidays
November 29
Downtown Street Lighting & Santa's Arrival
5:00pm  
The lighting of downtown holiday lights and Santa's arrival kick off the holiday season in Downtown Hendersonville.  The evening features entertainment, sing-along, hot chocolate and a visit from Santa Claus at the Historic Courthouse on Main Street. Click for more information Downtown Hendersonville
November 8 – 17
Flat Rock Playhouse presents:  "The Lion, the Witch, and the Wardrobe"
Four kids travel through a wardrobe to the land of Narnia and learn of their destiny to free it with the guidance of a mystical lion! The play was based on the novel by C. S. Lewis. 828-693-0731 Click for tickets Flat Rock Playhouse
November 29 – December 23
Peppermint the Bear Scavenger Hunt
Free
Peppermint Bear will take you on a fun-filled bear hunt through downtown Hendersonville looking for her cubs.  As you search for the cubs, visit at least 12 of the 22 downtown participating businesses to be eligible for prizes. Complete the entry form in the brochure and drop it in Peppermint's mailbox, located in front of the Visitor Center, by December 23rd. For more details about the Scavenger Hunt, stop by the Visitor Center at 201 South Main Street.
December 7
Hendersonville Christmas Parade
10:00am
A traditional hometown Christmas parade travels along Main Street from Five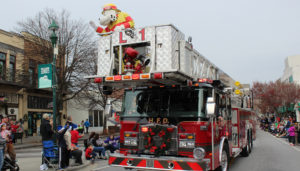 Points to Caswell Street. Sponsored by the Hendersonville Merchants & Business Association. This year's theme is the "The Magic of Christmas". Visit the Hendersonville Merchants & Business Association web site to download a Parade application. 828-692-4179
November 29 – December 22
Flat Rock Playhouse Mainstage presents:  "A Flat Rock Playhouse Christmas"
An all-new Christmas production follows up last year's smash holiday hit. This original musical revue performed by your favorite Flat Rock Playhouse singers and dancers is filled with holiday cheer. Celebrate the holidays Vagabonds style!  Click for tickets Flat Rock Playhouse
December 6
Olde Fashioned Hendersonville Christmas
Main Street / 5pm – 8pm
The Downtown merchants open their doors and invite holiday shoppers in with a festive window displays, decorations, caroling, music, and refreshments. 828-697-2232.
December 8
Holiday Tour of Historic Inns and Cookie Caper
1pm-4pm
$20
The Holiday Tour of Historic Inns and Cookie Caper is a self-guided tour of several inns and the Cookie Caper part of the tour is a delicious Christmas treat at each inn. The inns on tour include the 1898 Waverly Inn, Charleston Inn, Mill House Lodge, Echo Mountain Inn and Brightwaters Guesthouse. 828-697-3010
December 18 – January 1
Iceless Skating Rink
Regular Hours 11am-6pm, EXCEPT Christmas Eve 11am-3pm, Christmas Day Closed, New Year's Eve 11am-3pm, and New Year's Day from 1pm-6pm
Admission: $10, Children 10 & under $5 (payment by cash or check only)

Enjoy ice-skating in Downtown Hendersonville this holiday season. The  iceless rink is located at the Visitor Center on South Main Street. The synthetic surface is made from special polymers that does not require liquid, so it can be enjoyed year-round in any temperature.  A curling lane is also available. Curling involves players sliding stones on the ice towards a target. Play a variety of free games while you wait your turn on the ice. Skate rental included in admission price. Admission: $10, Children $5 for ages 10 & under, with group rates available for groups of 10 or more, but must call to reserve a time for groups, $5 for for 30 minutes of curling. Regular Hours 11am-6pm, EXCEPT Christmas Eve 11am-3pm, Christmas Day Closed, New Year's Eve 11am-3pm, and New Year's Day from 1pm-6pm. Operates weather permitting. Benefits the Henderson County America In Bloom Program, 828-768-4413 To learn more go to: Henderson County America in Bloom
December 20 – 22
Main Street Holiday Hayrides
5pm – 8pm
Free
Take a magical hayride through Historic Downtown Hendersonville among its twinkling lights and festive decorations. Board the tractor-drawn wagon ride at the Visitor Center, located at 201 South Main Street. Reservations are not accepted, first-come, first-served basis.
Peppermint the Bear Scavenger Hunt Hendersonville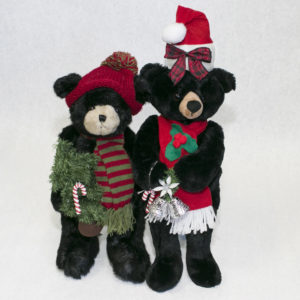 Peppermint the Bear is a special friend of Santa and she needs your help finding her missing cubs! They were sent out to get holiday decorations and a tree, and have not come home. Find Peppermint at the Visitor Center, and then head out to shops along Main Street to look for her cubs. If you help her find 12 of her cubs, you will be eligible to win a prize. The scavenger hunt is available from 11/29-12/23, so that the bears will be home in time for Christmas!
More information can be found at the Visitor Center.
Winter Wonderland at Carolina Ace Hardware
This year's Christmas display theme is "Winter Wonderland." Come take your family photos at this magical display. Santa will be available on special dates, contact store for more details! Display also open when Santa is not there.
Winter Wonderland at the Grove Arcade
Discover the magic and craftsmanship of Omni Grove Park Inn's Annual Gingerbread House Competition. From November 20th through January 2nd, these miniature worlds will be on display at Grove Arcade.
Intricately designed by hand, each Gingerbread House will fill you with a sense of childlike wonder. Don't miss your chance to experience the magic. ✨
All are welcome!
92nd Annual Christmas Greens Market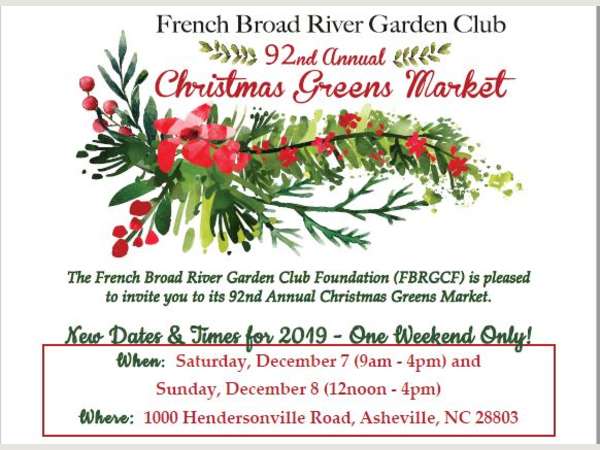 This historical event features unique, handmade goods crafted by regional artists. Materials are locally-sourced and all-natural. It is truly a one-of-a-kind experience, offering exclusive art for holiday gift-giving and home decorating.
Cookies and fresh apple cider served throughout the day, along with a warming fire on the lawn, marshmallows to roast, and cornhole games for enjoyment. Homemade holiday baked goods are also for sale!
Rain or Shine. Cash/Checks/Credit Cards accepted. 100% of Club proceeds supports local horticultural and conservation scholarships and projects
Bullington Gardens Holiday Sale & Open House
Join the Elves at Bullington Gardens to shop for Amaryllis, Poinsettias, wreaths, unique holiday crafts, ornaments and so much more!
Papertown Christmas Craft Fair
Holiday shoppers will want to get ready for the eighth annual Papertown Christmas Craft Fair. A wide variety of crafters will be selling handmade goodies and all types of Christmas items. Every inch of the Armory will be filled with Christmas items for sale. Artisans and crafters from all over North Carolina will be represented at the Canton craft fair. Shoppers can find homemade cookies, candy, cakes, an array of Christmas decorations for the home, handmade ornaments, stocking stuffers, candles, soap, perfect for everyone's Christmas list. Shoppers need to arrive early and stay for door prizes. Spend time with family and friends.
"Dressing for the Occasion: Mid-Century Sandburg as Celebrity and Family Man"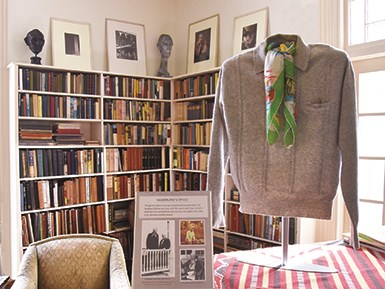 "Dressing for the Occasion" offers visitors a window into the style, culture, and feel of mid-century America. The family's clothing and accessories weave together the roles of Carl Sandburg as a prominent writer, celebrity, father, and husband. This temporary exhibit offers an exciting opportunity for the public to view objects that are normally in storage or in the possession of Sandburg family members. Tours of the Sandburg Home are offered daily from 9:30 am to 4:30 pm. Tickets are available first come, first served, each day from the visitor information area in the ground level of the Sandburg Home.
Nearly every room in the historically furnished house museum will be included in the exhibit. Visitors will see the characteristic scarves Carl Sandburg wore as he played his guitar and sang folk songs to entertain his family and guests, the dress Lilian Sandburg wore to meet President Lyndon B. Johnson, and many other mid-century pieces worn by the Sandburgs and their daughters. Historic photographs, paired with the clothing, will provide context.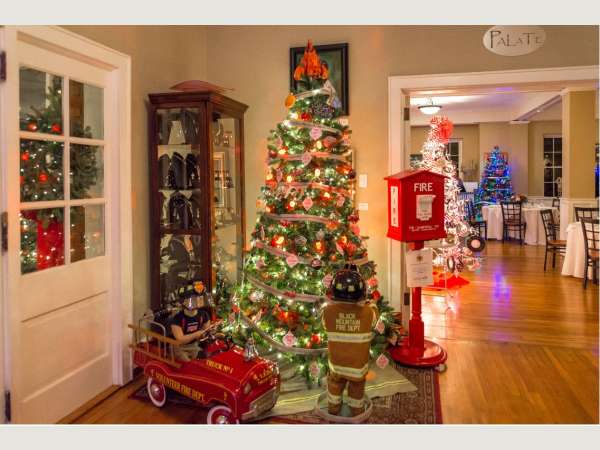 Named for two years by Explore Asheville as one of the top 5 events in the Swannanoa Valley at Christmas, you are invited to come experience 25 Christmas trees that bring joy to the whole community. The public is invited to view the trees and then vote with money for their favorite tree. Every cent raised through Deck The Trees goes to the Fuel Fund for Swannanoa Valley Christian Ministry. Be a part of creating something beautiful that also gives back to the community.  Prizes are awarded for the tree that raises the most money and for the tree that most represents the theme.
Calendar of Events:
Dec. 6, 2019 – Jan. 6, 2020
Visit Deck The Trees from 10 AM to 9 PM
Dec. 9, 4:30 – 7:00 PM
Photos and a Visit with Santa Claus
$15.00 per photo
Dec. 10, 2:00 to 4:00 PM
Deck The Tree Christmas Tea with Highland Farms
January 6, 2020   6:00 to 8:00
A Final Celebration
-Which tree most represents the theme?
-Which tree raised the most money for the Fuel Fund for Swannanoa Valley Christian Ministry?
Ho Ho Ho! FREE Santa Photo Experience
November 16 through December 24, 2019
11 a.m. – 8 p.m. Monday – Friday, 10 a.m. – 8 p.m. Saturday, Sundays, 12 p.m. – 6 p.m. and Christmas Eve, 9 a.m. – 5 p.m. inside Food Court
FREE Santa Photos are back! From November 16th through December 24th, every family who visits Santa will receive two FREE 4"x6" Santa photo prints and a digital download of a single image. Additional photos and Christmas merchandise are available for purchase. FREE Santa Photo is located inside the Food Court and is sponsored by N.C. Arboretum Winter Lights.
Holiday Makers Sale Folk Art Center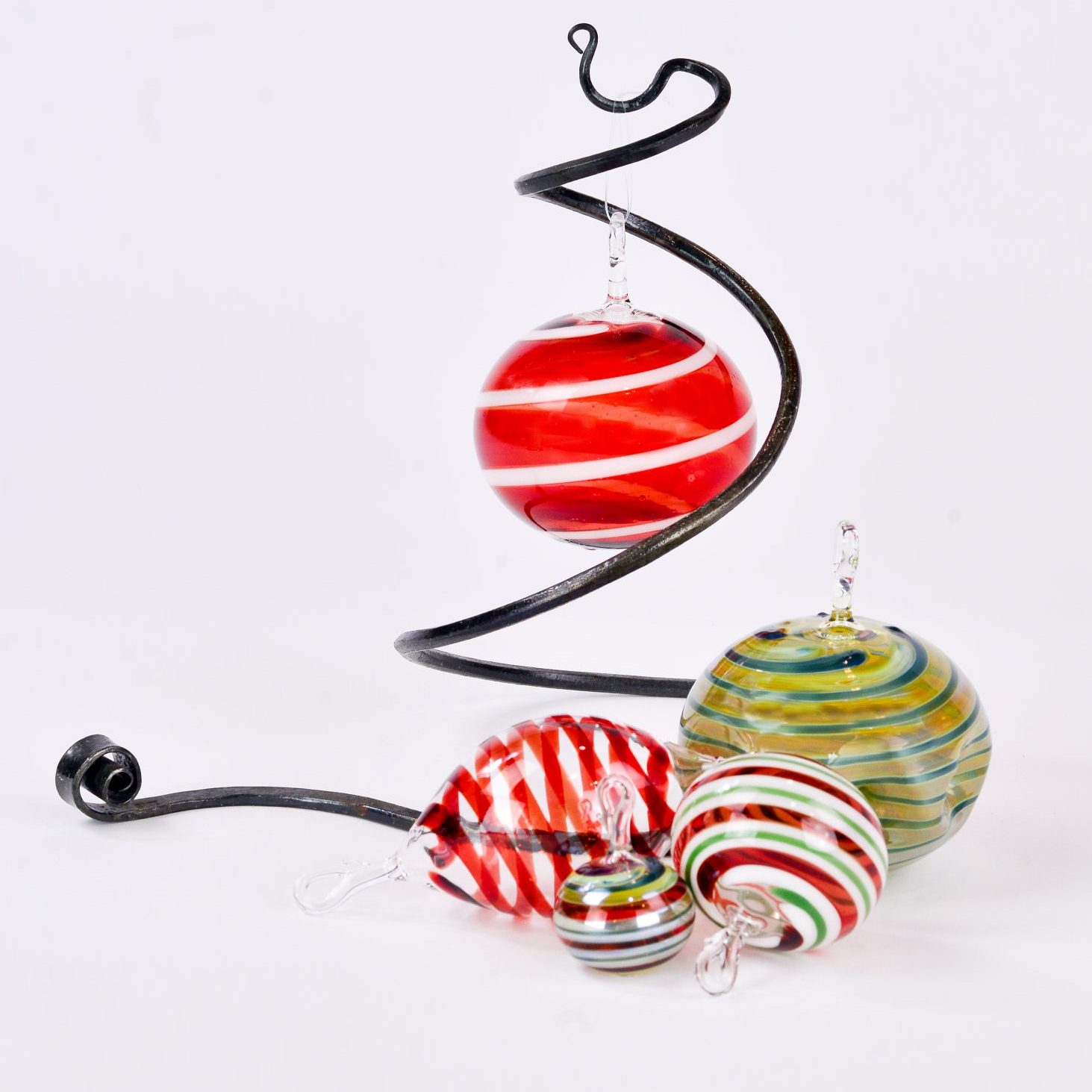 December 7 & 14 | 10:00a-4:00p
The Holiday Makers SALE is a chance to shop fine craft at a discounted rate. Over 30 of our makers gather their leftover stock from 2019, and give a peak at their 2020 designs! Choose from a variety of gift items including ceramic tableware, fine jewelry, hand-woven and dyed wearables, bound journals and etched cards, blown vases and ornaments, turned wooden bowls and more. Shop local!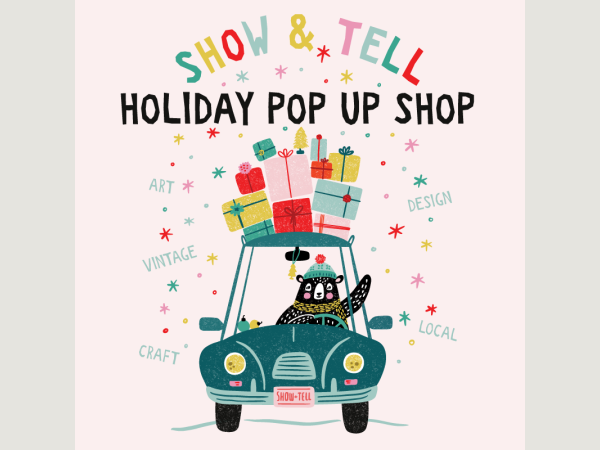 Show & Tell Pop Up Shop is back this holiday season in one of our favorite Asheville venues, The Asheville Social Hall! Shop our 3-week pop up shop featuring some of the area's best in handmade and vintage. We've curated goods featuring over 125 independent vendors of handmade and vintage goods including clothing, jewelry, decor, greeting cards, and more. HOLIDAY POP UP SHOP November 29 – December 21.Open 10am-8pm daily. Asheville Social Hall, 81 Broadway St, Asheville, NC 28801. For more details and a full list of vendors visit: https://www.showandtellpopupshop.com/
Santa Claus Is Coming to Asheville Mall
Just hear those sleigh bells jingling all the way to Asheville Mall! Santa Claus is on his way to Asheville, and we're celebrating his arrival on Saturday, November 16. Your little elves-in-training are invited to visit Santa at Center Court, near Barnes & Noble and ULTA, to share their Christmas lists and holiday wishes.
Santa will be available from November 16th to December 24th, when he begins his holiday trek around the world. Your elves-in-training can visit with Santa Monday through Saturday from 10am to 1pm, 2pm to 5pm, and 6pm to 9pm; and Sundays from noon to 3pm and 4pm to 6pm.
Southern Highland Craft Guild Holiday Makers SALE
During the first two Saturdays in December, over 30 Guild members* will fill the auditorium of the Folk Art Center for our annual Holiday Makers Sales on December 7th & 14th, from 10am-4pm.
Choose from a variety of gift items including ceramic tableware, fine jewelry, hand-woven and dyed wearables, bound journals and etched cards, blown vases and ornaments, turned wooden bowls and more. Buying from artisans supports the local economy and promotes the Guild's mission to cultivate the crafts and makers of the Southern Highlands for the purpose of shared resources, education, marketing and conservation.
Black Mountain Library Holiday Book Sale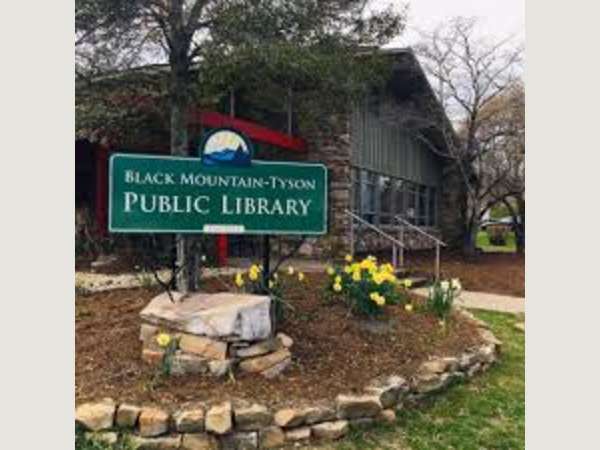 Holiday and Gift Books Available for Sale
Friday, Dec. 6, 3-6
Saturday, Dec. 7, 11-4
Fifth Annual Holiday Craft Bazaar!! | Asheville Music Hall & The One Stop
Asheville Music Hall and The One Stop at Asheville Music Hall bring you the Fifth Annual Holiday Craft Bazaar in Downtown, Asheville!!!
TWO FLOORS of 27+ vendors, Full Kitchen/Bar, Bloody Mary Bar & Kids Area!
FREE ADMISSION
Come check out an array of over 27 Local Vendors (full list below!) and support local craft for the holidays! This event will surely be a one stop shop for all of your holiday gifts for family and friends alike!
Live music from 12:30PM-2:30PM and 3:30PM-5:30PM featuring local live music .
ALSO, to top things off, for every item purchased, you will receive a raffle ticket for a chance to win a craft basket compiled by the vendor AND tickets to either the late night show at Asheville Music Hall '4th Annual Very Jerry Xmas' or tickets to Jam By Day!
Holiday Market Hickory Nut Gap Farm
SANTA IS COMING to our FREE HOLIDAY MARKET! No need to wait in long mall lines, no paying out the nose for pictures, just bring your camera and capture that special moment with the man in red. Ol' Saint Nick will be on site with over 40 LOCAL VENDORS! Stock up on those special, hand-made with love, local gifts for those hard-to-buy-for's on your list.
Holiday Pop-Up Market Open Hearts Art Center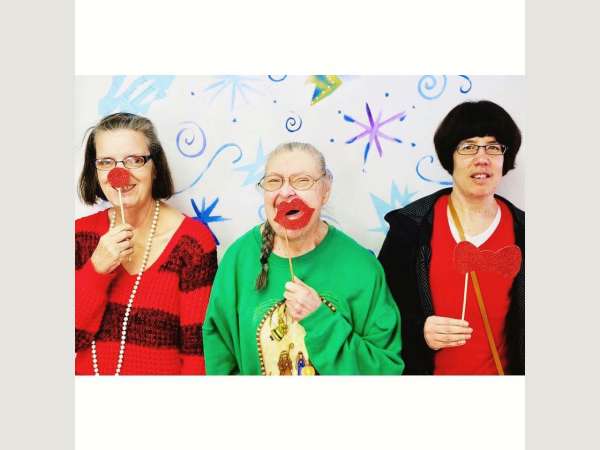 Join us at Open Hearts Art Center for our Holiday Pop-Up Market! Shop local at the opening party on November 30th from noon to 5PM, and enjoy Hi-Wire Brewing beer, treats, and live music, along with make 'n take ornaments. If you can't make it for our opening day, the market will run through December 20th from 10AM to 4PM, and we'll feature ceramics, cards, gifts, original art, and a 50% off sale on selected items each day. Give the gift of original, local art this holiday season! Open Hearts Art Center is a supportive studio and gallery dedicated to representing and empowering adults with varied abilities to connect to and reach their full potential through the arts. Our website: www.openheartsartcenter.orgarts.people.empowerment