Calendar of Events
Looking for things to do in Hendersonville, NC? Whether you're a local or just passing through we've got loads of great tips and events to help you find your perfect adventure.
Saturday, December 14, 2019
Fringe Activates Asheville in 2020! Fringe Freak Passes
Join us January 19 – 26, 2020, as we celebrate our 18th year as the fearless, boundary pushing performing arts festival. We are returning bigger and bolder than ever, beginning a little early, with a free preview party, 7 pm, January 11th at Fleetwood's in West Asheville. Enjoy art installations from ZedAVL and Geneva Bierce Wilson, be delighted by everyone's favorite site-specific dance troupe The Accidentals, and grab a newly printed guide so you can start planning your festival!
Fringe Freak Passes go on Sale December 6!
Buy a Freak Pass now to pick from 25 different ticketed shows, which run Thursday, January 23 through Sunday, January 26. The Freak Pass is only $65. Freak Passholders are given priority with reserved seats. There are a limited number available, when they are gone, they're gone! Price goes up to $75 on January 1st.
As well as over 100 ticketed show times from local, national and international artists, we have FREE Random Acts of Fringe popping up all over town, all week long, and lots of parties!  The Kickoff party returns to the Lazy Diamond at 7 pm, co-hosted by the Buncombe County Tourism Development Authority, from 6-9pm, on Sunday, January 19th. Check out the new Artist Wine Party, hosted by Zapow Gallery, 7 pm, Tuesday, January 21st. Free after-parties return, starting at 10 pm, Thursday at Sly Grog, Friday at Mothlight and Saturday at The Block Off Biltmore, There you can enjoy more Random Acts of Fringe, meet the artists and chat about your favorite shows! See AshevilleFringe.org for all the details.
Individual tickets for each show are $14-$19 and go on sale January 1. See www.AshevilleFringe.org individual show descriptions and ticketing links.
Adult Studio Drawing Journey Journals Asheville Art Museum
Sign up by November 8! In Drawing Journey Journals, travel the Museum's galleries, drawing as you go in handmade journals with watercolor pencils; then, transform your sketches into paint in the Studio. Engage in basic drawing exercises during each class, as well as learn tips and tricks to inform your drawing with the elements of composition, light, perspective, and color. Carry drawing and writing techniques used in class over into your personal travel journals, plein air painting, and self-expression.
Click the button below to learn more, or call 828.253.3227 x122 to register by phone.
TWO DAY Uncommon Asheville Event at WNC Ag Center
• $5 Admission (Good for Both Days)
• Kids are FREE!!!
It's the MOST WONDERFUL TIME OF THE YEAR…time to buy gifts for those you "TRULY" LOVE at our upcoming TWO DAY INDOOR Uncommon Asheville Event at WNC Ag Center! ❄️
Visit Asheville's Largest Event for the Old, the Bold, the Creative, and Unexpected! Uncommon Asheville gathers quality curators of antiques, craft, vintage decor, objects, art, jewelry, and home furnishings! Come see what UNCOMMON treasure you'll find at this incredible TWO DAY INDOOR event!
Details:
• TWO DAYS: Saturday 9AM-4PM AND Sunday 10AM–4PM
• $5 Admission (Good for Both Days)
• Kids are FREE!!!
• Service dogs only
So make your "Naughty or Nice" list, check it twice, and find an UNCOMMON gift at a great price!!
Appalachian Christmas Craft Show
CURVE Holiday Market!
CURVE Studios & Garden is hosting a Holiday Market on Second Saturday December 14, 2019!
CURVE will be decorated for the festivities… our 10 artist elves will be in the studios working away… with refreshments served all day from 10am to 5pm
3, 5 & 7 River Arts Place in Asheville's River Arts District
"Bringing People to Art and Art to Life in Asheville's River Arts District" for over 30 years!
Let us know if you can make it on Facebook!: https://www.facebook.com/events/513341212787358/
Holiday Makers Sale Folk Art Center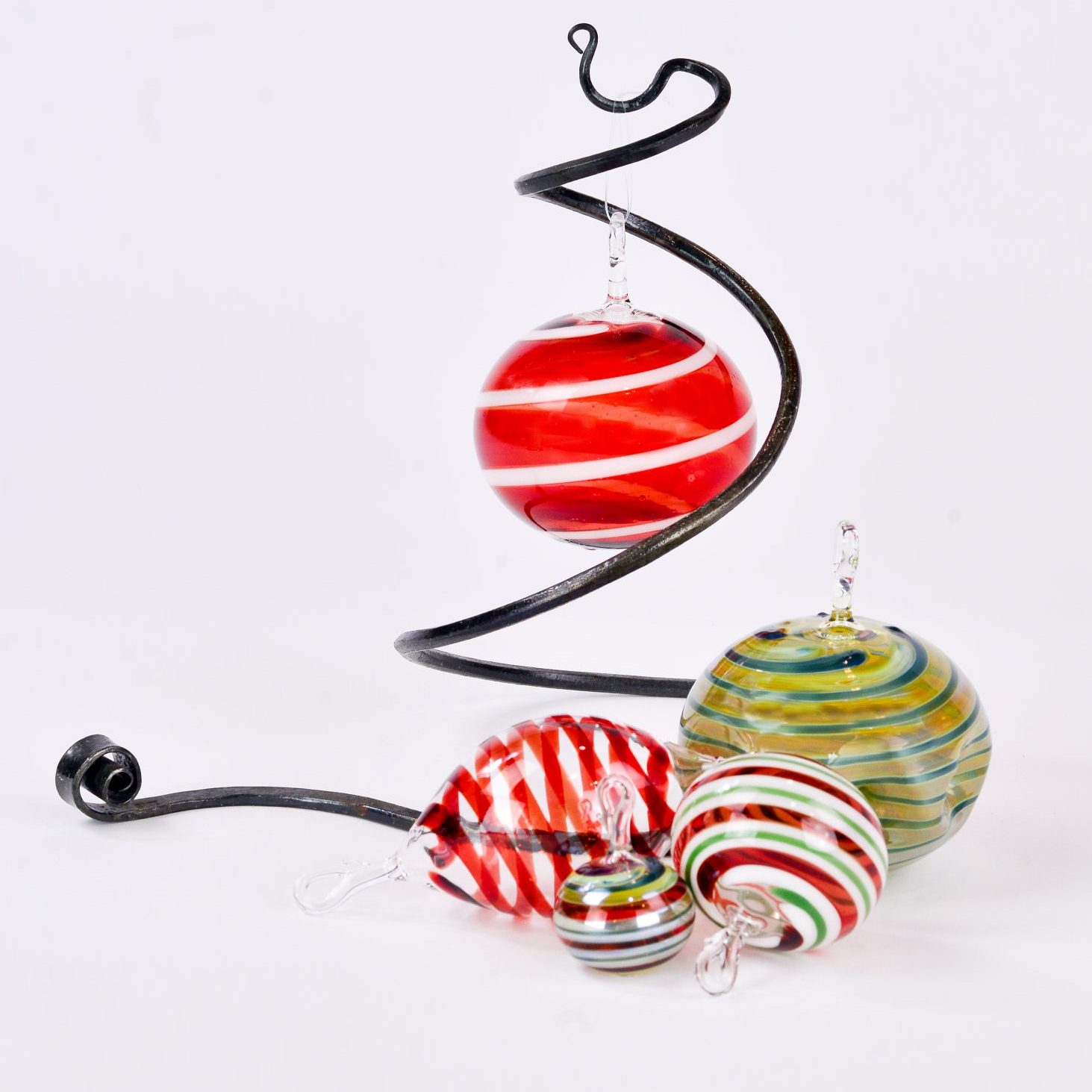 December 7 & 14 | 10:00a-4:00p
The Holiday Makers SALE is a chance to shop fine craft at a discounted rate. Over 30 of our makers gather their leftover stock from 2019, and give a peak at their 2020 designs! Choose from a variety of gift items including ceramic tableware, fine jewelry, hand-woven and dyed wearables, bound journals and etched cards, blown vases and ornaments, turned wooden bowls and more. Shop local!
Holiday Seconds Sale and Open House Odyssey ClayWorks
Join us on Saturday, December 14th for our Holiday Seconds Sale and Open House from 10am-6pm! Enjoy complimentary refreshments, free kids activities from 11-2pm AND one of our truly epic holiday seconds sales with 50-80% off overstock and seconds! Be sure to arrive early for the best selection. This event is free and open to the public.
Nature Center's annual holiday celebration A Winter's Tail
Join us for the Nature Center's annual holiday celebration. There will be festive arts and crafts, games, educational programs, animal encounters and of course an appearance from SANTA! Get your child's photo taken with Santa from 12-4pm.
Regular admission rates apply. As always, Friends members get in free!
Southern Highland Craft Guild Holiday Makers SALE
During the first two Saturdays in December, over 30 Guild members* will fill the auditorium of the Folk Art Center for our annual Holiday Makers Sales on December 7th & 14th, from 10am-4pm.
Choose from a variety of gift items including ceramic tableware, fine jewelry, hand-woven and dyed wearables, bound journals and etched cards, blown vases and ornaments, turned wooden bowls and more. Buying from artisans supports the local economy and promotes the Guild's mission to cultivate the crafts and makers of the Southern Highlands for the purpose of shared resources, education, marketing and conservation.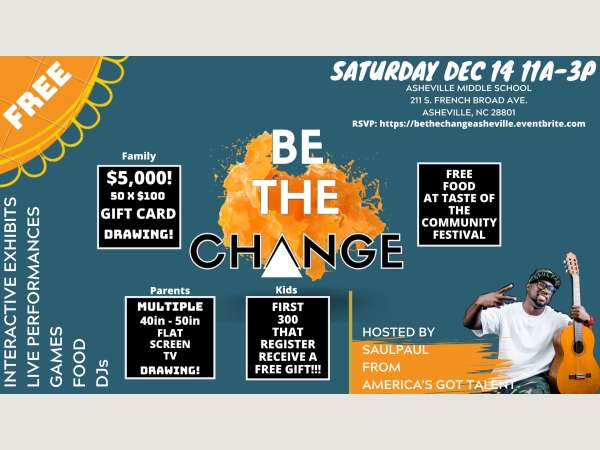 Get ready for the Be The Change Festival hosted by SaulPaul from America's Got Talent on Saturday December 14th from 11AM-3PM! Join us at this free family festival for interactive exhibits, live musical performances, fun games, delicious food, DJs and more! We will be giving away $5,000 in gift cards, multiple 40″-50″ flat screen TVs, and a free gift to the first 300 people who register and attend. Enjoy fun times and free food at Asheville Middle School on 211 S. French Broad Ave in Ashevill, NC!
Firestorm Holiday Craft Pop-up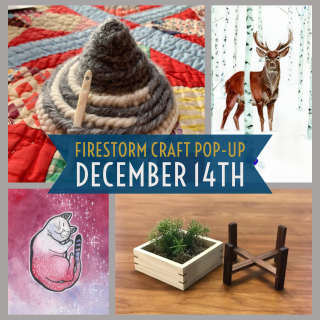 A three part pop-up series featuring the work of eighteen local artists. This event is a great opportunity to find unique, locally made art for yourself or your loved ones. A portion of each sale will help to underwrite social movement space and grassroots community programming at our co-op. Different artists will be featured on each date, so plan to attend all three! Hours will be 11am to 4pm.🧵🌿🖌️ December 14th: Including Abacus Corvus Artwork, Bear Dog Designs, Ell's Nalbinding, Plants and Knits, Running Rabbit Stickers, Sam Davis, and Waymaker Creations💍🌱🎲 December 15th: Including Analog Adornments, Chrysalis Earth Farm, The Dicey Dungeon, Weedlady Herbals and Punkcraft, and Talia Scarpelli🎨🍶🔪 December 21st: Including Emily Eagan Art, Eva Leach, Harvest Gap Forge, Phlox Design, .retool., and Sleepybowie.
Ignite Holiday Trunk Show!
Come enjoy our warm, cozy studio to shop jewelry creations made by talented local artists. Our studio will be filled to the brim with work made by specially invited guest jewelers. Support small business and buy local this holiday season!
Some of the artists on display include: Deb Karash, Matthew Smith Studios, Gayle Weiss, Meredith Tibjash, Netty DiSunno, Susan McDonough, Priscilla Frake, and Una Barrett – just to name a few.
Hot beverages and snacks will be provided.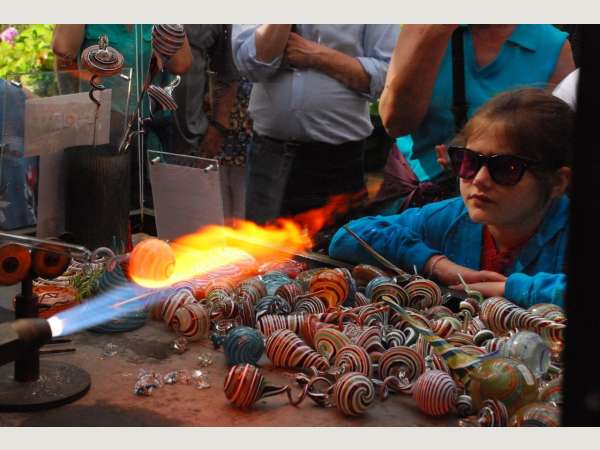 Since 2010 master scientific glass blower, Jason Probstein has been presenting live glassblowing demonstrations here at our art gallery.
And once again we are proud to announce that Jason will be blowing his unique Christmas ornaments and glass artworks here at Mountain Made gallery from now to December 23rd, 2019.
Jason will be demonstrating Thursdays, Fridays, Saturdays and Mondays from 11:00 am to 2:00 pm. He will also be blowing glass every Sunday from Noon to 2:00 PM.
We invite you come by Mountain Made for a fun, family-friendly event

"In this bilingual romantic comedy, circumstances both hilarious and tragic bring together a young Israeli woman, who has little command of English, and a young American man, who has little command of romance. Is their inevitable love an accident … or is it destiny, generations in the making?"
"a hilarious and heartwarming romantic comedy" – The New York Times
Holiday Concert and Market
Holiday Concert and Market

Kris Kringle, an old man living in a retirement home, gets a job working as Santa for Macy's where he surprises employees and customers by claiming to be the real Santa Claus. Seen as deluded by Macy's vocational counselor, he's thrown into a court case to determine his mental health and, more importantly, his authenticity. Especially at stake is one little girl's belief in Santa. The whole family will enjoy this funny, poignant and faithful adaptation of the classic 1947 film.
The Asheville Ballet presents The Nutcracker
North Carolina's oldest professional non-profit ballet company presents the full-length classical holiday tradition with stars, story, and sugarplums. Clara's magical journey to the Lands of Snow and Sweets featuring the traditional Tchaikovsky score has become a favorite holiday family tradition.
Montford Park Player's A Christmas Carol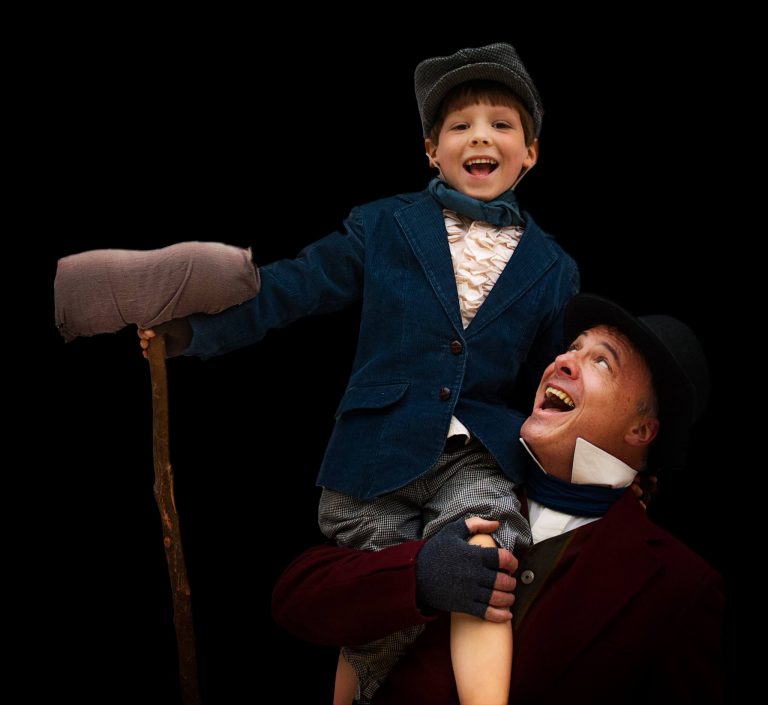 Get ready for a Moppet Holiday!
Scrooge and all of the Spirts of Christmas are back, and the Moppets got 'em!
Now that The Montford Moppets, Asheville's ONLY Continuing Shakespeare Summer Camp, is year-round, they are returning for the second straight year to bring you their delightful take on Dickens' holiday classic.
And, for the second-year in a row, A Christmas Carol will be a Moppet affair.
Dynamic duo Ashleigh and Skyler Goff have asked the Teens their hot takes on the famous story, and what they've come up with will surely delight kids and their grown-ups alike.
Shows will be presented Fridays, Saturdays and Sundays at 5pm from December 13th through the 22nd, with a special showing on Monday the 23rd.
The Saturday performances will be preceded (starting at 3pm) by Montford Park Players' Holiday Festival, featuring local food vendors and crafters, delicious baked goods, and many other surprises for the whole family.
Please note, that all of these festivities will be held on the grounds of the Hazel Robinson Amphitheatre and are outdoors. Although MPP will provide patio heaters, we ask that you dress very warmly and bring any items or drinks that will help your entire day be filled with warmth.
North Carolina Glass Center Holiday Open House
Join the staff and artists of the North Carolina Glass Center for our holiday open house! Explore the gallery and newly renovated space, shop for handmade gifts, watch hot shop and flame shop demonstrations, and enjoy libations with our glass community.