Details
2022-11-25T00:00:00-05:00
2022-11-26T00:00:00-05:00
Contact
Buncombe County Libraries
Information
Write Your Novel at the Library with NaNoWriMo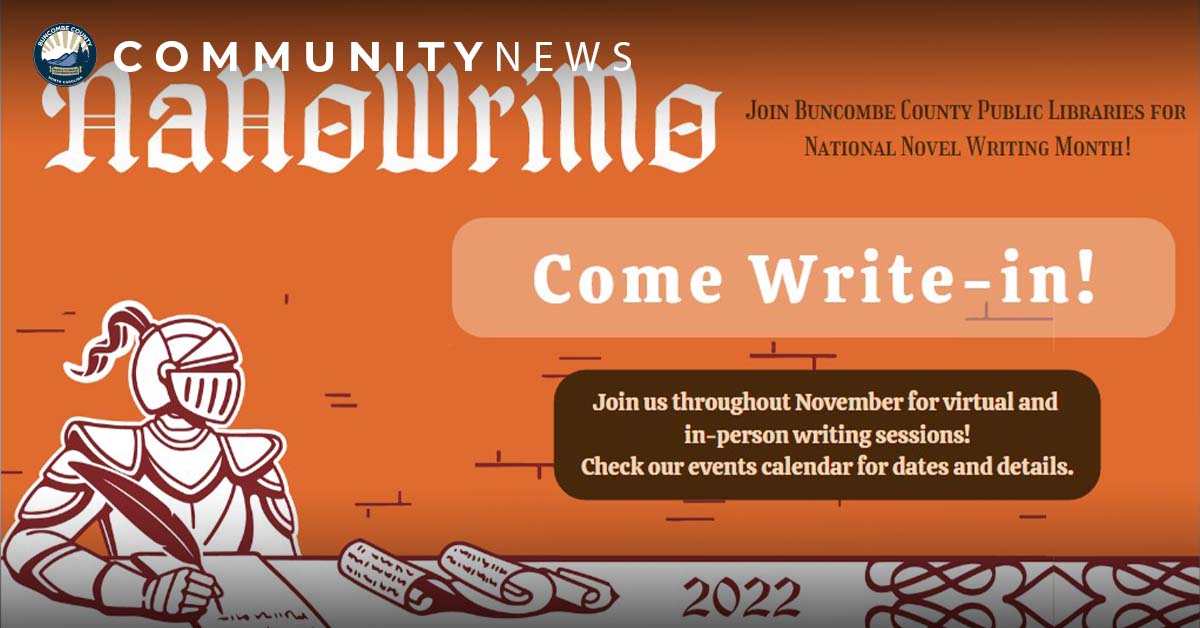 National Novel Writing Month (NaNoWriMo) began in 1999 as a daunting but straightforward challenge: to write 50,000 words of a novel during the thirty days of November. Now, each year on Nov. 1, hundreds of thousands of people around the world begin to write, determined to end the month with 50,000 words of a brand-new novel.
If you are doing NaNoWriMo this year, the Buncombe County Public Library wants to support you in your endeavors! Join us for the following events throughout the month to keep you invigorated and motivated. All events are free, but online events require registration. To learn more or to sign up, visit the Library's event calendar. Additional events may be added, so be sure to check back throughout the month.
Two big events for NaNoWriMo:
Thursday, Nov. 10 at 7 p.m.
Denise Kiernan at the Wedge: Join New York Times bestselling author Denise Kiernan for a NaNoWriMo event at the Wedge Brewery. Denise's cohost for this event will be her husband, author and editor Joseph D'Agnese. This free event is sponsored by Buncombe County Public Libraries and Malaprops bookstore.
Saturday, Nov. 19 from 1-4 p.m.
Read Local, Write Local Author's Fair: Connect with local authors and readers at the first-ever Write Local, Read Local Author Fair at the Black Mountain Library! Join authors and illustrators as they talk about their books and writing, sell copies of their work, and get to know the readers living in their community. Writers will be selling copies of their books and we will also have books available for checkout. Cash only for author sales, please.
Calendar of Events – be sure and check the library calendar for more details:
Tuesday, Nov. 1 at 6 p,m.
Dark City Poets Writing Group at the Black Mountain Library
Saturday, Nov. 5 at 3 p.m.
Virtual Come Write-In
Tuesday, Nov. 8 at 6 p.m.
So You Want to Self-Publish? A Webinar with Nora Gaskin
Thursday, Nov. 10 at 4 p.m.
Creative Writing Group at the Leicester Library
Thursday, Nov. 10 at 7 p.m.
NANOWRIMO with Denise Kiernan @ The Wedge Foundry
Saturday, Nov. 12 from 9:30-11 a.m.
Rise 'n' Write-In at the Enka-Candler Library
Wednesday, Nov. 16 at 7 p.m.
Virtual Come Write-In
Thursday, Nov. 17 at 3 p.m.
Come Write-In at the East Asheville Library
Friday, Nov. 18 from 10 a.m.-noon
Come Write-In at Pack Memorial Library
Saturday, Nov. 19 from 1-4 p.m.
Read Local, Write Local Author's Fair at the Black Mountain Library
Monday, Nov. 21 from 10-11:30 a.m.
Virtual Rise 'n' Write-In
Tuesday, Nov. 22 at 6:30 p.m.
Author Julyan Davis at the North Asheville Library
Tuesday, Nov. 22 at 6:30 p.m.
One Night, Two Fairview Authors at the Fairview Library