Details
2021-06-21T00:00:00-04:00
2021-06-22T00:00:00-04:00
Information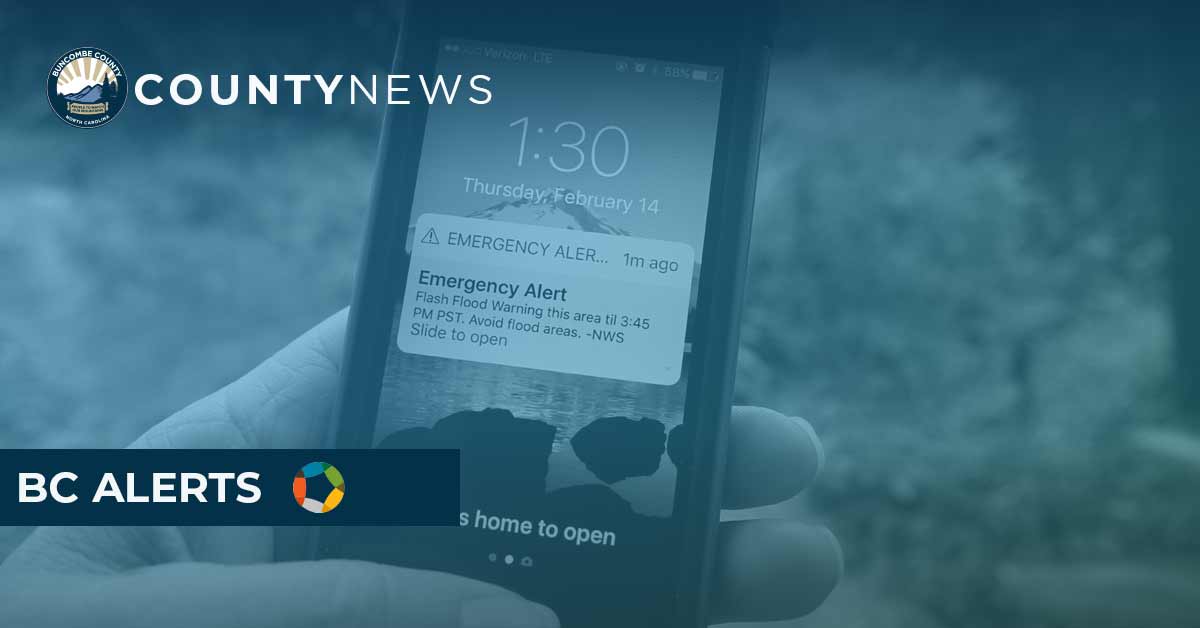 If there's one thing the pandemic has taught us, it's to be ready…
Sign up for BC Alerts, and you'll get emergency information sent directly to you in real time.
Buncombe County residents have a new, customizable solution for receiving notification and emergency alerts. Buncombe County Government is in the initial phase of migrating to the CodeRED community notification system to send important alerts and time-sensitive messages to staff members and residents. Along with emergency and critical messages, the CodeRED notification system will also enhance community engagement via the release of important but non-emergency information such as vaccine site notifications, inclement weather closures and schedule changes, and other county service information.
Sign up for BC Alerts by texting BCAlert (not case sensitive) to 99411 or visit buncombecounty.org/codered to sign up for the new system.
Notice: If residents have previously signed up for BC Alerts, they will need to re-register in order to continue receiving notifications after June. If you have Spectrum as your wireless provider please select Other from the provider list, and scroll down for more frequently asked questions. 
"Upon evaluating our previous notification system and other available options, we chose CodeRED for its innovative features, user-friendly platform, and wide-spread adoption rates across the country," said Communications and Public Engagement Director Lillian Govus. "Their company-owned redundant data centers help ensure every resident's data is safe and that messages are delivered quickly and reliably to thousands of individuals within minutes. We're excited to expand our communication channels with residents to include text, phone, email, and social media platforms, providing the information they need to know to make better informed decisions during an emergency."
CodeRED Key Benefits
CodeRED will deliver several benefits for residents and enable staff to more efficiently manage and distribute notifications before, during, and after emergency and non-emergency events:
Registration for this notification service is customized, allowing residents to choose which alerts they'd like to receive, as well as their preferred channel.
Residents can select several different methods including landline, cell phone, email, text message, TTY, or even a combination. These alerts can be specific to streets, neighborhoods or regions, so individuals within affected areas are sure to receive relevant information.
Residents and visitors can keep track of alerts in Buncombe County with the CodeRED Mobile App, which notifies smartphone holders of real-time alerts in the area. Similar to the online registration, users choose which notifications they'd like to receive via the app.
Staff members can also use the system to communicate emergency information with one another. This will help us ensure our emergency response and daily operations are even more efficient.
All residents are encouraged to visit buncombecounty.org/codered or text BCAlert to 99411 to enroll in the CodeRED system. For more information on the CodeRED notification system or registration, please contact [email protected]. or call CodeRED support at 1-866-939-0911.
About CodeRED from OnSolve
OnSolve is a leading global provider of SaaS-based critical communication solutions for enterprise, SMB, and government customers. The company's CodeRED™ solution provides high-speed notification services capable of reaching millions of people in minutes and has applied its mission-critical capabilities to government, commercial, healthcare and other end markets. More information can be found on the company's website at www.onsolve.com.