When:
June 13, 2018 @ 10:30 am – 11:30 am
2018-06-13T10:30:00-04:00
2018-06-13T11:30:00-04:00
Where:
Fiction Addiction
1175 Woods Crossing Rd #5
Greenville, SC 29607
USA

Contact:
Fiction Addiction
8646750540
Sign up for our new mystery bookclub, co-sponsored by our local chapter of Sisters in Crime. The club will meet at Fiction Addiction on the 2nd Wednesday of each month from 10:30-11:30am. Each quarter will have a different moderator and a different mystery focus. Our initial club will meet April-June 2018 to discuss cozy mysteries and will be moderated by Linda Lovely. The 3 included selections are: Murder with Peacocks by Donna Andrews (April), Bones to Pick by Linda Lovely (May), and The Sweetness at the Bottom of the Pie by Alan Bradley (June).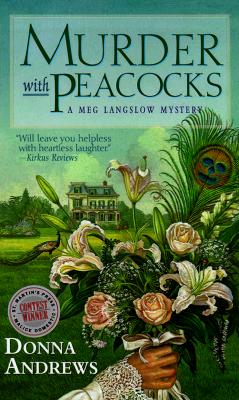 Three Weddings…And a Murder
So far Meg Langslow's summer is not going swimmingly. Down in her small Virginia hometown, she's maid of honor at the nuptuals of three loved ones–each of whom has dumped the planning in her capable hands. One bride is set on including a Native American herbal purification ceremony, while another wants live peacocks on the law. Only help from the town's drop-dead gorgeous hunk, disappointingly rumored to be gay, keeps Meg afloat in a sea of dotty relatives and outrageous neighbors.
And, in whirl of summer parties and picnics, Southern hospitality is strained to the limit by an offensive newcomer who hints at skeletons in the guests' closets. But it seems this lady has offended one too many when she's found dead in suspicious circumstances, followed by a string of accidents–some fatal. Soon, level-headed Meg's to-do list extends from flower arrangements and bridal registries to catching a killer–before the next catered event is her own funeral…
Once she calls her aunt's goat farm home, grisly discoveries offer ample inducements for Brie to employ her entire vocabulary of cheese-and-meat curses. The troubles begin when the farm's pot-bellied pig unearths the skull of Eva's husband, who disappeared years back. The sheriff, kin to the deceased, sets out to pin the murder on Eva. He doesn't reckon on Brie's resolve to prove her aunt's innocence. Death threats, ruinous pedicures, psychic shenanigans, and biker bar fisticuffs won't stop Brie from unmasking the killer, even when romantic befuddlement throws her a curve.
It is the summer of 1950–and at the once-grand mansion of Buckshaw, young Flavia de Luce, an aspiring chemist with a passion for poison, is intrigued by a series of inexplicable events: A dead bird is found on the doorstep, a postage stamp bizarrely pinned to its beak. Then, hours later, Flavia finds a man lying in the cucumber patch and watches him as he takes his dying breath.
For Flavia, who is both appalled and delighted, life begins in earnest when murder comes to Buckshaw. "I wish I could say I was afraid, but I wasn't. Quite the contrary. This was by far the most interesting thing that had ever happened to me in my entire life."