Details
2021-05-17T00:00:00-04:00
2021-05-18T00:00:00-04:00
Contact
Buncombe County Soil & Water District
(828) 250-4785
Information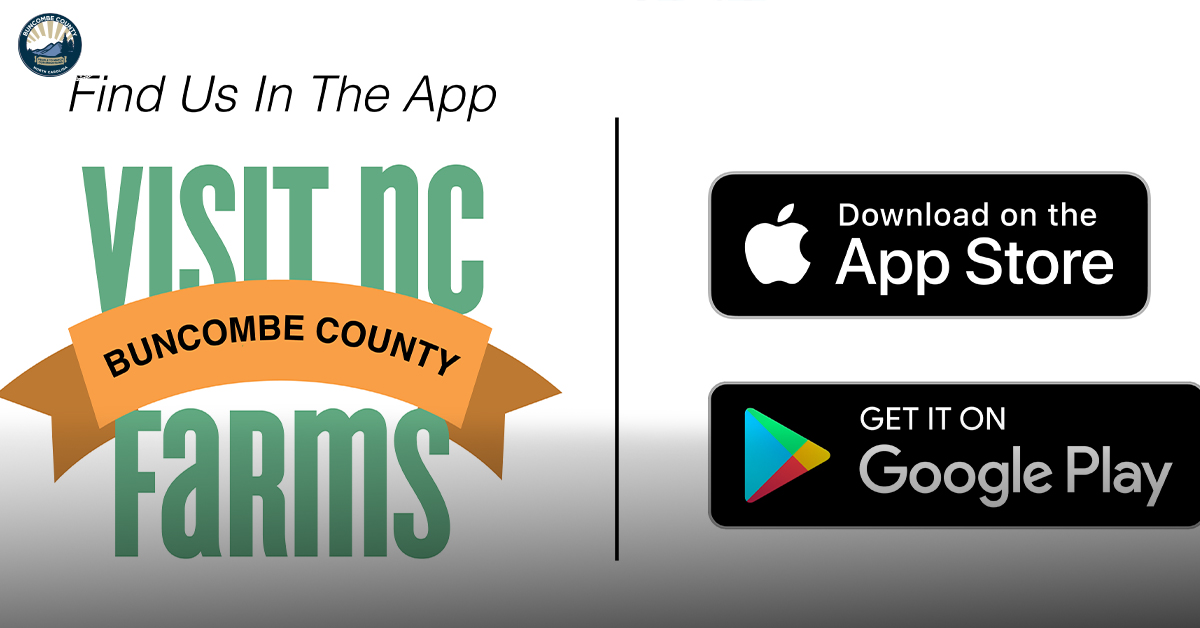 he Visit NC Farms Phone App, developed by the N.C. Department of Agriculture and Consumer Services, connects millions of North Carolina residents and visitors to farmers and local food – one community at a time.
The Visit NC Farms App connects the dots in communities across North Carolina. Using cell phone technology, residents and visitors can find farms closest to them with products and activities that interest them.
Visitors can use the app to explore farms, farmers markets and local restaurants that are off the beaten path and unique to each community. Beginning June 1, 2021 Buncombe County Soil & Water District will be accepting applications for listings on the VisitNCFarms app. The app will launch in September 2021.
Interested in joining the app? Contact Buncombe County Soil & Water District at (828) 250-4785 today!
FAQ:
Why should I list my farm on the Visit NC Farms App?
Showcasing your farm on the app allows you to reach a broader audience of potential customers and repeat patrons.
You'll be listed among an expansive and ever-growing collection of agriculture-based offerings.
With both a map and a list view, users will be able to easily find the farm closest to them or filter based on offerings.
Your farm listing will feature a brief summary, engaging imagery, and push button shortcuts to call, visit your website, or get directions.
User and member feedback ensures that the app stays relevant and up to date.
Your farm listing gives you access to real-time marketing opportunities through push notifications to app users.
Why should my community invest in the Visit NC Farms App?
There are significant social, economic and environmental benefits to promoting Agritourism in your community. It's the perfect way to educate people about your community.
Agritourism experiences show off the social dimension of agriculture. When consumers connect with the families and farmers growing their food, they leave more likely to advocate for and spend more on local foods.
As a benefit to participation, communities involved in the app received branded premium items to promote user interest in the app and North Carolina agritourism.
The Visit NC Farms app is affordable, scalable and replicable.
77% of all Americans now own a smart phone of some kind. (92% of 18-29 year olds)
In a Covid-19 economy, consumers are turning to local farms for food. Local farms are pivoting to meet the surge in demand. The Visit NC Farms App is ensuring they get connected.
59% of travelers say they will avoid crowds on their next leisure trip, and almost 30% of North Carolinians are more interested in traveling closer to home. This makes nearby rural and outdoor attractions the most likely destinations in the near future. Consider the app as a marketing tool to drive NC residents to the agriculture economy in their own backyards!
How is the app growing in North Carolina?
The pilot project was launched by Orange County in the fall of 2017. After their investment and initial success, the app expanded to other counties.
The project is now live or in development with 37 North Carolina counties. Recent additions now in the development phase include Durham, Guilford, and Alamance counties.
User engagement increased 52% and user downloads increased 41% in March as consumers concerned about health and safety turned to local farms for fresh fruits, vegetables, and proteins.
The Visit NC Farms App is now reaching nearly 10,000 active users (and counting).
Data from active app users provides crucial information to better meet app user needs and stakeholder goals.
"The key is for rural communities to recognize that they have valuable assets, one of which is the very nature of rural life. In an increasingly congested and impersonal world, there is great appeal to a close-knit community. The qualities associated with rural life are particularly conducive to the creation of entrepreneurial ecosystems and the free flow of information, skills and resources…"
Don Macke has nearly 40 years of community economic development and policy experience, is the co-founder of the Lincoln, Nebraska-based Center for Rural Entrepreneurship and director of the center's entrepreneurial communities solution area.
How is the app promoted?
Each community has access to marketing materials including posters, banner stands, buttons, stickers and window clings. Website badges are created for participating sites.
The app is promoted by the N.C. Department of Agriculture and Consumer Services Marketing Division. Welcome and Visitor Centers across the state, the State farmers markets and other statewide venues will share the app messaging.
Being a part of the app is cooperative advertising. Each farm or community partner also promotes the app to their lists and followers so your audience grows exponentially.
North Carolina Farm Bureau is supporting this effort across the state.
As the app grows, the marketing efforts will expand as well. Think billboards!
How much does it cost?
Thanks to the generous donations from Farm Bureau Insurance and Farm Bureau we are able to offer this service to any farms, local stores, farmers markets, and local restaurants for FREE!