Details
2019-12-08T13:00:00-05:00
2019-12-08T18:00:00-05:00
Contact
Blue Ridge Humane Society
Information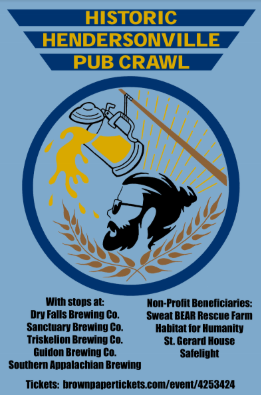 Join us for a fun day out on the town, visiting all the best breweries Hendo has to offer! We'll be starting at Dry Falls at 1 PM, then the lineup is as follows (all times approximate):
1 PM – 1:45 PM Dry Falls Brewing Co.
walk
2 PM – 2:45 PM Sanctuary Brewing Company
walk
3:00 – 3:45 Triskelion Brewing Company
walk
4:00 – 4:45 Guidon Brewing Co.
walk
5 PM – ?? Southern Appalachian Brewery
Tickets: $5 at the door (cash, check, and card accepted with cash preferred). No kids or pets please! All proceeds plus a percentage of sales are donated to Blue Ridge Humane Society! Event is organized by the Historic Hendersonville Pub Crawl. Please utilize free parking options near Dry Falls as their parking is limited and we don't want to use all their parking after we've left!