Details
2021-02-23T00:00:00-05:00
2021-02-24T00:00:00-05:00
Contact
Buncombe County Government
Information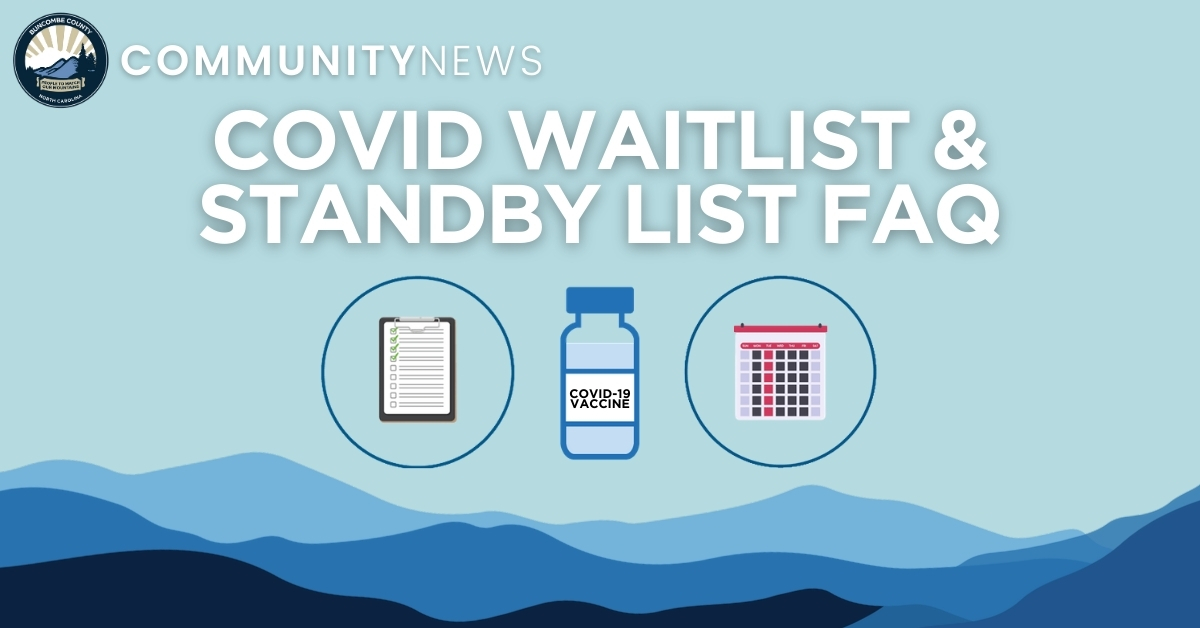 Buncombe County Health and Human Services (BCHHS) has launched a COVID-19 vaccination waitlist for individuals in the first two phases of the state's vaccination priority list: adults 65 and older and all health care workers. Individuals can sign up for the waitlist by calling (828) 250-5000 or by going to www.buncombeready.org. As vaccines are received from the state, representatives from the Ready Team will contact individuals on the waitlist via phone to schedule their appointments. We have compiled some frequently asked questions below.
Who can sign up for the waitlist?
Vaccine supplies remain much lower than demand, so waitlist opportunities are only available at this time to those active groups identified by the NCDHHS. If you are over the age of 65 or a health care worker in Buncombe County, you can sign up for the waitlist to receive a COVID vaccine so that you don't have to keep calling or emailing the department to get an appointment.
The only required information to be added to the waitlist is your name, a reliable way to contact you and that you fall into one of the phases eligible for a vaccine at this time. There is no citizenship status requirements, cost, or insurance information required at any time during the vaccination process.
What happens after I sign up?
Once you are signed up for the waitlist, you will receive a confirmation email within 48 hours. The confirmation email should have your waitlist ID number, your name, telephone number and email address. The waitlist ID number is where you fall on the waitlist based on when you signed up for the waitlist.
As we receive vaccine from the state, we open up appointments. We use the waitlist to schedule our appointments. You can call the Ready Team at (828)250-5000 if you have a question about your waitlist confirmation.
When will I be called?
Once we have an available appointment and reach your spot on the waitlist, a member of the Ready Team will notify you by calling you from the number (828)419-0095.
As we move through the waitlist, our staff will make two attempts to reach you using the contact information that you provide. Please make sure this information is correct.
Once we get to your number on the waitlist you will receive a call from the Ready Team at (828) 419-0095 to schedule your appointment.