Details
2021-05-17T00:00:00-04:00
2021-05-18T00:00:00-04:00
Contact
Buncombe County Governement
Information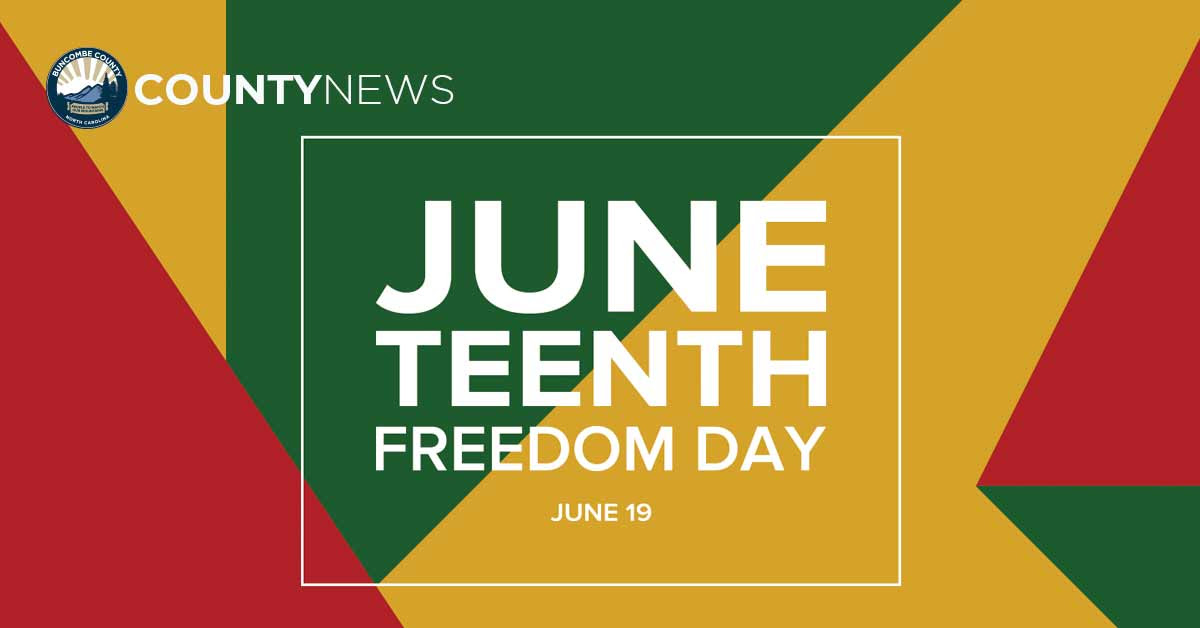 At the May 4 meeting, the Buncombe County Board of Commissioners voted to add Juneteenth as an additional County holiday following a public hearing.
Juneteenth, also known as "Jubilee Day," "Freedom Day," "Emancipation Day," or "Liberation Day," honors the day that enslaved people in Galveston, Texas learned that the Emancipation Proclamation had been signed by President Abraham Lincoln. That signing happened almost two years earlier, but Union soldiers did not arrive with the news until June 19, 1865. That day, known as Juneteenth, is a day of celebration of liberation, emancipation, and freedom for African Americans. Juneteenth is the oldest nationally celebrated commemoration of the ending of slavery in the United States.
"I think it should be celebrated by our staff and the County, because it is an important date in history," said Commissioner Al Whitesides. "Hopefully this will help us start the conversation and correct some of what's happened the last 400 years. We're saying a lot not only to our employees, but to our community."
Currently, Wake, Northampton, Bertie, and Orange Counties offer Juneteenth as a paid holiday, as do the cities of Apex, Carrboro, Chapel Hill, Durham, Greensboro, Hillsborough, Princeville, Raleigh, and Winston-Salem. The Orange Water and Sewer Authority also offers Juneteenth as a paid holiday.
The Board voted unanimously to approve the staff recommendation to add Juneteenth as an additional County holiday. The County will celebrate Juneteenth on the Friday that falls closest to or on June 19. This year, Buncombe County Government administrative offices will be closed on Friday, June 18 in observance of Juneteenth. Emergency and public safety services will remain open.